Brian Culbertson
Bringing Back the Funk with Roland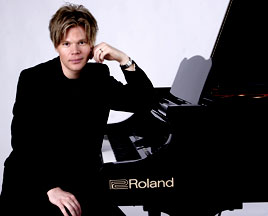 With several award-winning albums under his belt and ongoing sold-out shows all over the U.S., Chicago-native Brian Culbertson has emerged as one of the brightest stars of contemporary jazz. His latest album, "Bringing Back The Funk" recently spent an impressive two weeks at #1 on the Billboard Contemporary Jazz charts. Brian has been an avid Roland user since he was a teen, and these days he's using all kinds of Roland keyboards out on tour. We caught up with Brian recently, and here's what he had to say:
What inspired your new album, "Bringing Back The Funk"?
Originally it was something that I had been thinking about doing for many years – a funk record. I grew up listening to that kind of music, from Earth, Wind, and Fire to Parliament, and I loved the feeling I got from listening to those records. But in the jazz genre, the timing was never right for me to put out a record like that.
But this time, we needed a little shot in the arm if you will, to kick it up a notch. There were a few things that pushed me over the edge. One was that I got to sit in with Prince in Vegas. He does these late-night jam sessions, and it was a very inspiring evening musically. After that, I thought, "I need to make this funk record!" That was the night I also met Larry Graham, whom I wrote a song with, and who is featured on the album as well.
So I called Maurice White and asked him to be involved, and thankfully he was totally onboard. Then I started making calls to a lot of people, and we cut the record live in the studio. It was an exciting vibe. No one's making records like that now — it's so computerized and put together. So that was another reason I wanted to do it — to record an album the way people used to. And that's kind of what the title is referring to.
You're adding some modern elements too, though.
Well, of course. I think one of the hard things was to make a funk record, but to make it still sound like my music, and I think we really did accomplish that.
I see you have some great guest talent on the record as well.
Oh yeah. I just started putting a wish-list together, and thankfully, as I mentioned – everyone said yes! I think just the concept of it excited everyone.
So you're heading out on tour.
Yes. We're doing a couple shows up in Canada, then back to the States and all over the U.S. for the whole summer. We're trying to get some dates in Europe and Japan in the fall also.
Congratulations on the success of the new record.
It spent two weeks at number one on the Billboard Contemporary Jazz chart, and is now number two to Herbie Hancock's latest record [River: The Joni Letters].
That's good company to be in!
Not bad, right! I feel really good being right next to him. He is unbelievable — he absolutely blows me away.
Which Roland keyboards are you using?
My band is an 11-piece band. We have a full horn section, a singer, three keyboard players, and a couple of guitar players — it's a big sound. I'm using the RD-700SX Stage Piano, and I just got the 'GX as well. I'll be switching to that one as soon as it's available around the country. We also use the Fantom-X7 for sampled sounds, which is so cool. My other keyboard player plays the JP-8000. He's a master programmer on that thing, and he can never part with it!
I can relate — a lot of people are really attached to their classic Roland 'boards.
Oh yeah. Speaking of being attached, I'm still using my A-90. I use it as my main controller in my studio, and I've had it since I was in college. It just still feels so good.
I also have the rackmount MKS-70. It's been on almost every production that I've done. There are a couple sounds on there I just cannot do without. The main one is Mellow Pad. There is nothing else on the planet that sounds that good. Even with all the soft synths out there, nothing even comes close to being that warm—it's like a big blanket. You play a chord on there and it's like "oooh, yeah!"
The other one we have is the vintage Juno-2. We use a couple of those for the bass sounds that were used back in the day. We use that along with the new JUNO-G.
How do you like the JUNO-G?
The JUNO-G is great. It's just fun and light; it's really fun to play. It's got the best synth sounds. I absolutely love it.
You've also used the KR-117M Digital Grand Piano, right?
Yes — the KR was great for the Christmas tour, for those more intimate performances and a nice full sound. [To see Brian Culbertson on Roland's KR-117M, click here.]
Where can people listen to and buy your album?
Go to my website, www.brianculbertson.com. We also have a bunch of behind-the-scenes "making of" videos where you can actually see us in the studio, recording the songs, if you go to the page called "videos."