Artemij Pavlov & Sinevibes
Creating Sounds for Roland Synthesizers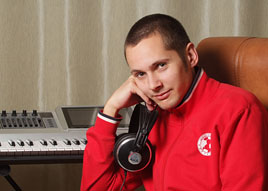 If you've ever wondered who comes up with some of the sounds for Roland synthesizers, then meet Artemij Pavlov. Artemij knows the inner workings of Roland synthesizer engines as the mechanics know the inner workings of a Mercedes or Porsche. Making cool synth sounds requires not just an in-depth knowledge of how synthesizers work, but also a very creative mind. The combination of these two talents have made Artemij's company, Sinevibes (http://www.sinevibes.com), the go-to place for new sounds for Roland synthesizers. Artemij founded Sinevibes in 1994 and operates the company from his studio in the beautiful Ukrainian countryside. Artemij Pavlov is also the founder of the "Roland Clan" (http://www.RolandClan.Info/) , the world's largest on-line user community for Roland synthesizers and samplers. We caught up with Artemij in his studio were we asked him about Sinevibes, his approach to making sounds for synthesizers, and the special collection of promotional sounds that he recently offered to Roland US customers.
Dan Krisher (DK): Fill us in on your background and how you got started with
Sinevibes.
Artemij Pavlov (AP): I grew up in a family of a sound engineer and a math teacher, who both were also musicians, so you can easily imagine the atmosphere in my parents' house. I got into synths when I was about 12, mainly for their ability to create unusual sounds that never existed before. Being in total control of what you're hearing has always been an amazing experience for me, and I spent so much time working with different equipment that doing anything else for a living would simply make little sense.
Shortly after I graduated from the university, I put my first sound library for sale on the Internet – and that was the start of the Sinevibes brand, which simply represents my passion for doing whatever inspiration gets me into.
DK: What products for Roland instruments does Sinevibes specialize in?
AP: We have lots of sound libraries for most Roland synthesizers, from the Fantom-X, Fantom-G and V-Synth families to the JUNO-G and others. The sounds range from basses, synths and drum kits, to vocals and choirs, pads and atmospheres, various pulsating and morphing textures, and beyond.
Those who would like to learn the possibilities of their synthesizers themselves, making their music sound more fresh and original, will really enjoy reading the 'Tweakbook' series of our books on sound design and post-production.
DK: What makes Sinevibes unique over other sound design companies?
AP: Since 1998, I have been working with Roland gear almost every day, and I know their sound engines better than anything else. I think we offer possibly the best sounds in terms of balance of character, expression and real-world usability. Many of our customers say that each of our sounds instantly inspires a new melody, and this nicely sums up the main benefit of the Sinevibes libraries – they are great idea generators.
DK: How do you approach making new sounds? Are you inspired by something particular? Do you have the sound in your mind already, or do sounds sometimes happen through experimentation?
AP: I always have lots of stuff floating in my mind, so I pretty much already hear the sound that I'd like to get. There will be some experimenting on the way, of course, but for the most part I know what I am doing, how each building block will respond to changing this or that parameter. Dare I also say I now have the experience to work very intuitively, kind of watching myself from aside. And Roland instruments are, unlike anything else, what actually allows me to work intuitively.
DK: You are offering a special collection of Sinevibes sounds for people to sample. Can you tell us about these?
AP: Yes, these are excerpts from our sound expansions for Fantom-G, JUNO-G and JUNO-STAGE synthesizers, a good way for Roland musicians to get the overall feel and quality of the full libraries. They do not require any special extras installed in the instrument, so everyone can easily check them out.
DK: What tips can you give people who want to start making their own sounds?
AP: The most important thing is to understand spectrum (DK: The interaction of a synthesizer's oscillator and filters.) and time (DK: The length of time the sounds plays and what happens during that time.). Once you understand which building blocks form the spectral characteristics, and which can change them over time, it will be a very sure step into sound design. Another important thing is to concentrate on a single instrument: you have to isolate yourself with just one synthesizer for at least several weeks, trying to break the barriers, overcome the seeming limitations (which actually only exist in your mind). You'll be amazed by the results you'll get, trust me!
DK: What's coming up in the future for Sinevibes?
SP: Most of our time now is dedicated to preparing the Roland synthesizer training courses, which we'll be hosting in Hamburg, Germany next year. It is a great opportunity for all Roland musicians who really want to be unique and sound like no one else. Each course will include four days of interactive lectures and practical studies on sound design and music production, guiding the students from all the basics to the latest and most exciting tricks and techniques. I will also provide personal consulting for each student, extending the scope of the courses according to their own interests. More information can be found at our website: http://www.sinevibes.com/education/