Roland Users Group
Brendan Buckley
The Future of Drums and Percussion
By Roland Canada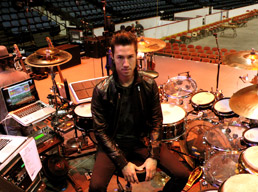 Brendan Buckley is a drummer who's become an international household name among those in the pro session and touring community of drummers, earning the position as being one of the busiest, most diverse, and highly sought-after musicians of today. Already, his resume includes such a long and incredibly varied list of artists and projects that most drummers could only dream of having. Brendan's style, not only as a skilled musician and performer but personality-wise, lends itself to the successful career he is experiencing. We heard he was in Canada preparing for the Shakira 2010-2011 Tour so we thought we'd find out what he was up to.
Despite an extremely busy schedule, Brendan graciously took the time to answer a few questions and share some of his insight for us. He mentions that the use of electronics and technology has been a part of his approach to music and drumming pretty much right from the beginning. His current set up includes an interesting mix of acoustic drums and a variety of Roland V-Drums® and percussion instruments including; TD-20SX, V-Pads, OCTAPAD™ SPD-30, and DB-90 metronome.
Brendan Buckley is a perfect example of "The Future of Drums and Percussion."
Read on to learn more about Brendan and his gear, and be sure to follow and learn from this drummer's career as he continues to expand his contributions to the world of music.
Roland: What was your approach to drumming in the early years in terms of studying and growing as a drummer, and what was, and still is, important to you as a musician contributing to the music?
Brendan: I began studying drums in high school. Before that, I dabbled in trumpet and piano. When I turned 15 years old, my band teacher hooked me up with a great drum teacher in New Jersey, named Tommy Igoe. We pursued classical percussion, jazz band, marching drum line, rock grooves, Latin rhythms. He also encouraged me to explore electronics through the use of drum machines, metronomes, and sequencers. For lessons, he had me buy a BOSS DR-550 drum machine. We programmed grooves, odd time signatures, etc. He taught me about the world of samplers, drum triggers, and MIDI controllers. His help gave me a great head start.
For college, I attended the University of Miami's School of Music. Their percussion faculty was very hip and diverse. They focused on studying the heritage of music, while also looking toward the future.
In the beginning, I played music because it was simply fun to get together with friends and jam in my garage. I try to remember that even today. Music is supposed to be fun.
Roland: How did you accomplish such a diverse and recognized resume of recording and touring work? Do you have any tips for drummers looking to achieve this?
Brendan: Miami was a great city to absorb all types of music; Latin, Jazz, Rock, R&B. Back in the day, I took every job I could. Sometimes three gigs a night, seven nights a week. One small gig led to another... which, in turn, led to another, and so on. I was open-minded and eager to work all the time.
When younger musicians ask me how to get into professional music, I recommend following a similar path. Go to as many live music venues as possible. Watch other musicians perform. Talk to them after their shows. Play all the time (rehearsals, jam sessions, shows). This is the best way to gain experience and make valuable connections.
Roland: Can you describe how you see the role of today's drummer and how it has changed or evolved over the years? Where do you see it going in the future?
Brendan: Drumming has evolved over the past several decades. But for the most part, a drummer's role has been to serve as the time keeper of the group. Certain eras featured more showmanship. Other eras were simpler and more functional. There have been loose, organic time periods, and stiff, robotic periods. In this current phase of music, a drummer should be able to play comfortably with a metronome. He should also understand how to play along with sequencers. Technology is omnipresent. You can't be afraid of computers or samplers. Treat them as just another instrument, like a shaker or brushes. My preference is to blend warm acoustic drums with electronics. It's that hybrid vibe that really jolts my imagination.
Roland: Can you let us know what your current set up includes and how/why you use them for the current tour and for various other gigs.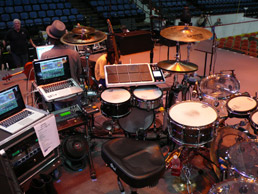 Brendan: My current set-up for the Shakira Tour (2010-2011) is a blend of acoustic and electronic drums. I have a clear acrylic DW drum set with one bass drum, two snares, and three toms. My acoustic cymbals are from Sabian. I also sprinkle various LP and REMO percussion instruments around the kit. Integrated throughout this set-up are my Roland TD-20SX, Roland OCTAPAD™ SPD-30, and Roland DB-90 metronome. These instruments allow me to trigger all sorts of snares, kicks, and fx sounds from Shakira's past records and remixes. I sample all the electronic sounds from her Pro Tools sessions, and load them into my sound library. Then, I decide whether to approach each song in the set list with either an electronic vibe, or with an acoustic rock kit (or both). This seems to make the artist and the musical director very happy.
Roland: What caused you to choose the Roland V-Drums® for your electronic percussion needs? What are some of your favorite tools of the trade?
Brendan: My first electronic drum set was the Roland TD-7. I have been following Roland's various V-Drums kits ever since. This newest one (TD-20SX) has an amazing sound library, an incredible hi-hat response, and the best-feeling kick trigger on the market. The guys at Roland are super nice, and in my opinion, they are really leading the pack in the electronic percussion world.
Roland: What do you do to prepare for: a) a recording session, b) a tour, and c) each performance, every night?
Brendan: For a recording session, I like to fill my trunk with a bunch of interesting drums and percussion instruments. I want every recording to sound different from the last one. I like to hear a track a year from now and be surprised by the choice of snare sound, cymbal, microphone, groove, etc. As a warm-up, I practice with a metronome or drum machine to really "sit into" the tempos (not float on top of them). If I get the demos ahead of time, I might think about a couple of different approaches for the same song. It helps not to get stuck in only one beat. And on my way to the studio, I like to crank some really killer music on the car stereo to get me in a creative mood.
For a tour, "preparation" is the key. Pack your suitcase well. Memorize the song arrangements. Organize your road cases. Bring spares of everything (batteries, drumheads, cables, sticks). And get some sleep, because there's not always a lot of time to sleep on tour. On a nightly basis, it's important to eat well, stretch the muscles and joints, warm up on a drum pad, and relax to clear the mind.
Roland: What do you have your sights set on after the tour and long term plans for the future? And, give us some insight as to how you plan for such things.
Brendan: I try not to plan too far ahead. I just stay open to whatever opportunities life offers. That being said, I haven't had a real vacation in years. That's definitely on the list of "things to do." Someplace far away without internet or cell phone coverage. I also have a mountain of projects I have been postponing in my home studio. I'm looking forward to digging into those, too.