Roland Users Group
Lady Gaga
Roland Onstage with Lady Gaga and The Monster Ball Tour
By Dan Krisher

With her prolific songwriting, boundless creativity, and uncompromising devotion to her fans, music superstar Lady Gaga has completely recast the role of the pop diva. Her latest stage extravaganza, The Monster Ball Tour, features the lavish sets, intricate choreography, and fantastical fashion that have become her hallmark. In addition to being a stunning visual experience, The Monster Ball also stands out as an exciting musical performance, propelled by a band that's as much a part of the show as Gaga herself.
For this tour, Gaga and her musical director Joe "Flip" Wilson assembled a large, 15-member group consisting of a variety of versatile and experienced musicians, including a violinist and harpist. This talented ensemble performs with an organic energy and immediacy that's often lost in some of today's ultra-polished, technology-driven mega-tours.
To execute her eclectic song catalog, Gaga and her band again rely on the great sound and versatility of Roland instruments, just as they'd done on her previous world tour. Gaga herself rips it up guitar-style on the AX-Synth Shoulder Synthesizer in one of the show's most prominent numbers, and she frequently performs on TV appearances with a white RG-7 Digital Grand Piano. Other band members are using a multitude of Roland synths and electronic percussion, including the Fantom-G, V-Synth GT, GAIA SH-01, V-Drums®, and the SPD-S and SPD-30.
During the tour's recent stop in Los Angeles, I had the opportunity to sit down for discussions with three members of Gaga's all-star band. Lanar "Kern" Brantley, who covers bass guitar and synth bass duties, has an extensive résumé that includes work with Beyoncé, Destiny's Child, and Mary J. Blige, just to name a few. Keyboardist Brockett Parsons has been a prominent member of the NYC music scene for some time, and was a winner on P. Diddy's Making His Band TV show prior to joining the Gaga tour. George "Spanky" McCurdy, the tour's drummer, has previously worked with Tye Tribbett, P. Diddy, Kanye West, and many others.
The following is my discussion with Kern and Brockett. You can also watch the video excerpts of this interview.
To see my interview with George "Spanky" McCurdy, click here.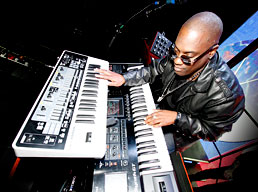 Kern, describe the Roland gear you're using on the current Lady Gaga tour.
Kern: I'm using the V-Synth GT and GAIA.
How are you incorporating them in the show?
Kern: Well, with the GAIA, I'm using a lot of sound effects. I'm using some wind and rain sounds, which are presets. Then I'm using a couple of bass patches that I created by making edits of existing patches. The V-Synth is like my workhorse for this tour; a lot of my main bass sounds are coming off the V-Synth. I also use it when I need more foundation from [my laptop MIDI set up]. It gives me a nice low-end bass.
Brockett, what are you playing?
Brockett: I'm using two Fantom-G7s, and the GAIA also. I really like the G7 because it's obviously designed by a musician; it just feels natural to play. I can program keyboards, but I'm not the greatest programmer in the world. [With the Fantom-G7], I can get at a good sound fast, but there's also room to grow with it. I also like the GAIA, and I specifically like the tap tempo feature. If you're doing some techno or house type things, you can get a tempo really quick. All the delays and the reverbs and all the cut-offs and modulations can be straight to the tempo, so it's like a realtime instrument. You can almost play like a DJ in real time, if you want to use that angle. They're both really cutting-edge, current instruments.
The Gaga show seems very organic, and it seems like it changes a lot. How has the gear helped you ride changes in the show?
Kern: I use the AX-Synth, and I really like that keyboard because I can get out and walk around. It's got some really cool internal patches in it. As far as the V-Synth, I just like the fact that it's so versatile and I can program it on the fly. If something happens on the stage, I'm able to go straight to my parameters [and adjust them]. Each venue is different; in some venues, I may need to have a little more top end than others. And sometimes there's a little too much low end, too much bottom, and I can roll it off on the keyboard itself.
Brockett: I just think the Fantom-G7 itself is extremely versatile. You can really cover cutting-edge new styles and new ways of playing, but if you need to do some straight organ or piano, you can do that, too. And then the GAIA on top of that…it's just so current and so easy to use, and it adds extra flavor.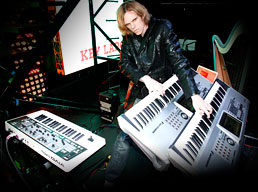 Brockett, tell us about your musical background prior to joining Lady Gaga's band.
Brockett: I've studied jazz and classical, probably more jazz. I've played a lot of R&B over the years, and I played in New York City for a long time. I've done some R&B touring with guys like Donell Jones, and I've played on late night television shows with Carrie Underwood. I played with Omar Hakim briefly. Right before this tour, I was on a show, Making His Band, with P. Diddy, and I was actually chosen as one of the winners.
Kern, you've played with a lot of different artists, but this tour seems unique. What's your experience been like with it so far?
Kern: With this tour, I really like the uniqueness of it, and that the band is featured. A lot of the R&B bands I worked with in the past, the band is kind of stationary and low lit. But on this tour, we actually get to come out front a little more, play a little bit more, and the band is actually featured. [Gaga] shares the stage with the musicians, and that's great.
How is it working with her as a fellow musician?
Kern: Oh, it's great. She's an amazing musician and songwriter. Actually, with her I'm learning more about rock 'n' roll and pop. Before, I played a lot of hip hop, a lot of jazz, a lot of gospel, but this is my first experience playing rock 'n' roll and pop with such an amazing musician as Gaga.
You guys recently played on The Today Show; she was playing her Roland RG-7 Digital Grand Piano, and you guys were on stage with her playing live in the pouring rain. What was that gig like?
Brockett: Man, that was tremendous. I think that it shows tremendous courage and heart to be able to have the guts to play through that. I don't know any other artist that would do that. All I can say is that it was a really, really soulful moment that I'll never forget. We're playing in the rain…thank God the gear held up. It was a really, really moving experience. It was spiritual.
It was almost a sort of iconic show.
Brockett: Yeah. It just shows the kind of guts that the person that we're working for has, to just go ahead and do it. She didn't have to do it, but she did it.
Onstage, Gaga plays the AX-Synth, and you're playing the AX-Synth. The instruments seem as much a part of the message, styling, and show as all the other elements.
Kern: Yes, definitely. I think it should be noted that [Gaga's] more than a singer; she's a musician. I feel like she's a musician first, because of the way that she's receptive to musicians. She may hear something, and she just goes straight to the piano and plays it. It's easier to work with an artist that's also a musician, because it's easy to translate what she needs and what she wants. It's actually very fun working with a singer and a musician.
Brockett: She really knows what she's doing, and she knows all the details in all the stuff. She's really, really on it.
It must make your jobs a lot easier.
Kern: Yeah, she writes her own songs, so she knows exactly what the parts are supposed to be and what she wants them to sound like.
How do you determine who plays what part of an arrangement?
Kern: Brockett covers keyboards, and I cover all the bass patches. I do some sound effects as well.
Brockett, how would you describe your style of playing?
Brockett: I've played a number of different types of music over the years, and I try to be pretty versatile. But I kind of think this gig is perfect for me. I like to be really aggressive sometimes, but then sometimes I like to play something that's beautiful. This music is so wide that it covers all of that, and I feel like I have an opportunity to [explore] different kinds of emotions to support her music, because she has so much emotion, and so many different types of emotions. We're playing fast, we're playing aggressively, and then we have to play sensitively and beautifully. It's a real challenge. It's great.
Do the Fantom-G7s help you achieve those different textures?
Brockett: Absolutely, because they have really bright, percussive, powerful sounds and fat layers. And then you have beautiful warm pads and expressive sounds where you can play quietly, but you can still hear the clarity. Also, you have the potential of putting in some great effects to make it sound even warmer and make it sound current and cutting edge. And then, on top of that, it has very good organic sounds such an organ or just the basics. We still need to play the basics.
We just showed you the Fantom-G Version 1.5 system software update, where you've got motion phrases on the pads and different ways to pull more texture out of the sounds in real time. Do you see that as being useful in what you do?
Brockett: I think the new software is amazing, a real breakthrough. Again, it was designed with musicians in mind. I'm really into house music and techno music myself, and I've always been into the way the DJ sounds, and I've always liked incorporating that element into playing. [With the Version 1.5 software, you can integrate] the pads with various different types of cutoff frequencies and gates, different kinds of effects in real time, and also panning. It looks really, really awesome, and I think I'm really going to be able to take advantage of it. It's going to make a huge difference in my sound.
Where's the tour going after L.A.?
Kern: After L.A., we go to Las Vegas, the MGM Grand Casino. Then we go to San Jose, CA.
Brockett: Basically, we're in the United States through September 19th, and then we're back in Europe for the fall. The tour continues into the winter of next year. It's a long, serious tour, and we're really fortunate. Every day I'm thankful.
Kern: We were just in Japan. In London, we did something with Elton John at his house, a private celebrity fundraiser. [It] was great to actually get to play with [him]. It was amazing. I used my GAIA there as well. I like the way it looks, and it's little and it's comfortable. As a bass player, I really don't want to have too much stuff in front of me. The GAIA is real cool 'cause it's right there in front of me, and I can just go straight to it and program on the fly. It's really cool.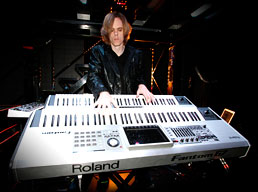 Brockett: I own an SH-201, and that's a great keyboard. I was cool with that, but the GAIA's even better. It's really, really dope.
Do you guys have any time to do any other projects?
Kern: I'm a musical director for Young Jeezy on Def Jam. In my spare time, I help put his show together. My brother Valdez is a musical director with Usher, and he's also a Fantom/V-Synth guy. We did some programming for some of the factory bass and lead patches in the V-Synth. On my personal time, we just sit down and come up with productions, and we do some writing together. We put together other bands and other shows as well.
Would you say that you and your brother invented the "tilted" keyboard look?
Kern: The tilted keyboards were something that my brother and I saw when we watched Sheila E. perform, and some of her band members had the keyboards tilted. We were like, "That is so hot," because you actually get to see the instrument. Most keyboard players look boring, just standing back there playing. But when the keyboard is tilted, it gives the audience something to look at. They actually see you playing. So we started incorporating that in all our bands, and actually tilting [them even] more. It looks really hot on stage.
Brockett, what about you? Do you explore musical opportunities outside of the tour?
Brockett: Well, I'm working on my production skills, and I also work with singer Tyra Juliette as a side project. But I really try to be focused on this gig at the moment, because you've got to be on your "A" game. You've got to be sharp; you've got to be strong and in shape and really bring it. Again, I feel fortunate; [Gaga] is somebody who could pick any musician in the world, and I'm here. So I want to do a top-notch job every single night. I try to continually get better, try work on new things. But the main focus is just really doing a good job here.
You raised a really good point about the Fantom-G and the Version 1.5 software being designed by musicians. That's true; the engineers are musicians, and the programmers that we hire are very much dialed-in musicians.
Brockett: [They're] really good musicians obviously, because the concept they have…we've all played [other] instruments where there are features that you don't know how to use, or you don't see the need for using them, or they just seem esoteric or pedantic. This stuff is the real deal.
Kern: Yeah.
Brockett: Right off the bat, [everything] makes a lot of sense. I don't want to be bogged down by technicalities. I want to just create, and that's what this Roland [equipment allows me] to do. I've been using Roland a long time, all the way back to a D-50 to a D-70 to an R-5 drum machine. I had a JV-1080, and I own a Fantom-X7 also. I've used Roland my entire playing career.
We feel fortunate that Lady Gaga and her musicians are using our equipment.
Kern: To me, Roland is like a family company. Everybody uses a Roland product somewhere in their rig, [and they're] a mainstay in the industry. To me, Roland makes the best keyboards. I got the chance to go to Japan and meet [the engineers]. I learned a lot just hanging out with the guys, and everyone was so friendly, they're like family there. So, we appreciate Roland as well.