Roland Users Group
The Nation's Top Drummer Revealed
Kansas City's Go-Go Ray Takes the Title at the 2010 V-Drums Championship
By Jim Bybee and Drew Armentrout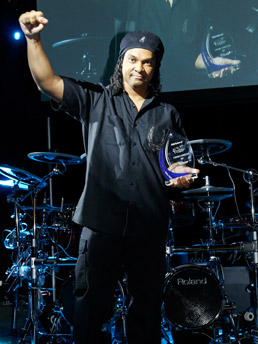 The search is over—after three exciting months of auditions, competitions, and anticipation, "Go-Go Ray" Pollard from Kansas City, Missouri, was awarded the grand prize at the 2010 Roland U.S. V-Drums® Contest Finals. The conclusive showdown was held at Sam Ash Music in Las Vegas on November 4, 2010, where an enthusiastic standing-room-only crowd of over 400 was treated with an unforgettable evening of incredible drumming performances and spectacular prize giveaways
The finals event was the culmination of the first-ever Roland U.S. V-Drums Contest, which was launched by the electronic percussion leader in the late summer of 2010. Over 300 drummers were selected to participate in opening round competitions at music store locations across the U.S., with the winners of those contests moving on to compete at regional events at music stores in six major cities: New York, Los Angeles, Chicago, Denver, Atlanta, and San Antonio. The last drummer standing at each of those events went on to drum at the finals in Las Vegas in November.
The six finalists included New York regional winner Nellyris "Didi" Negron from Northampton, Pennsylvania; Chicago regional winner J.P. Bouvet from Lakeville, Minnesota; Denver regional winner and ultimate champion Go-Go Ray; Atlanta regional winner Andrew Faletti from Lawrenceville, Georgia; and Robin Lopez, regional winner in his hometown of San Antonio, Texas. An unavoidable scheduling conflict kept Los Angeles regional winner Charles Williams from competing in Vegas, so L.A. runner-up Dennis Dove from Portland, Oregon, got the berth at the finals event in his place.
The contest was co-sponsored by three top names in the drums products industry—Drum Workshop, REMO, and DRUM! magazine—and the renowned theatrical percussion troupe Blue Man Group. These valued partners all donated time, equipment, and prizes at the various events, and Roland is extremely grateful to them for their support and sponsorship. In addition, sound reinforcement leader Electro-Voice provided a stunning sound system and donated prizes for the Vegas finals, and American DJ was on hand with stellar lighting and stage effects; Roland thanks them both for their participation.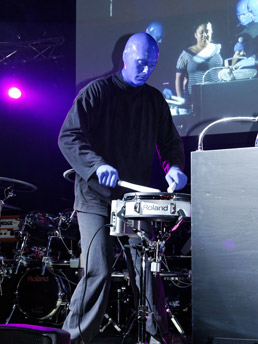 The evening's festivities began with a performance by Blue Man Group, a staple on the Las Vegas strip for over 20 years. The blue-faced trio wowed the crowd with a cool and humorous percussion performance using their signature "drumbone" PVC percussion instrument. The trio's unique backup band provided solid accompaniment, with their drummer grooving on a custom REMO-wrapped Roland TD-20SX V-Pro® Series V-Drums kit.
Next up, the all-star judging panel assembled for the event was introduced. The panel included Thomas Lang, an internationally respected session drummer and instructor; Richie Gajate-Garcia, a world-renowned percussion, drummer, and instructor; Pat Caddick, a noted player, arranger, orchestrator, and producer; Peter Wolf, a keyboardist, producer, and composer with multiple GRAMMY® nominations and writing credit on eight chart-topping songs; and Steve Fisher, a professional drummer, Roland clinician, and member of the R&D team for Roland's V-Drums products.
Session and performing drummer, instructor, and Roland clinician Johnny Rabb then performed on a TD-20SX kit and an SPD-S Sampling Pad. Rabb's energetic drumming style, featuring his signature "Freehand" technique, greatly impressed the assembled crowd. In addition, he showcased his unique use of V-Drums editing technology by effortlessly manipulating sounds in real time during the solo section of his performance.
At long last, the competition itself got underway. The six finalists all performed on a custom-wrapped TD-20SX kit and an OCTAPAD® SPD-30 Digital Percussion Pad. As winners of their regional competitions, they each took home an OCTAPAD as a prize, and they all prominently featured the versatile electronic percussion instrument along with the V-Drums in their finals performances.
J.P. Bouvet opened things up, sporting a Mohawk haircut and beginning his performance with an ethereal synth-based orchestral backing. He then took the V-Drums and OCTAPAD through multiple electronic and acoustic sound changes and styles, closing with a '70s-style funk groove with clavinet backing. Following J.P. was Andrew Faletti, who incorporated a sequenced synth backing from the OCTAPAD with a tasteful and varied blend of acoustic, electronic, and world percussion sounds played on the V-Drums.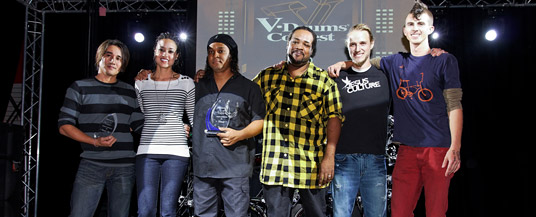 Didi Negron was next, and she used the OCTAPAD's onboard phrase loop function to build a sweet Latin-flavored backing loop with both rhythmic and melodic elements, which she accompanied with sophisticated drumming that incorporated Latin, reggae, and jazz styles. Go-Go Ray, the ultimate winner, played melodic percussion sounds on the OCTAPAD before launching into a creative performance driven by one of the onboard tap sequences in the TD-20X Percussion Sound Module (the brain of the TD-20SX kit). He played electronic sounds, a melodic nylon guitar sound on the TD-20SX pads, and Latin percussion on the OCTAPAD. After that, he kicked into an impressive drum solo, switching out kit sounds every few measures. This was an effective showcase of some of the V-Drums' most unique sounds, as well as the set's ability to let a player seamlessly change their entire sound setup midstream.
Dennis Dove began with timpani and tuned percussion on the OCTAPAD, and then triggered melodic guitar sounds and synth chords with the V-Drums' pads. He also worked in a cool filtered electronic kit sound before closing with an energetic drum solo featuring acoustic kit sounds and double-kick playing. Robin Lopez closed out the competition, starting out with a melodic percussion loop created live on the OCTAPAD that provided a backing for the heaviest-sounding rock drum groove of the evening. He then launched a new backing track played from the OCTAPAD, over which he played a groove that featured some nice hi-hat work and flashy stick twirls. For his finish, he dove into a heavy drum solo peppered with fast double-kick riffs and thunderous tom fills.
The judges were tasked to pick a winner and runner-up by evaluating the finalists in six categories: technique, style, stage presence, the creative use of electronics, overall creativity, and the overall effectiveness of their performance. As the judges' scores were tallied, Roland drum product manager and event MC Tim Root raffled off prizes to some lucky attendees, including three RMP-5 Rhythm Coach pads and a TD-4SX V-Compact® Series V-Drums kit.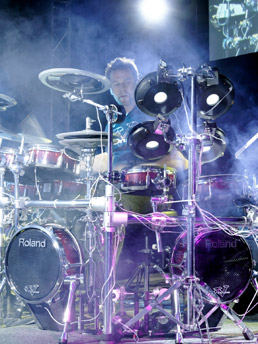 Before the winner was announced, judge Thomas Lang gave an awe-inspiring performance on a monster custom V-Drums set. This amazing dream kit was outfitted with no less than 11 V-Pads™, 6 V-Cymbals®, 4 V-Kick Pads, 6 KD-7 Kick Triggers, 2 VH-12 V-Hi-Hats®, 2 TD-20X Percussion Sound Modules, and an OCTAPAD. Additionally, Drum Workshop pedals and hi-hat stands were used with all the V-Kick pads, kick triggers, and V-Hi-Hats, while REMO's striking custom wraps were installed on the V-Drums' shells.
The six finalists are all extremely skilled drummers, and every performance was greatly enjoyed by the judges and the crowd. Unfortunately, only one winner and one runner-up could be chosen. Robin Lopez took the second spot, and for his efforts he received a Roland TD-9SX V-Tour® Series V-Drums kit, a selection of Drum Workshop 5000-series hardware, a year's subscription to DRUM!, and a set of PL-DK5 drum mics from Electro-Voice. "I'm really surprised to get this," Robin said as he accepted his runner-up trophy. "I think everybody did a great job, and I'm just stoked to be up here to get this."
With his exceptional drumming performance and innovative use of the sounds and capabilities of the V-Drums and OCTAPAD, Go-Go Ray was the Roland V-Drums Contest grand prize winner for 2010. In addition to bragging rights, his championship prizes included a TD-20SX kit outfitted with REMO custom wraps, a full compliment of Drum Workshop 9000-series hardware, a year's subscription to DRUM!, and a complete set of N/Dym-series drum mics from Electro-Voice.
"It's been a long road, that's all I can say," Go-Go Ray said as he addressed the audience upon winning. "I made the prelims, started learning some things, did pretty good in Denver, and to win this is just unbelievable. All I can say is thank you, and I hope you really enjoyed what was in my heart."
To see videos of the performances by Blue Man Group, Thomas Lang, Johnny Rabb, and all six finalists, click here.