Roland Users Group
John Wackerman & Thomas Lang
V-Drums® Power Duo
By Drew Armentrout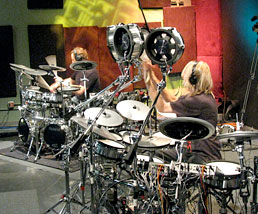 Roland had the unique opportunity to attend and assist at a DVD recording session featuring the amazing drumming talents of John Wackerman and Thomas Lang. Recorded at the Drum Channel in Southern California, the session was a first, with both John and Thomas playing a duet exclusively on Roland V-Drums®. We later spoke with the duo, as they reflected on this unique event and elaborated on how they both have embraced V-Drums and electronic percussion in their drumming careers.
Thanks for joining us today! Please bring us up to date on the projects and musical activities you both are involved in.
Wackerman: I've been working on Volume 2 of the John Wackerman Drum Duets. Volume 1 featured me doing duets with Steve Gadd, Peter Erskine, Ronnie Tutt, my brother Brooks, Adrian Young, Clayton Cameron, my brother Chad, John Ferraro, Josh Freese, Gary Novak, Rickie Lawson, Steve Smith, and Alex Acuna. That was basically a CD and transcription book package, Volume 2 will be a DVD, probably a book and CD as well, and I've done duets with Travis Barker, Ronnie Vannucci, Terry Bozzio, Mark Schulman, Dennis Chambers, and Thomas Lang! And, of course, my brothers Chad and Brooks will be on it as well. And, Thomas Lang and I recently recorded the all V-Drums® duet, which is the first time I've done that with someone.
And your "day" job?
Wackerman: I live in Las Vegas now, and I do a lot of shows — I'm ventriloquist's Terry Fator's musical director at the Mirage, he's the headliner there. I also sub on Cirque du Soleil shows, and perform at clinics and drum festivals, including the annual John Wackerman Drum festival in Las Vegas.
Lang: I've recorded and released an album with my band strOrk, which includes guitarist Shane Gibson and bassist Eloy Palacios. I also have another project with Shane called Schwarzenator, and we've played regularly around the Los Angeles area. I've also been recording a number of albums in Europe and touring with a variety of artists.
I've been hosting a series of drum camps all over the world - really intense ultra hard core drumming "boot" camps. They are three- to seven-day events that have been held in various cities around Europe and the U.S. The classes are limited to 20 students and it's a very intense eight-hour per day drumming boot camp - focusing on stamina, endurance, and hand-foot technique. (Since this interview, Thomas has conducted drum camps in Los Angeles, New York, as well as in the U.K., Germany, Austria, Italy, Finland, and other worldwide locations).
John could you talk about the inspiration for this project and what led you to Drum Duets 2?
Wackerman: The original concept was to work with all these great drummers I had never got a chance to work with, and I wanted to do a project that would feature us doing drum solos, but I also wanted to write drum compositions that would provide a form for us to improvise over and groove and make it really specific for drum performance. Everything is put together as musical pieces, as opposed to just jamming and soloing. The biggest request I got after Volume 1 was to see video of the performances, so I'm stepping it up on Volume 2.
Is this the first time that you and Thomas have worked together?
Wackerman: Yes!
Was there any pre-production or rehearsal prior to the session?
Both: No.
Wackerman: Thomas and I have been trying to get together for a couple of years, and scheduling it was crazy, but we finally made it happen! I just talked to him and wrote a piece that I thought would be cool for both of us to play on. I've been a big fan of Thomas for years, and I wanted to do a piece that would feature us both, and feature electronics and what you can do with V-Drums®. So after I talked to Thomas, I sent him an MP3 of the piece, so we never rehearsed. What you saw and heard at the session was the first time he and I had played together.
Did you have V-Drums® in mind when you were planning the recording and writing the piece?
Wackerman: Yes! I saw Thomas a couple years ago doing a drum clinic on V-Drums®, and I knew that of the players I was thinking of, that Thomas was really into electronics and Roland gear, and he would be the perfect guy to do an all V-Drums duet with. I've actually had that idea since Drum Duets Volume 1.
So obviously you were using V-Drums® when you were actually composing the piece. Correct?
Wackerman: Yes. I always use V-Drums® for all the compositions. So on all of Volume 1 and Volume 2, there is not a piece that doesn't involve them. Whether overdubbing melodic tom parts or embellishing an ostinato in the piece, V-Drum® are always incorporated with acoustic drums. Since the duet with Thomas was an all V-Drums® piece, I think it will really stand out on the DVD.
Could you comment on the process of the session and what was involved to capture the best sound and get the best performance?
Wackerman: 32 direct boxes!
Lang: (laughs) Exactly!
I was told that this was a record for DIs at Drum Channel!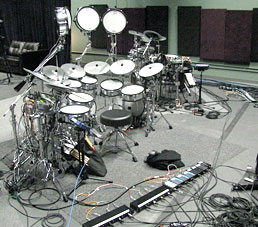 Wackerman: Yep. The great thing about the TD-20X is that it offers multiple outputs, and between Thomas and myself we were using two TD-20X modules each, so we had 32 outputs. I do this so when I get the tracks back for mixing, I can totally tweak, add other effects, or EQ a certain way if I want to embellish a particular section.
Thomas, anything you would add?
Lang: This was the first time that I did a drum duet or any kind of interplay with another drummer on V-Drums®, so this was a new experience for me, and amusing to see those 32 direct boxes. I thought the process was very easy and convenient – it was much faster to set the whole thing up and wire everything than assembling two complete acoustic drum sets, with individual microphones on each drum and cymbal. I was surprised how easy and simple the process of capturing the sounds was, and the ease of monitoring so I could hear everything that John was playing and hear what I was playing. It was surprisingly comfortable and positive experience, and I really loved the way we did it and the way everything worked out technically.
Wackerman: Another great thing about the V-Drums is ease of use. During a section when we were using all hi-hats or all cymbals, changing sounds and calling parameters up was extremely easy. At one point, Thomas put the bell sound of a ride cymbal on one of his kick drums, and although that wasn't planned, it came out great and was easy to accomplish with the V-Drums.
I always appreciate when players - especially those with your level of ability, explore the unique capabilities that only electronic percussion can accomplish. And not just from a technical level, but using the technology in such musical and creative ways.
Wackerman: On this duet, I definitely wanted to do things that I couldn't do on acoustic drums. While we still emphasize playing with style and groove, it's also important to be creative by taking things outside of the box.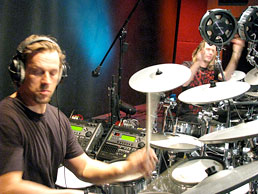 Lang: Exactly. That aspect of it was really appealing to me. I know John and his playing, and he is an amazing, ultra creative drummer — and having two electronic drum sets, with the ability to play different sounds and create unusual soundscapes was very appealing and attractive to me. The way John arranged the songs and the loops he chose, and his ideas regarding sounds made the whole experience even more interesting, more challenging, more creative and I think much more modern. I don't think anything like this has ever been done before! While we were recording, I was again pleasantly surprised at how easy it was. When we changed the sounds (like all hi-hats or cymbal set-ups), it only took a minute or two, and switching back and forth between kits using the Chain function on the modules was so easy! It's something you can't do…with acoustic drums. I think when people see this they'll realize that there's a whole new universe of options for drummers out there using electronic drums – being able to play tuned percussion instruments, or switching sounds during a piece seamlessly. It's like playing a few different instruments at once. You obviously have to approach it differently, you have to approach each sound setup or kit in a slightly different way and that's a really interesting way of recording.
Wackerman: Whenever I'm putting a composition together, it's just so easy to pull up the parameters and tune a drum really low or a cymbal really high (for example) — or anything! It's just really quick as opposed to a computer program where it takes forever. Everything is right there, it's in one box, you jump straight in – the ease of use I can't stress enough. It's easy to get your ideas across without all the crazy stuff that pulls you away sometimes.
Lang: Exactly!
For this session you were both playing (expanded versions) of the newer TD-20SX drum set, and you both have experience playing the original TD-20 kit. Considering you are both very aggressive players (and I mean that as a compliment), can you comment on how this newer kit physically feels and plays?
Lang: For me there's a huge difference. I do not change or adjust my acoustic technique, I play dynamically on V-Drums® knowing that they will respond accordingly. The best experience I've had with the TD-20SX is the rack and the tom mounts. The whole kit feels super solid - nothing moves, even when I play the drums hard, or play heavy rim shots, nothing moves or wobbles, and the MDS-25 rack is super sturdy and makes it easier to position the pads and cymbals. The KD-140 kick pad plays incredible, and feels like a solid 24" acoustic kick drum to me. I really enjoy the sounds in the TD-20X module, and when I programmed new kits for this session, I was really happy with how great everything felt and sounded. When you close your eyes, you think you're playing an acoustic kit.
Wackerman: I agree with Thomas, especially with the kick pad. It's really solid, and I really like the new mounts as well. It makes it easy to mount my toms high up — my second level. With the option to accept both "L" arms or tube style mounts it made my set up easy, and everything is just more solid. The thing that I really like about Roland is the sounds, they're always cutting edge. If you want to do something really contemporary, techno, or just a solid maple snare, you guys cover all the bases. My first drum machine was a TR-909, so I go way back with Roland and all the cool gear over the years. So with this kit, I see a big difference, and I like the look of the new V-Drums as well. They look cool and just play better.
John, on Drum Duets Vol. 2 will you be you using V-Drums on any of the other pieces?
Wackerman: I use V-Drums® for composing all the pieces, and I have some commitments from some artists that I'm planning on use electronic percussion. Although it may not be all V-Drums®, they will probably be incorporated within an acoustic set. (Note: since this interview, John recorded a duet with Taylor Hawkins from the Foo Fighters where both John and Taylor recorded with the OCTAPAD® SPD-30 along with acoustic drums).
Thomas, have you sketched out any diagrams for the "second level" of your kit to compete with John's set-up?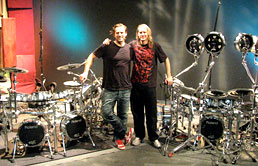 Lang: (laughs)Yeah I had some slight gear envy when I first saw John's kit! I was set up a little early, so I saw John's kit and it looked like a standard V-Pro® kit - which is impressive in itself, but then he started adding his "air-toms" and I felt a little envy there, I have to admit. So, I'm thinking a whole new second level on my kit! I really loved John's set-up, I think it's really cool and this is something that is so easy to do with V-Drums®. The pads are still fairly compact and light enough to mount really high to create really modern and futuristic looking set-ups. Of course, these set-ups affect the way you play the drums, the way you think of new patterns and new mechanics behind the set. One of the most interesting aspects of playing electronics is that even if you can keep the same configuration or amount of drums, you can assign different sounds to different pads, and that also affects the way you approach the instrument. You might play a cymbal with conventional edge and bow sounds, but on the next kit you might have two different notes assigned to those same surfaces playing a melodic instrument. Or, you could assign bass notes to your kick drum and play melodically, or assign a kick drum sound to the snare pad and vice versa, and it completely turns everything you do upside-down. Just doing these things and hearing what comes out affects the way you think about coordination and drumming techniques in general and I think that you can create really interesting drumming environments for yourself. Reconsidering the mechanics and even the positioning of the components can revolutionize this instrument a little bit more, taking it another step into the future.
Wackerman: With electronic drums and set-ups, there are no boundaries. As Thomas was saying you can play melodies, percussion, and other sounds using the drums. When you think about it, electronic drums are still in their infancy, and I think people have only scratched the surface of what can be done. My duet with Thomas allows us to branch out a little bit, showing people that you can have a different set-up, you can do different creative stuff, which is awesome! If these are things drummers haven't thought about before, I'm hopeful this project will inspire them.
As you mentioned, electronic drums are relatively new, and Roland developments like the mesh head V-Pads™ and COSM® modeling for drums were only introduced in 1997, and the V-Cymbals® and the V-Hi-Hat® in 2001 and 2004 respectively. When people view and listen to this duet I think your playing will not only impress them, but they will be surprised and intrigued by of some of the capabilities of these unique instruments.
Wackerman: Yeah! Hopefully! The acoustic drum set has been around for a little over 100 years, and although electronic drums were very dominant in the 1980s, they quickly faded in popularity. One thing that I've always admired about Roland is that the company never stopped. When everybody else decided electronic drums were just a trend, Roland kept active with R&D and kept going. Being years ahead of the rest is what keeps Roland on the cutting edge. And now the rest are diving back in, recognizing that there is indeed a strong market for electronic drums and percussion.
For more information on John Wackerman and Thomas Lang visit: http://www.johnwackerman.com/ and http://www.thomaslangdrumcamp.com