Roland Users Group
Tim Brennan of Dropkick Murphys
Cranking the V-Accordion Up to 11
By Dan Krisher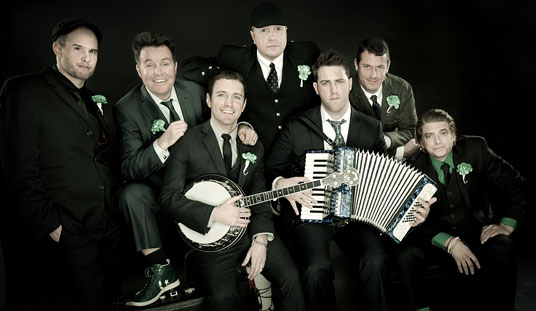 Since their beginnings in 1996, Dropkick Murphys have risen from basic Irish-punk roots to become a self-described "rocking & rolling, raging, green-clover machine." Starting out as a hardcore four-piece punk band, they gradually added Celtic influences and traditional folk instruments to create a unique hybrid sound that's built them a large international fan base. The hardworking group tours nearly non-stop, and they're particularly famous for their raucous annual St. Patrick's Day shows in their native New England, which attract followers from all over the world.
Multi-instrumentalist Tim Brennan joined the Dropkicks in 2003, first playing acoustic accordion and mandolin, and later guitar as well. Combining hard-to-amplify acoustic instruments like the accordion with loud guitar amps and pounding drums is a real live-sound nightmare, and Tim struggled for years just to hear his instrument well on stage. But that all changed overnight when he discovered the FR-3 V-Accordion®. Thanks to the instrument's digital sound source, he gets the perfect accordion sound night after night, and at volumes that can compete with his raging rock band mates. As Tim puts it simply, "The V-Accordion is amazing."
I recently sat down with Tim during a tour stopover to discuss the band, its history, and how he uses his V-Accordion.
What instruments do you play in Dropkick Murphys?
In Dropkicks, I play guitar, and I play a lot of accordion. I play a little piano and some other things here and there, but mostly guitar and accordion.
How did you go about joining?
When I first joined the band, the guys had me come along and sell merch on a tour in 2003, a three-month summer tour, and I would play accordion on one or two songs. And, it just sort of started from there. After that tour, they needed a guy to play mandolin and tin whistle and some other stuff, so I jumped in on those instruments as well. And then, in 2008, we had another lineup change. One of our guitar players left, so I stepped up to guitar, and I still play accordion, like I said. We have a newer member, Jeff DaRosa, who takes care of banjo, mandolin, all that stuff.
Describe Dropkick Murphys—their style of music, and how the band came together.
We're ultimately just a rock and rock band, and we like to incorporate the folk instrumentation and play some traditional Irish songs. We all grew up with traditional Irish music in listening to The Pogues, as well as punk rock and stuff, so it's sort of a melding of all those things. The band started in '96, and they were just a four-piece: guitar, bass, drums, and vocals. They started playing Swingin' Utters covers and stuff like that, just punk rock covers, and eventually started writing songs. It wasn't till about 2000 that they started adding bagpipes and somebody that plays folk instruments and stuff. Since then, it's just sort of grown, and now pretty much all of our songs are that combination of rock and roll and Celtic music. We're at a point now where it's a lot easier for us than it used to be, certainly, to write songs like that. But, we love doing it.
Why do you say it's easier to write songs like that?
There was a point in time where on a record there'd be a rock and roll song or a punk song or whatever, then a folk song. It was sort of split up like that. But these days, we put all the elements together, and we've just sort of come into our own as far as writing songs like that, I guess.
And you've developed your own sound, too.
Yeah, for sure. We just try to stick to what we know, and to what we like to do.
What's your musical background?
My brother and I were very interested in music when we were little kids. We don't come from a musical family or anything like that, but for some reason, my older brother and I were just always really into music. He wanted to learn how to play guitar, and I wanted to play the drums and stuff. Eventually, after bugging our parents for years and years, he got a guitar and I got a hand-me-down drum set, and we both immersed ourselves in learning how to play these things.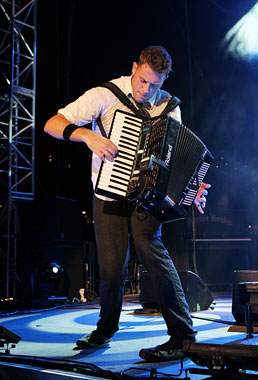 Once we got a hold on those, both of us sort of branched out into other instruments. Like I said, I was really into The Pogues, so I borrowed an accordion from a friend and taught myself how to play it in my room along to Pogues songs and a lot of stuff like that. I always played drums in hardcore bands and rock bands when I was kid, and just sort of played guitar and whatever else I could until I joined the Dropkicks. That's when I started really getting into the other stuff.
When you started playing accordion, was it a piano or button type?
I've always just played piano accordion. And, it's always been really difficult because those acoustic accordions weren't made to be competing onstage with full Marshall stacks and drums and bass and stuff like that. So, we always had trouble. We'd get pickups installed, and it wouldn't be quite right. We [tried them] all—we went everywhere. It wasn't until we actually found the Roland V-Accordion that we were able to not have to worry about the accordion in a live setting anymore, as far as where you can hear it and whether things are bleeding into it. It's not a problem anymore, which is awesome.
Has using the V-Accordion changed your style or the way you approach the instrument in any way?
It's made me a lot better, because when I'm on stage I'm not just sticking to playing the chords, you know, doing just what I'd normally do every night. Because now I play this [instrument] where the volume can be pushed up where I can hear it, as opposed to when I was playing acoustic accordions with pickups, where there was just so much bleed-in from other instruments and stuff. When you put it in the monitor, it just sounded like absolute garbage. I can play so much better now [with the V-Accordion], because I can hear what I'm doing.
Do you use any of the other sounds on the accordion, the non-traditional sounds?
No, we haven't delved into anything like that yet. We've just been using it strictly as an accordion, but it does have so many other sounds on it. It's unbelievable.
Do you know which sound you're using on it?
It's on the Spanish Folk setting, but there's a weird way to get to it when you first turn the thing on. But, it's some derivation of the Spanish Folk setting. It's got a nice vibrato about it, and that's what I really looked for when I was getting accordions and playing them with a band and stuff. I was able to match that James Fearnly/Pogues sound.
On your latest CD, Going Out in Style, there are a number of songs where the accordion is really prominent, like "Sunday Hardcore Matinee" and "The Irish Rover." Did you use the FR-3 in the studio at all?
In the studio, we did some tracks with it. When we were doing songs where the accordion was really prominent, all the basic tracks, where Matt was doing his drums and stuff, all those accordion parts I played were on the Roland.
How has the stage and sound crew responded to the V-Accordion, and how has it helped them?
It's such an easier thing than what it used to be. As far as having to line-check the V-Accordion, there's never any problems with it. As far as setting it up to be ready to go onstage, it takes one second—you just push a button. Today, with the new one we got, Billy, my tech, just programmed the sound we use into it, so the new one is ready to go. It took five minutes. It's been a lot easier for those guys to deal with, because they have to deal with a lot of weird acoustic instruments, like mandolins and bouzoukis and everything. So much can go wrong with all that acoustic stuff, so it's nice to have something that's so reliable.
What's coming up for the band?
We're on the road for the rest of the summer. In September, we have two shows at Fenway Park that we're doing in Boston that just sold out today. The tickets just went on sale, so that's amazing. We're just going to be playing, playing, playing like we always do.
Do you do any side projects outside of the band?
Yeah. I play drums back at home with one of our techs, Kevin Rowe. That project is called Double Nines. It's just a three-piece rock thing, and we play around Boston for fun. Like I said earlier, drums are my first instrument and my first love as far as music stuff. So, I'm always doing something that involves me playing drums, because that's just something that I have to do, you know?
Is there anything you'd like to add?
The V-Accordion is amazing!
To keep up with Tim and Dropkick Murphys, visit www.DropkickMurphys.com.