Roland Users Group
Robert "Bubby" Lewis
Bass Prodigy, and Then Some
By Dan Krisher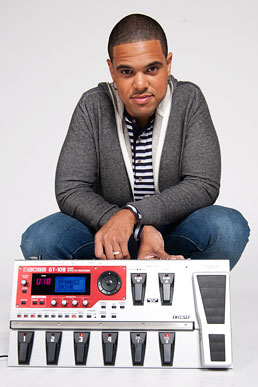 Robert "Bubby" Lewis, one of the most accomplished young bass players around, originally wanted to be a drummer. In a recent interview, he said: "Before I started playing the bass I wanted to play the drums like my sister Benita." When he asked her what drummers should be listening to, his sister recommended some CDs featuring famous drummer Dave Weckl. But, when Bubby heard bassist Tom Kennedy on the record, he knew that bass was the instrument for him. He started out playing for fun in his father's church at age 14, but rapidly became very accomplished on the instrument and soon became known around his hometown of Flint, Michigan, as a local bass prodigy.
In 2003, Bubby met gospel bass legend Andrew Gouche, who was very impressed with Bubby's talent and introduced him to famed bass designer Michael Tobias, who invited him to play in his booth at the NAMM show. After witnessing the crowds that gathered in the booth to see Bubby playing, Mike Tobias promptly offered the young bassist an artist endorsement, which he has to this day.
Since then, Robert has played and recorded bass for an "A-List" of music industry powerhouse artists. He can be seen regularly with hip hop legend Snoop Dogg and hit maker Lupe Fiasco, among many others, performing around the world on television and for sell-out tours. Bubby is an enthusiastic user and endorser of Roland and BOSS gear, and regularly uses a BOSS GT-10B for his effect processing and the extraordinary Roland VB-99 V-Bass for his advanced studio sounds. When he is not working with Snoop, Warren G, or one of the many other hip hop, rap and gospel artists he plays with, Bubby's love for Japanese anime has led him to producing music for the FUNimation Channel: the largest Japanese anime distribution company in the world.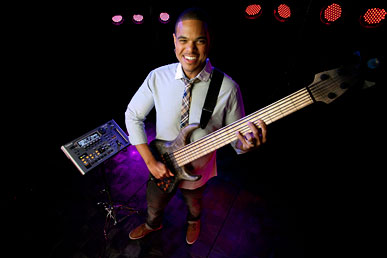 With so much experience already under his belt, Bubby has some sage advice about the life of a musician, "It's important to be humble and respect every musician and everyone's gift as a musician. Also, respect and appreciate all genres of music. Never concern yourself with trying to be better than somebody else because everyone has their own voice and every musician expresses themselves through their instrument differently. It hurts me to hear musicians talk about other musicians because we all play what we feel. Never think you're too good to practice. I have friends that have been playing instruments for 40 years, and still to this day, practice as much as possible."