Roland Users Group
Joe "Flip" Wilson
Lady Gaga's Musical Director Discusses His Long and Successful Career with Roland Keyboards
By Dan Krisher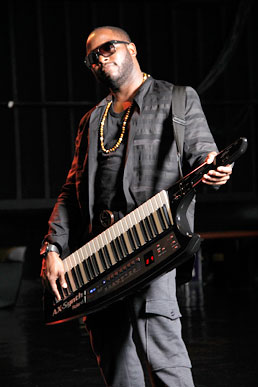 Joe "Flip" Wilson has enjoyed an amazing career as an in-demand keyboardist, programmer, and musical director, playing with some of the biggest names in the R&B, gospel, and pop music worlds. Since getting his start in the late '80s, his résumé includes stints with Guy and Blackstreet (both featuring Teddy Riley), Silk, New Kids on the Block, and many others. In the role of musical director, he worked for Beyoncé and other top artists before landing his current position with Lady Gaga. After recently completing a worldwide two-year run with The Monster Ball Tour, Joe and Gaga are in the planning stages for an all-new show that will hit the road in 2012.
Though he's worked with a diverse array of top artists, the one constant in Joe's music career has been Roland instruments. From the very beginning, he's relied on Roland pianos and synths to get the job done, both for their expressive sounds and supreme reliability night after night. For The Monster Ball, Joe assembled an enormous arsenal of Roland gear for himself, Gaga, and the other musicians to play, including the V-Synth® GT, Fantom-G8, GAIA® SH-01, AX-Synth®, Lucina® AX-09, and the RG-7 Digital Grand Piano.
When the tour concluded, Joe came home to Los Angeles, and I had the opportunity to sit down with him for a long conversation about his outstanding career.
What are your musical roots?
Gospel music. I grew up in church, kind of street church. I started as a bass player. My first major gig was with an artist by the name of Tramaine Hawkins. The Hawkins family is one of the families who created the contemporary sound of gospel music. At 16, 17, as a bass player, that was my first gig.
Are you self-taught, or did you take formal lessons?
Everything is definitely self-taught. But I like to say it's a given gift from God. I can't take the credit for teaching myself. I just followed the gift that was inside of me, and tried to learn as much as I could as a musician. I just love to play, so whatever I wanted to play, I figured out how to play by ear.
[My father] sent me away to this boarding school in Mississippi; it was actually a church school. I spent three years there. The pastor of the church had a music studio, and that was his side thing. Because I was interested, he used to call me in to help him set up for sessions. All the instruments were there: bass, drums, guitar, keyboard, everything.
When I got there in 10th grade, he would have sessions at night. I'd get a chance to go in and play with instruments and even get some studio knowledge on how to record. This was old school. I learned how to splice on two-inch [tape]. It was serious. It was part of my destiny to be there, because all those skills I learned in that high school I use today. It advanced my career.
How did you make the switch to keyboards?
Tramaine Hawkins' musical director was Joel Bryant. They were going to do Edwin Hawkins' music in a regional recording in New York. And he was like, "Joe, I want you to do this recording with me. But I don't want you to play bass. I want you to play keyboard." Keyboard? I'm a bass player. "I hear you playing, and you're ready for this. I want to debut you on keyboard."
So I did this recording on keyboards, and I was nervous! Aaron Hall was at that church recording, and he knew me as bass player. He was part of a group called Guy with Teddy Riley, who we all know is an incredible producer. He's like, "You're playing keyboards? You need to come out on the road with me. I've got this group, and I'll take care of you." So that's how I started doing R&B music. This was like 1990. From there, I started my journey as a keyboard player. I still own a bass, and I've played bass on different records, but I never get a chance to play live. Everybody wants to call me for keyboard.
So after you played with Guy, where did you go?
When I was with Guy, we had a crew of musicians: Kern Brantley, Gerald Heyward, myself, Valdez Brantley…it was the same crew moving on from gig to gig. We went from Guy to Blackstreet to Mary J. Blige to Silk…a lot of R&B acts. We just kept moving.
I remember I moved in with Teddy Riley. Teddy was like, "I'm moving to Virginia. You should come move in with me. If you teach me some of the things you know, I'll teach you my studio side. I'll teach you how to produce and do beats and everything like that." So, I end up staying with Teddy in Virginia in his studio, working with him on a couple of things.
Eventually, after learning so much with Teddy, I decided I wanted to go back to church. I wanted to apply the production skills that I learned to making gospel music. I produced a couple gospel records, and I worked with every gospel artist. My first major production was with this group called Nui Joi. Because of my high school church having a studio, what did I do when I got to Newark? I put a studio inside the church.
At that time, I was doing a lot of gospel remixes with Hezekiah Walker, different people. My ex-wife and I created a gospel record together. The group was called SOP, which stood for the church I attended in which I got my experience in honing and crafting my skills: St. Paul Sounds of Praise. I think I helped create a sound in the gospel market that a lot of artists have started using. It was coming from Teddy Riley. The sound was more contemporary. Of course, Kirk Franklin rode out with it, there's Donald Lawrence, Mary Mary…I think I was kind of at the helm of creating this new, contemporary R&B/hip-hop/gospel sound.
When did you start working as a musical director?
My first major MD job was with Beyoncé. [On] the Ladies First Tour, I played keyboards, and I programmed the show. I would run the show and play at the same time. [For her next tour, she put together an] all-girl band. I think Beyoncé trusted the fact that I could teach the girls the music. So, that was the first major MD spot.
How did you land the Lady Gaga gig?
Through Laurieann Gibson, the creative director and choreographer. She's been creative director for everybody: Puff, Notorious B.I.G., Alicia Keys, Dixie Chicks…Google her. It's crazy. Jonas Brothers, it just goes on.
[I worked with her on a Mario tour], and we became really good friends. I was in New York with Beyoncé, and she said, "I want you to meet this girl I'm developing." So I go to Smash Studios, and she introduced me to Lady Gaga. I'm like, "Pleasure to meet you, I wish you the best," and I watched them rehearse for a little bit. This was like four or five years ago. Laurieann says to Gaga, "When you get your money up, you should hire Joe to be your musical director."
They kept doing their thing, working and working and working. She hired a couple musical directors. Then one day her manager called me and says, "Joe, Gaga really wants you to come on tour." Then Gaga gets on the phone and says, "Joe, I really need you. I need you to make my music right." That's how I got the call.
It was good, because I kind of knew her through Laurieann, and she's kind of developed her from the beginning. I tell everybody—it's like the gig I waited for. [We were] on tour almost two years.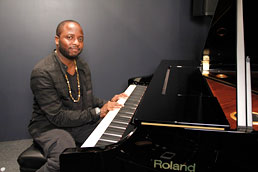 That's incredible.
It was a great run.
How do you go about working with Gaga to create the arrangements?
I always make sure I keep the integrity of the artist's music. I like to have a relationship with the artist, because if I have a relationship, you can tell me what you want. As a musical director, I'm gonna make sure that I have the band and your music sound-wise…not just musicians, but sonically, your ears, your monitor, the front of house…it's gonna sound like your records times 10.
With Gaga, she was that artist who said, "Joe, I know who you are. I know you're going to keep the integrity of my music. I'm going to give you my ideas, and then I'll let you go and create what you want to do." She trusted me as a musician. She told me what she wanted and how she wanted it to roll.
The majority of all the segues and the intros and the outros, she would hear them and be like, "Yeah!" She might add to it, she might take away, but the majority of the time she'd just let me do what I do. And again, it was about me vibin' with her from the beginning. Tell me what you want—what's your dream band? What's your goal as an artist on stage? What do you want to accomplish?
When I got into her music I realized that, whoa, this is some clever music. When [people] first looked at Gaga, I think they didn't even give it a chance. But when you really listen, it's really good music. It has a lot of depth, a lot of nuances to it. I really had to study her music, study her approach, her music, how she's writing. And, when I did that—which I do with all my clients—I realized how to arrange her show. It's really not me. It's Gaga.
One of the big appeals of the show is that it's a perfect combination of electronic, rock, R&B, hip-hop and gospel, all coming together.
It's just the way that music is. Growing up, I had a lot of older cats that took me under their wings and showed me what music really is. Music is not one genre. When I first started getting into keyboards, I got a sampler. If I went to a sax, it was actually a real sax sample. So, I couldn't do a keyboard riff; I had to learn how to do the inflections with the joystick and the breathing. I had a little string instrument knowledge, a little keyboard, guitar, you know, drums…so I had a little bit of knowledge about how all these instruments act. A lot of musicians don't take the time to get into the instruments. And when you're playing them on a synth, how do they sound authentic? You have to know the application of that instrument.
Exactly.
So, I applied that when I put a band together for Gaga. This is a rock song guys—we're gonna rock this out. From there, I'll create an interlude or transition that is more like R&B. And you want to keep the integrity of the records. I wanted to make sure that the integrity of the music was consistent in tandem to all the elements of bringing in live instrumentation with the electronics, with her at the piano, whatever, you know. I think that's where a lot of musicians are lost now, because I don't think any musician should be just a rocker or hip-hop or country or gospel. I think you should learn all the different genres of music.
Where does Roland fit into your music?
What I love about Roland is that I've always been a Roland fan. Going back years, all the gigs that I've done, every genre, Roland has delivered the sounds for each gig, whether it was hip-hop, R&B, pop, jazz, or gospel. Roland was always that keyboard you could count on to get you through the gig. Especially when you're dealing with electronic music. With Gaga, you're dealing with producers who use a lot of soft synths [on the records]. Roland has always been able to match those sounds.
You know one of my favorite Roland instruments? I still have it. I never got rid of it. It was the Rhodes MK-80. [Editor's note: Roland manufactured a number of pianos in the 1980s branded with the Rhodes name. These instruments employed Roland's S/A sound engine, which was a milestone technology in the development of the digital piano.] I loved that keyboard. On my first major tour with Guy, I used a D-70 and a D-550. That gave me the flexibility to use all my modules and all the sounds. So from there to now, Roland has always delivered the integrity of the music sonically, and they're reliable. I used to break keys on other keyboards. [Mimics playing a keyboard glissando.] But, Roland has always been reliable. And, the sound's always been thick, sweet, fat, everything.
You guys use the RG-7 Digital Grand Piano a lot.
The RG-7—we love that piano. I played it on The Today Show. I love the fact that you can go from the low A and have it ring with brilliance, and then you go into the high octaves [and you can hear the hammer sound]. With some samples, you get into the high octave and you never could hear the hammer. It's just not right. You guys got it. Y'all got it on point right now. You knocked it out of the park.
[I've been using] Roland since 1989, 1990, and that's a long time. It's been a winning situation for me. Ninety percent of my keyboards have been Roland throughout the years. When you're gonna do someone else's gig, someone else's music, you need to try to match their music. You can definitely count on it being in one of the Roland instruments. I love that.
We get a lot of people who write us and say that their favorite part of the Lady Gaga show is when she plays the AX-Synth at the beginning of "Money Honey." How did that come about?
I always try to get Gaga to rock out. When we were coming up with "Money Honey," she told me she wanted to play her keytar. So I created this interlude for her to play, showing her skills as a key soloist on the keytar. When I created that, I just showed her the chord progression, and she kind of came up with the majority of the melody line that she plays in it. I kind of gave her an idea, and she just ran with it. That's my favorite interlude.
What's next for you?
We're working toward the new tour, 2012, for Gaga. And, I have some things that I'm working on that are going be a major part of me being in California. I'm still following my dreams. I have a lot of things that I'm working on.
Do you have a chance to do any of your own music, or just play for fun?
No. I don't really play too much anymore. Sometimes when I have a moment, because I'm gone so much, I play the RG-7. That's my meditation. It feels like a baby grand when you play that thing. You know, you sit there on a real, live baby grand, it inspires you to write, it inspires you to create.
Roland is designing instruments that actually have life, you know? The thing about a lot of synths—we lost that. All the applications of a real instrument, a lot of these synths lost. I have to say Roland has really been winning with that, creating an instrument where it actually has life. When you hit that sound, it's speaking to you, and now you're saying, "I got a song!" You know what I'm saying? I like that!