Roland Users Group
Eric Johnson
The Legendary Guitarist Explores New Tone Frontiers with Roland's GR-55 Guitar Synth
By Paul Hanson and Jim Bybee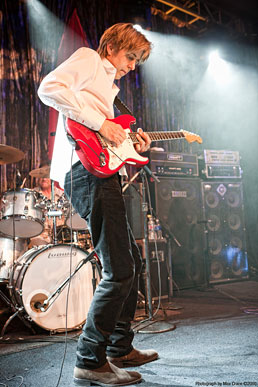 One of the greatest guitarists of all time, Eric Johnson has reached that rarified level where he's instantly identifiable both for his unique playing style and his equally unique signature tones. Among players, Eric is well known for his relentless pursuit of tonal nirvana; he's meticulously crafted his personal sound not only with hand-selected vintage and modern guitars, amps, and effects, but also with carefully chosen ancillary components like strings, cables, and even the types of batteries that power his stompbox pedals.
At this point in his career, Eric feels he has taken his analog guitar tone to near perfection, and he's begun looking for ways to supplement it with fresh voices. In this new pursuit, he's found an ideal partner in the GR-55 Guitar Synthesizer. Eric has used Roland's guitar synths for many years, mostly on his studio recordings. Now, he's embraced the powerful digital technology in the GR-55 to add another dimension to his acclaimed analog-based sound, taking it to unexplored territory both live and in the studio.  
Eric is featured in Edition 32 of the BOSS Tone Radio podcast, and the following is an excerpt from that discussion. To hear the full conversation and clips of Eric's music, check out www.BossUS.com/Podcasts.
Want to play Eric's custom patches with your own GR-55? Grab them at the GR-55 Artist Patches page.
Tell us about your early experience with Roland and guitar synths.
I started working with Roland I guess in the later '80s. By the early '90s, I did a record called Venus Isle, and I actually used the Roland guitar synth on that for several songs because of the extra texture it was adding. Ever since then, I've always tried to stay in contact; Roland seems to stay on the leading edge of guitar technology as far as synthesizers and everything. I'm always kind of curious to stay in touch with them to see the latest and greatest and all the improvements—it seems to get better every year.
What songs did you use the guitar synth on?
There was a song called "Mountain" that had it on it. Actually, the title track, "Venus Isle," [had it]. "Battle We Have Won" had a little bit of guitar synth in it. The intro before "When the Sun Meets the Sky" had some guitar synth stuff in it, too.
What do you like about the new GR-55?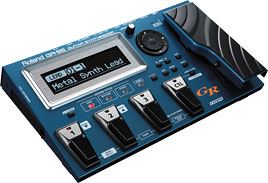 I think what I'm liking about this new one is that it's kind of perked my interest as far as how I can blend a percentage with my analog tone. You know, I do my analog thing and [I've] kind of got that down how I like it, but it's kind of nice to add that extra dimension. Even though I guess I'm kind of a purist, I enjoy the counterbalance of putting a little percentage of the guitar synth in. Most of my involvement [with guitar synth] has been on recordings from time to time. I'll use a little bit of it, and I'm trying to figure out a way now to implement it on some of the live songs as well.
It sounds like what works best for you is blending the guitar synthesizer with your analog guitar sounds.
I think for me that works well. I mean, it's almost like the guitar synth is its own proprietary instrument and it should be approached as such. I think if you try to get it to do the stuff the analog stuff does, then the inroads won't be as open, you know? But I think that if you try to get a guitar synth sound out of an old Marshall, you couldn't do that either. I think the idea is to look at it as a tone palette that could be added [in] whatever percentage might work for you. To me, adding a little bit underneath [the] sound adds this extra dimension and depth of field to it. That's what I'm really interested in trying to do right now.
So you take your killer analog tones and add some synth textures underneath?
Yeah. And what I'm working on now is really just kind of being happy with my analog sound. I really don't feel like chasing or changing my guitar tone analog-wise. I just want to figure out ways to complement it and add different textures, almost using it like a very involved multi-dimensional effects rig—whether it's the effects or whether it's the filtering or whether it's the distortion, or whatever envelope or sound texture that it's providing, it could be looked at as a much more panoramic effects pedal.
You're known for being a purist who uses a lot of vintage analog gear. How do you explain adding this advanced digital gear to your analog stuff?
Well, I think this digital stuff [like the GR-55] is more dimensional than just using a digital distortion or a digital pedal. I think where Roland's going with it is they're keeping their eyes 360 degrees on how they can bring in all the aspects of sonic technology into a box, [so] that no matter what texture you want, you can chase it.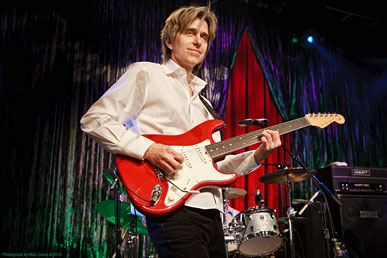 I've tried all sorts of new analog amps, [and] I've pretty much got my sound to where it's like…I've just tried to get the violin to turn into a Stradivari violin. And once I get to that point where that's like, yeah, that's it: that's that flat-EQ, natural guitar tone—it can be really sweet [with] even harmonics and very sustainy and very beautiful like an old Hendrix record or Clapton record or Wes Montgomery or something—but once I feel like I approach that pinnacle, then I don't really have any desire to change that. So, the idea of the digital technology is it's completely an open field, because if you're not trying to change something, you're just trying to complement something. So, the sky's the limit on what you can do adding [it in], and it's kind of like a parallel road where it can change with you and you can always add to it. It's just a parallel color that will only increase the rainbow.
That's a great analogy—digital and analog being parallel roads. It's not an either/or situation.
No, not at all. I would never do that, because I love the sound of just a really great old Plexi Marshall with a Strat, you know? I don't know if the ultimate function [of digital gear] is to try to replicate that as much as enhance that. To me, that's a really useful additive. I think what's cool about the Roland synth thing in its complementary way and [enhancing] way is in taking guitar [to a new] place—it's almost like one plus one can equal three.
That alchemical thing is really nice, because we've all been listening to electric guitar for 50 years. It's nice to have extra seasoning to kind of dilate it, you know, to where it's a little bit more. I can try to get the greatest guitar tone in the world or whatever, and that's all well and good. But to [take] the guitar traveling somewhere that it maybe hasn't in the past, it gives it a little bit of a different interest level than what we've heard for 50 years.
It's very interesting that you say that, because one of the specific design elements of the GR-55 is not just to try and duplicate sounds that exist, but also to allow the musician to make sounds that have never been made.
Right. And it's almost like you're building a skeletal schematic that can be interchanged as the years go on.
You have a very iconic tone. When you hear it, you really know it's you. You could say, "That's my tone. Why would I change it?" But instead you say, "I'll just add some different tones to what I have already."
Exactly. And that's cool. I especially do that in the studio, but I do it live as well. I mean, if you use an effects pedal, there's no reason why you can't use something that does way more than just a singular effects pedal. [
Laughs.
] Or, more than even a multi-effects pedal does. I mean, you've got those—you can get a single effects pedal, you can get one that does a couple of things, you can get a multi-effects processor, or you can get something like [the GR-55] that even goes beyond that.
And that's where the mindset is, I think. The trajectory of the mindset of what [Roland is] doing is embracing that, which is cool.