Roland Users Group
Mitch Cohn
MD and Synth Bass for Chris Brown's F.A.M.E. Tour
By Dan Krisher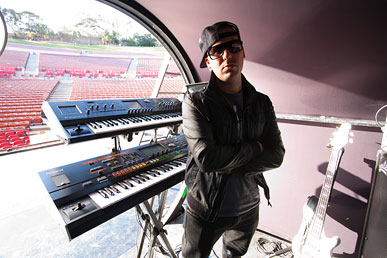 Mitch "Catalyst" Cohn was born in New York, where he grew up playing piano, guitar, and drums. At age 15, he picked up his first bass guitar. A year later, his bass playing yielded a full scholarship to Berklee School of Music, beginning an accomplished and growing music career. He's performed with Lady Gaga, Kanye West, and Beyoncé, and currently serves as musical director and bassist for Chris Brown's F.A.M.E. world tour. As a producer/remixer, Mitch has credits with Beyoncé, T-Pain, Sean Kingston, Omarion, Lil Jon, and others.
While bass guitar is his primary instrument, Mitch plays just as much synth bass while backing today's top stars. On the F.A.M.E. tour, he lays down the bottom with four different Roland synths: the JUPITER-80, Lucina® AX-09, V-Synth®, and his secret weapon, the GAIA® SH-01.
I visited Mitch one afternoon during a sound check on the Los Angeles stop of the F.A.M.E. tour, where he offered his insight on music, Roland gear, and what it takes to land and maintain a top touring gig.
What are your responsibilities as musical director for Chris Brown?
Being musical director, there are a lot of responsibilities. First off, [there's] getting all the music together and programming the show—taking a record and making it suitable for the live experience. [I] make sure everything is right in Pro Tools and do all that, and then get the band together. [I make] sure the show is correct, and I deal with all different departments, from audio to lighting.
Describe what you're playing in your keyboard rig.
I have a V-Synth up top that I'm also running MainStage with. I have the new JUPITER-80, and then hanging behind me I have the Roland GAIA. 
How do you use the GAIA?
It's amazing—[it has] a lot of great bass sounds. I have it hanging behind me, so I turn around and play it, you know, half-facing the crowd. It's an amazing little keyboard, and everything's accessible. That's what I love about it. I don't have to go through a million screens just to create a sound on the fly. It's great. It's like a new version of a great old keyboard to me.
What kinds of bass sounds do you typically use on the GAIA?
A lot of old 303-type bass sounds, and some heavy, heavy subs I've created that are perfect for a lot of Chris' music.
How does the GAIA compare with the warmth, fatness, and vibe of vintage analog synths?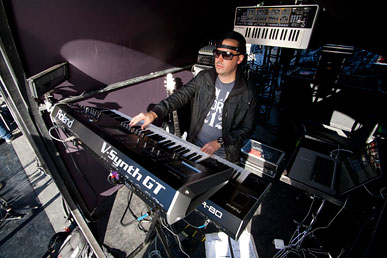 It's just as good, if not better. I'm a vintage guy. A lot of the new keyboards don't add up when A/B'd with a lot of the older stuff, and the GAIA, hands down, matches right up, if not better. A lot of the subs are incredible—super fat.
You have it placed in a unique place in your rig. How did that come about?
The way the stage is set up, we're in these circles. And one day I'm sitting there, and I have a rod above my head. [I thought], "Why don't I hang keyboards [there]?" In a perfect world, I'd like to get rid of all stands and have it hanging, and have the other keyboards coming off the side. I had the idea, talked to the carpenters, and they put together a little piece, and we got the GAIA up there. 
You're also a longtime keytar player. What gigs have you used the Roland keytars on?
I used to use it with Lady Gaga. I came out on stage and played keytar with her. And now, with Chris, I'm starting to implement it into this show as well.
What advantages does a keytar give a player like you?
I'm a bass player; I end up playing 90 percent of these gigs on key bass. So, for me to have a keytar, where I can go walk around and have the freedom of playing bass, I love it. Not having to be wired in and standing in front of a keyboard stand, but still get that same sound, is perfect for me.
Does having a keytar make you a more sought-after player?
One-hundred percent. A lot of this is look. Obviously, everybody has to be a certain level of player, but a lot of it is look. So, being able to strap on a keytar and walk around and be a showman is a big part of business.
You've just incorporated the JUPITER-80. What are your plans for that?
It's incredible. The first time I sat down with the keyboard I was blown away. Sonically, all the sounds, from recreating a lot of the old synth sounds to incredible piano sounds, it's endless what I can do. I'm also a producer, and I work a lot in the studio. There are a million applications for that keyboard for me. Between the live setting and a studio setting, I'm really excited to dig into that keyboard more.
Do you do your own music?
Yeah. I'm a producer and songwriter. I have a record called "Bottles" on T-Pain's new record coming out, and some other stuff to look out for.
What advice would you give to younger players who want to get into being a session player or a music director?
First and foremost, master your craft, and dig back and really study the music. Work hard—that's the number one thing. But beyond that, an important part that a lot of people don't realize is that you have to be a people person. Your personal skills are so important, because we're on stage two hours a night, but you have to deal with all the people you're working with for the rest of the day. So, that's super-important. And, just go after every opportunity. You never know what might lead to the next thing. You might meet somebody who might not seem that important for an opportunity for you, but a month later or a year later or five years later, they might open an incredible door for you.