Roland Users Group
Sean Alexander
Synth Maestro for Jordan Knight
By Dan Krisher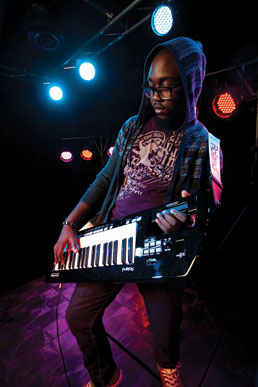 Keyboardist and programmer Sean Alexander got his big break when he appeared on Diddy's Making His Band TV show, which led to him landing an ongoing touring gig with Pastor John P. Kee. Currently, he's the synth player with Jordan Knight of New Kids on the Block, and he also plays with the group Elevation Theory.
Sean loves synths, and Roland synths in particular. The Berklee Music grad employs an army of Roland gear, including the Fantom-G7, GAIA® SH-01, V-Synth®, and the Lucina® AX-09. His rig also includes an array of legacy Roland gear, including the SH-201 synth, MKS-20 piano module, and the JV-1080 SUPER JV module.
How did you get involved in playing keyboards?
It's been a passion since I was young, just growing up and being around music. I was self-taught [starting] at the age of four, and I've just been doing it ever since—learning different things, aspects of music, going to school. It's just been a learning experience the whole way. 
You went to Berklee College of Music in Boston. What did you study?
Music synthesis.
What do you like about synthesizers and music synthesis? Why did you get into that?
The whole aspect of sound design: creating something from scratch, and just the endless possibilities of what a sound can be. There [are so many sound] characteristics of a synthesizer versus playing a regular piano [with just] one sound. A synthesizer is such a greater sound, [with so many] possibilities, and it's really up to your own imagination.
What kinds of keyboards did they have available at Berklee?
They had everything from old school DX-7s, JP-8000s, OB-8s, Waldorfs…vintage gear like Moog keyboards, and even sound modules, too. So I had so many options to pick from.
What do you like about vintage keyboards?
Vintage keyboards [have a] much warmer and fatter tone, compared to a lot of stuff today. A lot of stuff today, it's modeled after like, you know, older keyboards, and that's dope. But having that old, vintage keyboard that you actually have to tune before you start playing it, and program it and stuff like that, you actually go back in time to see what the greats used to cut their records and perform with at their concerts and shows. It's crazy. 
They're like a piece of history.
Oh, yeah. Definitely.
I hear you're a fan of the Roland JP-8000.
I've actually grown to like the JP-8000, and to this day, I'm still working on getting one. One of the bass players for one of the artists I play with now, he always brought his on the tour, and he let me fool around with it. It's just so hands on. The sounds it has are dope already, so some stuff you don't even need to tweak. You can build a song off of one patch. With the JP, all the sounds in there are so warm.
Tell me about your current keyboard rig.
I have a Fantom-G7, an SH-201, a V-Synth original (I'm looking into the GT as well), the Roland GAIA, and most recently, the Lucina. I have a couple of vintage modules like the MKS-20 EP rack and a JV-1080.
That's a pretty big keyboard rig. Describe your playing style and your vibe with that.
For me, I like playing more than two keyboards on a gig just because it's fun. Each keyboard has its own character, it has its own sound. I don't want to be stuck with one keyboard to get the sound I need, trying to match something else. But it's dope at times, you know, just using maybe two boards, because you can stack and split sounds between keyboards. But as far as my rig, I'll be using one keyboard for bells, I'll use one for effects, I'll play key bass on one board. I'll play only synth brass patches, string patches, orchestra hits like on the Fantom—effects, sweeps, orchestra hits, all that stuff. So, a lot of times my hands are full of doing something, but it actually helps me think. And, it works your independence as well.
How does the GAIA compare to the JP-8000?
They took a lot of features of the JP, and definitely incorporated [them] into the GAIA. One of my favorite features would be tap tempo. A lot of times we have a record, and instead of having to play a whole chord, I can be creative and have an arpeggio going, and just use the tap tempo to sync it with the tempo of the song. It gives a whole different vibe. Instead of playing crazy lines and stuff, you can just hold one note, and there's a whole bunch of different arpeggios to choose from.
[There's] so much variety with the sounds, especially the bass patches in the GAIA. [They're] really, really warm and beefy like some of the bass patches in the JP-8000, especially like sub basses that [have a] real round sound and a good deep, dark tone. And even like the synth leads and stuff like that, [they're] really bright [and] have a lot of attack. Of course, there are different waveforms and you can create your own patches and stuff like that. It's just such a warm keyboard, and it's so versatile to split sounds and layer sounds together. So, it's like endless possibilities and combinations.
You were on the show Making His Band. Tell me about that.
It was basically making this band for musicians to work with Diddy. That experience allowed me to meet different people and network with different musicians from all around the globe. The judges on the show [are] actually vets in the industry, they've worked with a lot of artists. You're learning the tools for how to perform, how to prepare for a tour, when it comes to physically playing and mentally maintaining and knowing what to do and what not to do. It basically teaches you how to be professional on a tour or any gig—the dos and the don'ts. So, that was definitely great exposure, and it led to a lot of different opportunities. I was just grateful to be a part of that.
On Jordan's show, do you program your own sounds?
Yeah. Sometimes, I don't have to, because with the keyboards I'm using, everything is there. But a lot of times I do have to program, especially for certain songs; you have to have a string pad here, and then you have to all of a sudden start playing a piano or Rhodes or whatever. Even though I'm the auxiliary player, me and the other keyboard player switch off on some stuff, depending on what song it is. Programming is definitely a must come any gig, because [you need to match] the sounds of the record. You can't have a record that has a harpsichord and you're playing a Rhodes—that's not gonna work. [Laughs.]
Programming with Jordan has definitely been fun. I would say one of my biggest dreams, even though I grew up as a Gospel musician, was definitely playing pop music. It's so energetic. I like dancing and just being everywhere, so pop music gives you that energy, gives you that edge. The sounds that I program for Jordan [are] massive because it's such a big show. It's pop, so it has to be big and it has to hit.