Roland Users Group
Jetro da Silva
The Acclaimed Keyboardist and Berklee Professor Embraces the JUPITER-80
By Dan Krisher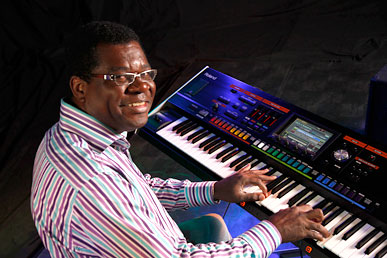 Jetro da Silva, a musician with both American and Brazilian citizenship, began supporting his family with his immense talents at age 16. After touring with several Brazilian artists, he moved to Boston to extend his music education at Berklee College of Music, majoring in music production and engineering. Jetro is now a professor in the Ensemble department at the prestigious music school, as well as an in-demand keyboardist for many of the world's top artists. His credits include Patti LaBelle, Jamie Foxx, Chaka Khan, Bonnie Raitt, and Celine Dion, to name just a few. Most of all, Jetro treasures his long musical relationship with the late Whitney Houston, which began in 1999.
Jetro has recently started working with the JUPITER-80, and had the opportunity to play it for audiences in Roland's booth at the 2012 Winter NAMM Show. With its SuperNATURAL® sound engine, massive laying ability, and performance-friendly architecture, he finds the JUPITER-80 to be an incredibly inspiring instrument, leading him to say, "Every time I touch it, I start writing."
Not long ago, I sat down with Jetro to listen to him play the JUPITER-80 and get his first-hand impressions, and to talk about the many Roland keyboards he's used throughout his career. Our discussion took place not long after Whitney Houston's untimely passing, and Jetro also shared some personal memories about his musical relationship with her.
What did you think of the JUPITER-80 when you first played it?
The first impression had to do with the sound. I really was impressed with the fullness of each patch, and what I was able to do as far as combinations [in a Live Set], things that I can come up with on the spot without having to change the patch. Within the same patch, I was able to do so much in a live setting. 
Musically, what inspires you?
Present [and] past circumstances, other musicians, compositions and songs, and also sounds. And sometimes a [keyboard] patch can take me to a particular direction musically.  
How do the sounds of the JUPITER-80 tie into your musical inspiration?
In the JUPITER, the sounds let me come up with many compositions on the spot. Everything you just heard me play, I just came up with based on the sound I was hearing at that moment. Some will take me to a gospel feel, contemporary gospel; some will take me in an '80s direction; some will take me to [a] Whitney Houston sound. But each one of them would inspire [me] to compose in one particular direction.
Other than sound, what are some of the JUPITER-80 features that are inspiring to you?
Well, I like the idea of a few things: one, I like the idea of being able to play a solo sound on top of my chord, [with] that particular sound not being [affected by other sounds]. That's one of the features that I like a lot. The other feature that I like is the Lower and Upper concept and the idea of muting the sounds. I'm playing a sound right now [plays a piano sound on the keyboard], and then I go here and I want to add the flute sound, and it's right in my face. [Then] I change the patch, but I'm still not having the flute be affected by the piano sound. 
Where do you see yourself using the JUPITER-80 in current projects?
I see myself using it on tours and in movies for scoring and different occasions. There are many presets here, as far as strings, for example, that I can take full advantage [of]. And the arpeggiator features…I can do so much [with] scoring that can really make the picture interesting. As far as synthesizers, there's a lot of great sounds here that bring me back to the old JUPITER-8, you know, from back in the day.
What kinds of Roland keyboards did you first get involved in?
My first love, my first baby, was the D-50. Then I was introduced [to] the [JV-2080 and JV-1080]. I really fell in love with the D-70. I used that for many, many, many years. [Laughs.] It was my controller for many, many years. And the VP-770, the vocal one, many people compliment me saying that I kind of became one [with] that keyboard. I love the [VK] organs very much. Of course, the GAIA®, I really dig that little thing. And now I'm in love with the JUPITER.
How does the JUPITER relate to those early keyboards that you used?
Talking from a musician's perspective, who uses the gear, it's like I have some of each one of them back in my hands in one [instrument]. I'm hoping in the future that you guys can give it some more of the old sounds, the old features inside of this machine. I'm referring to the old synthesizers, because that would be great. [Editor's note: This interview took place before the release of the JUPITER-80 Version 2 Update, which adds three vintage low-pass filters to the synthesizer engine. Jetro's wish came true!]
Do you see the JUPITER-80 appealing to a wide range of players?
Yes, I do. And not just the professional players; academically speaking, for someone like me who teaches at the college level, it's a great teaching tool. [Using the JUPITER-80's registration architecture], we can even go back to the organ days and explain to the kids that many of the program changes were done, and are still done, in pipe organs this way. So, we can go back and give a whole explanation of organ features, per se. You give them the understanding that the organ is really one of the first synthesizers. I can see that. And the programming features here, if we dig inside, you can really do some great editing as far as cutting filters, LFO, all that. So, I see it as a great, strong instrument, and a strong machine for editing as well.
What's next for you?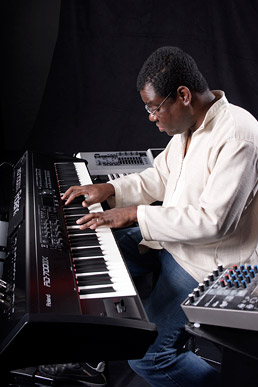 Next for me is [a] focus on synthesizer and a project that's an afro-Brazilian version of Rick Wakeman. [Laughs.] Lots of synthesizers on stage, opening my hands [emulates playing many keyboards at once]. All Roland keyboards all over the place. And I'm putting together a few educational videos. I'm just finishing one which is how to accompany a vocalist. And right now, I'm about to record my solo project, which is going to feature a lot of special guests, including Take 6.
What other Roland keyboards are in your studio?
Right now I have the RD-700, the VK, and the GAIA. I'm looking forward to getting my JUPITER in the studio!
How will you fit the JUPITER in with your other keyboards?
Well, the JUPITER will come in for layers and arpeggiators and a lot of that. And I'm planning to do a combination of the GAIA and the JUPITER, come up with some crazy stuff. [And] even have that combined with lights and videos, you know, MIDI-wise, for live shows. With the JUPITER, I'll have some great stuff taking place.
The JUPITER-8 has been with us for almost 40 years. The JUPITER-80 seems like it's a keyboard that could also be popular for 40 years with musicians. What are some of the things that might make the JUPITER-80 another legendary Roland keyboard?
I think one of the strong points on any keyboard from Roland is the quality of the sound. And I think the legacy still remains: the quality of the sounds. In the JUPITER's case, I think the synthesizer feature is still something that can be explored even more, [something that] DJs and whoever wants to use this gear [can] dig into more. But, they have to do their homework and spend the time. If they do that, they can come up with some great stuff, because the tools are there.
What in the JUPITER-80 makes it readily accessible to musicians? What is it about the keyboard that makes it easy to get to sounds quickly?
What makes the JUPITER-80 an easy keyboard to use is the touch screen feature. Having some of the sounds here already, things you just press, it's there in front of you. Some of the features here are not very hard to figure out; basically you have the Lower, Upper, and Solo. You know, you have these buttons here, but you have the names right in your face. The Split is right here. So, that facilitates the person when they have to do things right away on the spot—they're right there.
What about the JUPITER-80 inspires your creativity?
The JUPITER inspires my creativity in many ways. Even some of the [factory] sounds that come with the keyboard, I'm able to just touch the keyboard and start creating. And not just the sound…the way the sound is designed and set up, the panning. So, every time I touch [it], I start writing. It inspires me to continuously come up with new ideas.
You keep coming back to the sound being the most inspirational part of the keyboard.
Yes. Which is, I believe, the legacy of Roland. I still remember the "Universe" sound from the D-50. [Laughs.] I still remember that. There are some sounds [plays the keyboard]…this takes me back to the '80s, you know? 
What do you love about what you do?
I may cry now, but I won't…I get to meet and become intimate on stage with people like Whitney Houston. The last 13 years, she has been my primary gig, and it wasn't just a gig—it became a friendship. And if I wasn't in the music business, if I was not a keyboard player, I would never have met her the way [we] met. There [were] moments [with] me and her, and those moments are intimate moments, because music is a spiritual tool, it's a gift from heaven. The moment that you play each note, it represents life to me. Answering your question: to connect and to interact and to become one with people like her, who have changed my life completely.
Out of all the places you've played, what stands out in your mind the most?
Recently, with the passing of Whitney, I've been reflecting on 13 years of relationship. And what comes to mind is 1988. I was with my mother, my brother, and some family members; we were watching Whitney Houston performing live at Mandela's birthday. He was still in jail. Phil Collins was performing, everybody. And I said to my mom, "One day I'm going to play for her." And everybody laughed at me. [Laughs.]
In 1999, I was playing for her. It was my first tour, and I had totally forgotten what I told my mother about this. On October 24th—I've got this date in my head I'm never going to forget—we were playing the song "I Love the Lord" by Richard Smallwood, and I suddenly feel like someone is looking at me. I turned my head up, and it was Whitney. She had left her stage area, and she was in front of me, and she was saying, "I love you, and thank you for being you." And at that exact moment, my mind went back to 1988 in my mother's living room, saying that one day I'm going to play for her, and I couldn't stop weeping. I'm like, "Wow. I'm here. This dream really came to pass."
Music can make your dreams come true.
Indeed. And I was playing the Roland A-90, by the way. [Laughs.]