Roland Users Group
Kevin Ricard
Percussionist For, Well, Seemingly Everyone
By Mike Snyder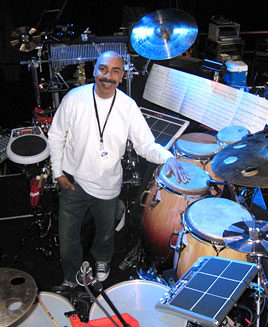 Kevin Ricard is one of those players that everyone has heard—they just may not know it. His versatility makes him a hot commodity in many stylistic circles, both live and in the studio. Just look at a few of his varied recording credits: Christina Aguliera, Kenny Loggins, Joe Zawinal, Kirk Whalum, Michael McDonald, Yolanda Adams, Paul Jackson, Jr., and Keyshia Cole.
I recently caught up with Kevin on the set of American Idol, and asked him how Roland percussion products help him remain so versatile.
Mike Snyder: I know you've used an SPD-20 in your setup for years. For this season of American Idol you've added a few more Roland pieces.
Kevin Ricard: Yes, I have, The SPD-S and HandSonic have been a great addition to my rig. On American Idol we get thrown so many different styles from week to week, that you have to have the right sound ready at a moment's notice. With my Roland gear I know if I need a sound on the fly I can get it, and if I don't have it, I can sample it or create on the SPD-S.
Mike: I remember, from my TV session days, that the pace is very fast. In addition to the live playing for the live show, you prerecord all the contestant's material, don't you?
Kevin: Every Sunday during the season, we go into Capitol Records to cut the songs. That means that we are cutting a full record's worth of songs live in one day: Rhythm, horns, strings and background vocals.
Because of the amount of music, we have to work quickly and efficiently. This is where my Roland gear really shines. It allows me to pull up and play any combination of sounds on short notice. I couldn't possibly do this with a large number of acoustic instruments under these time constraints. Just the time to reset mikes and get the right EQ would drastically cut into the schedule.
Mike: Can you share a specific time the HandSonic came to your rescue?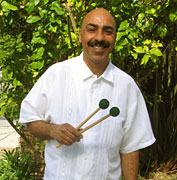 Kevin: We were recording Sting's song "Fragile," and on the original there were no drums. The percussion on the original was udu drum (played by Mino Cinelu), congas, shaker and percussion effects. The udu part was a strike on the side of the drum and the low sound. I decided to use a tabla for the side strike and the low sound of an udu. The HandSonic was my go-to-instrument for this, because I certainly didn't have time to pull out an acoustic udu and tabla, let alone have additional mikes set and EQ'd. It sounded great and everybody in the band was asking me what I was playing and commenting on how great it sounded!
Mike: The SPD-S Sample Pad is a unique piece of gear that allows you to sample and manipulate sounds easily and quickly. How has it worked into what you do?
Kevin: The SPD-S has saved the day on more than a few occasions. For instance, one week we did "We Will Rock You" by Queen. That song has the iconic huge drum and clap sound that starts the song. It's not something that you can create with just an acoustic drum kit without changing the EQ and effects. So, I just sampled the kick and claps from the original track, and added a sample of a sub-frequency kick to go along with original kick sound. Then, I edited the end point to line up with the tempo that we were playing the song. The result was a stadium-sized drum and clap loop that melded perfectly with the drum kit.
Another week, we were doing the Beatles' song "Come Together." That song has a distinctive vocal part at the downbeat of every bar of the intro and re-intros. A "shoomp" sound done live on the original with some effects added. I sampled myself with a mike directly into the SPD-S and added some of the SPD-S' onboard effects. It sounded great and worked perfectly.
• • • • •
Getting the right sound for the song and grooving his butt off, that's what keeps Kevin busy. Check out Kevin's work on American Idol. Percussion and drums are both on stage this season. So, in addition to hearing him, there are some great shots of him in action!