Roland Users Group
Carlos Lopez
Dancing with the Stars
By Greg Rule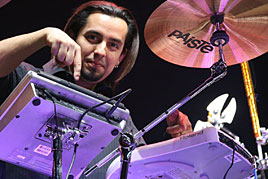 Now entering its 6th season on ABC, Dancing with the Stars is a broadcast phenomenon rivaled only by American Idol. Millions of loyal viewers cast votes for their favorite celebrity/pro-dancer couple. The TV show has spawned a variety of companion enterprises, including books, how-to DVDs, and nationwide tours.
With a 10-piece band supporting the cast of professional and celebrity dancers from the TV show, the current Dancing with the Stars tour features three Roland instruments onstage: a Fantom-X8 played by keyboardist/music director Will Hollis, and an SPD-S and HandSonic HPD-10 played by percussionist Carlos Lopez.
"Every musician onstage with 'Dancing with the Stars' has to be a musical chameleon in order to go from one style to the next," says Lopez. "With the SPD-S and HPD-10 the possibilities are endless. The right sounds when I need them with the quality and craftsmanship that is unmatched by any other product in today's market."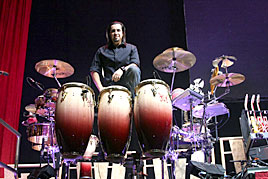 Lopez is prominently featured on tour, adding an exciting combination of world-class chops and showmanship to the 2-hour performance. From rock, pop, R&B, and soul to Latin, swing, jazz, and beyond, Lopez and his bandmates springboard seamlessly from one musical style to the next throughout the show.
"The SPD-S and HPD-10 allow me to achieve the sound I need for all styles of music. The user-friendly interface allows me to create at the speed-of-thought without having to stop and read a huge manual. For me, Roland represents the latest technology and sound without the frustration associated with most cutting-edge technologies."
For more on Carlos and the DWTS tour, visit him online at www.carloslopezdrums.com.