Roland Users Group
Shiny Toy Guns
A Magnetic Connection Via Zeros And Ones
By Dan Krisher and Tiffany Schirz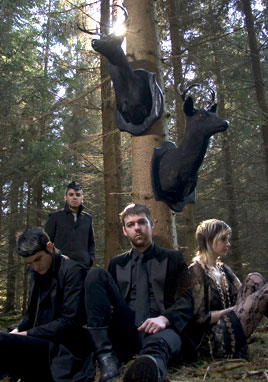 Formed back in '02 by bassist/keyboardist Jeremy Dawson and vocalist/guitarist Chad Petree, Shiny Toy Guns steadily built their grassroots following by touring their first independent release, "We Are Pilots." The album has since been re-recorded and released by Universal, and the band is now embarking on a tour that includes some of the biggest music festivals in the world. Jeremy is an avid Roland user, and we caught up with him recently. Here's what he had to say:
I've been hearing you guys on the radio, on LA's Indie 103.1 lately. How did you break in LA?
We moved to LA in '99, the two of us that are from Oklahoma. But breaking in LA didn't really come from living in LA. It happened after we broke in Chicago, and Salt Lake City and Portland. It could have been Singapore or Australia that we broke first – it doesn't matter. Instead of focusing on an area of 100 square miles, we focused globally from the beginning, by staying in the wires. In other words we never left the internet. We set up shop on places like Facebook, MySpace, purevolume™, and iSound, and built mobile camps at these places and used them as social networking strongholds, and mass communication areas to stay and not leave.
We played gigs very rarely in the very beginning, and the gigs that we did play were very high profile things in small rooms — shows with multi-platinum artists already set up and sold out, and promoters would slip us in at 7:30 or 8pm. And we didn't earn or deserve special treatment from other bands paying to play across the street because we were cool or we lived in LA, we were placed in certain positions in people's minds because we had and still have a magnetic connection via zeros and ones. We were a completely unheard of band on the surface of the world and the industry, but that's how the buzz started. And that's when the LA factor kicked in. But at first we had nothing; we just had our songs, our show, and our armed laptops.
"Le Disko" has been really big. What gear did you use on that?
The keyboard I use for Le Disko is a Roland JV-1000. It's the old 1080 engine that I've used since the early '90s.
What part of the track did you use the JV on? The bass line is very distinctive in that song, and there are a lot of great textures, like in the B-section.
There are a lot of soft synths in that song as well. The original bass sound is just a simple saw lead. Literally the factory unedited patch of this is what you are hearing on sound systems every night. It cuts right through everything, even being a digital synth. In the studio we take an analog patch and throw it underneath and filter it down to give it a sound that you're not going to get or find on any digital keyboard. It brings out all these different frequencies that are very difficult to translate and replicate with non-analog stuff.
So you're combining the JV with analog gear to create a unique sound and texture.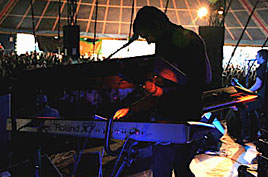 Yeah, exactly. There's stuff like riffs and keyboard lines that have different synths all linked together, then we'll take that and run it through a big tube, a vocal preamp like an Avalon, then run that back into the computer and you have a saturated, thick sound. Then top it off with a digital sound from one of the keyboards. It sounds like one sound, but it's like five different keyboards, and it covers the whole spectrum of the frequency while allowing you to cut holes in sections to fit in all of the other pieces and parts of your recording. And that's the whole perplexing thing when you buy a keyboard and wonder why it doesn't sound like something on a CD – you have to have multiple synths.
So how do you translate that when you play live?
Well unfortunately, you look like Paul Shaffer and you have too many keyboards on stage. [laughter]
Coming from a dance and club background, in the very early stages of live performance I relied heavily on backups. Like DAT machines and stuff. Most people in the dance world, unless they come from a rock band, don't understand that it's just a lot cooler the more live you are. As soon as resources and time allowed, these machines were left behind and replaced with as many instruments as possible on stage. But in order to have fun with what you are doing and not just cover your life in keyboard stands, you have to keep a well-maintained performance mode setup on each synth to maximize its multi-timbral capabilities. I totally sound like one of those grey haired guys with bad Hawaiian shirts on and a beer belly that plays keyboards right now, it's terrible.
I use a JUNO-G, a Fantom-X7, a V-Synth, and a JV-1000. The goal is to keep everything wrapped around you where you can see everything — everything meaning you can see all of the people in front of you as well. And you just go for it.
Any other Roland gear you're using?
I'm getting a Super Jupiter soon. I'm actually getting all of those rack pieces because in the studio, they're so much easier to use. The Super Jupiter is unbelievable, because it has all the good sections of a couple of the Jupiters – it's a complete analog rack thing. I still have an HS-60 and a couple of Juno106's back home.
Can I ask you about the V-Synth – how are you using it right now?
I'm using the rack, the XT. I need the keyboard version, though. I use it as a live synth and I truck it around in the trailer of our road stuff. Probably the worst thing you could do with a V-Synth.
Thank you for using all the Roland gear.
I don't do it on purpose; it's just a natural thing. There are some cool keyboards out there by other companies, but there's an engine consistency with patches and user-friendliness that's just part of the history of Roland. Other companies have been around for years and years too, but to me, Roland just has the better, darker sounds – especially for electronic music. It's hit or miss with other brands if you go through their catalogs.
What's coming next for the band?
Well the American tour stretches to November. In England we're doing the Reading and Leeds festivals, two of the biggest rock festivals in the world – 80 to 90,000 people at each one. Every band, from the Killers, Snow Patrol, Oasis, and Coldplay – everybody's going to be there.
Is that one of your biggest audiences to date?
Yes, but the way those festivals work are the kids are spread out over so many stages. We did 15,000 in Tampa Florida a few months ago. Also, Tea in the Park in Scotland was about 60,000 people.
Who are you listening to right now?
Right now there's a band I like called Mumm-Ra, I love Kate Nash, and I also like the Klaxons, and Goose. The new Editors is unbelievable, but I think the award for absolute perfection goes to Silverchair for their new single, "Straight Line." Silverchair made some really terrible music a long time ago, just like we did when we were younger. This song is just absolutely amazing — you must go buy this record.
For more information on Shiny Toy Guns, visit www.shinytoyguns.com and www.myspace.com/shinytoyguns