Roland Users Group
George "Spanky" McCurdy
V-Drums: A Hit with Diddy and Snoop
By Tiffany Schirz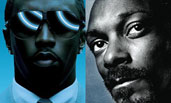 Diddy/Snoop
Philadelphia-born drummer George "Spanky" McCurdy started racking up an impressive roster of credits at a young age. By 13, he was playing with several local acts, and by age 20 he landed a gig with gospel phenomenon, Tye Tribette. With his innovative drumming style, he caught the attention of and began performing with artists including Diddy, Jill Scott, Les Nubians, Ciara, and many more.
He also has an impressive resume of recording credits including Justin Timberlake, Timbaland, Mariah Carey, Brandy, Bubba Sparx, and Kiley just to name a few. Currently, Spanky is on the road with Diddy and Snoop Dogg, and he's using Roland's V-Drums as a central part of his rig. I caught him on the phone with just a few minutes to spare between rehearsal sets, and here's what he had to say:
Tell me about when you first played in Tye Tribbette's band, SoundCheck. What kinds of styles were you playing?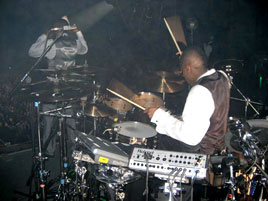 Drummer George "Spanky" McCurdy is currently on tour with Diddy and Snoop and is using V-Drums as a central part of his rig.
We played all kinds of styles, I mean, that's a group of really good musicians, so I was very fortunate to play with them and get that experience. Tye is the number-one sought-after gospel artist right now, so I'm just grateful to be a part of that.
How is the tour with Diddy and Snoop going?
It's going great, and we're getting a great response – there's a really good vibe happening. It's very thought out in terms of arrangements of all the songs. Diddy is really taking it to another level. I think we're gonna surprise a lot of people, and I think people will be impressed.
Tell me how you incorporate the SPD-S and TD-20S (V-Drums).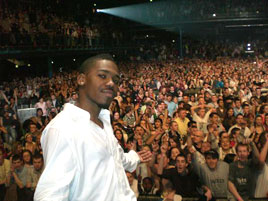 I've got the V-Drums, and the SPD-S Sampling Pad on the side, and I use both of those all the time. I use the SPD-S to trigger different samples from the songs, and I use the V-Drums in all kinds of live situations. I love the onboard sounds, they sound great as they are – I don't have to edit them or anything!
Any final thoughts you'd like to share with your fans?
I just want to give thanks to God, and say that I'm just really grateful for all the opportunities I've been blessed with thus far. I'm gonna continue to work hard and learn as much as I can, and just keep it going!