Roland Users Group
David Benoit
From Classical To Jazz And Beyond
By Tiffany Schirz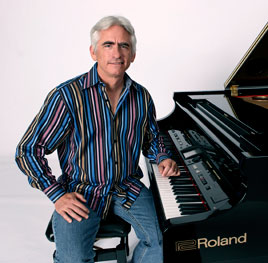 Over the last 25 years, composer and pianist David Benoit has been a passionate musical innovator across genres, from classical to jazz and beyond.
His career as a contemporary jazz pianist began in 1977 and includes 23 solo recordings, many of which are considered influential classics in smooth jazz. A five-time Grammy nominee in contemporary jazz, he was also voted Keyboardist of the Year for 2000 and 2001 by the Oasis Smooth Jazz Awards, and recently made the Top Ten on Billboard's Contemporary Jazz Chart with Fuzzy Logic, which spawned the recent #1 hit instrumental single "Snap!"
Benoit has also arranged, conducted and performed music for many pop and jazz artists over the years, including Russ Freeman and the Rippingtons, Kenny Loggins, Patti Austin, Dave Koz, Kenny Rankin, Faith Hill, David Lanz, Cece Winans, David Pack, David Sanborn, The Walt Disney Organization and Brian McKnight. Today, David brings his diverse musical background to modern technology with Roland's KR-Series digital grand pianos.
For more information on David Benoit, visit www.benoit.com.