Roland Users Group
Monte Neuble
On Tour with Mariah Carey
By Greg Rule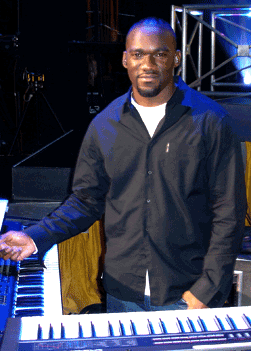 In the past year, keyboardist Monte Neuble has played in front of more people than most musicians would face in five lifetimes. With Mariah Carey at Live 8, for example, Monte and his Fantom-X were seen by billions of viewers. "It was cool," says Monte, in his characteristic laid-back tone. Not much seems to ruffle this smooth operator, which is one of the reasons he gets called to perform with such stars as Mariah, Snoop Dogg, Missy Elliott, and Jessica Simpson.
Monte is a native of Los Angeles , and grew up playing keys in church. He met recording artist Warren Campbell that way, and it was Warren who eventually introduced Monte to the MD from the band All 4 One. That was Monte's first big break into the touring business. He was hired to play synth bass on that tour, and he hasn't looked back since.
Monte paid Roland U.S. a visit recently, and had this to say about his Roland gear, past and present.
• • • • •
How long have you been using Roland keyboards?
For a long time. My first Roland synth was a D-50, and then I bought a used Juno-2. I have still have a Juno-2, actually — three of 'em. I keep one in the studio, one at home, and one in my trunk. I use them mostly for synth bass, wah-wah stuff too. I get some real cool sounds out of it. Then I got an XP-60 and -80, JV-2080 and XV-5080, and now I'm turned onto the Fantom-X. Love the Fantom.
Are you using the Fantom-X6, X7, or X8?
I have an X6, but on the road I've been using the X7. The extra keys are good, 'cause I split a lot of sounds across the keyboard. So the X7, a D-50, and Juno-2 are my main synths.
When you gig with Mariah, Snoop, and Jessica, what Fantom sounds do you use primarily?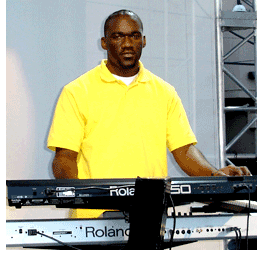 Almost everything — a lot of strings, horns — actually I create a lot of my own sounds. Depending on the singer I'm working with, I'll create the sounds that match as close as possible to their record.
I have settings stored for all of the artists I work with. Even back when I had the XP-80, I had separate banks for Ja Rule, Missy [Elliott], whoever I was working with at the time.
What was it about the Fantom-X that attracted you to it?
I like how flexible it is. Getting around on it is very easy. I love the editing shortcuts and the list of favorite [one-touch access] patches, which I use on the live gigs.
Compared to other workstations, I prefer the Roland [pitch/mod] bender. I use it for a lot for key bass, little licks, and soulful things, and that bender has always been comfortable for me to use.
You appeared with Jessica Simpson recently on a slew of TV shows to promote her remake of "These Boots Were Made for Walking." You used the Fantom-X for those appearances.
Yeah, I played keyboard harmonica on the Fantom-X. It worked out well.
Which SRX cards do you have installed in your Fantom-X?
I have almost all of the cards. I love 'em. Lots of great sounds, like the Symphonic Strings card [ SRX-04 ], which I use in the studio a lot.
You've recently added a V-Synth XT to your rig. What are your impressions of it?
First, it's probably the coolest looking rackmount I've ever seen. It's heavy duty. And I like the multiple engines it has [ sampling with VariPhrase, analog modeling, COSM processors, and external audio processing ]. I've never seen anything like it. And the fact that it has a D-50 model built in [ VC-2 ] — that won me over right there!