Roland Users Group
Kumbia Kings
Cruz Martinez & A.B. Quintanilla III
By Greg Rule

True to their name, the Kumbia Kings rule the Latin music market. Famous for their infectious blend of cumbia, reggae, R&B, pop, and hip-hop, the Kings have attracted audiences young and old — and not just south of the border. The group is multi-platinum in the States as well.
"We're fans of all kinds of music," says keyboardist, producer, co-founder Cruz Martinez. "We grew up in Texas close to the border of Mexico, and it was like a melting pot of music. We got the east coast music influence, west coast, the dirty south, and also the Latin dirty-dirty south [laughs], so we were able to fuse all of that in the Kumbia Kings."
The success of the Kumbia Kings is somewhat ironic, considering the band's humble beginning. "To be honest, the original concept was to play at weddings, sweet-15 quinceanera parties, stuff like that," Cruz confesses. "We just wanted to be a weekend warrior-type group. But one thing led to another, and things took off. It was almost like an overnight sensation."
Eight years since launch, the Kumbia Kings are setting attendance records at major arenas and selling CDs by the millions — and they're doing it with Roland gear at the core.
Uno-Dos Punch
The Kumbia Kings are anchored by A.B. Quintanilla III (pictured left at the Fantom-X6) and Cruz Martinez (picture right) who serve as the band's chief songwriters, producers, and managers. Onstage, Cruz plays an all-Roland keyboard rig, while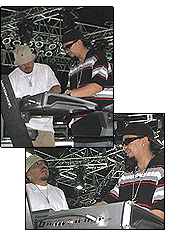 A.B. holds down the bass chair. "We're like Jam & Lewis," says A.B. of his partnership with Cruz, "but we're also comfortable switching roles. Sometimes Cruz handles promotion while I take care of other details. Other times I might be handling the business while Cruz is working in the studio. We can cover any aspect of the business for each other at any time." "That's the strength of our partnership," Cruz agrees. "We both have so many years of experience doing this. A.B. and I — we're tighter than brothers."
A.B. and Cruz's pool of expertise is deep, from the creative side (songwriting, recording, engineering, producing, performing) to management, promotion, and myriad business duties. "We're always studying the market to see what people are looking for," says Cruz. "We go to the clubs to see what's working musically, and we apply that to our sound." On the business side, A.B. and Cruz keep a close eye on the stats. "Every morning at breakfast, I open my laptop and I study the radio numbers," Cruz confides. "If I'm not hitting the numbers, I have to make calls … 'Hey, we've got to do something about this.' The business side of Kumbia Kings is very well organized."
Studio
Much of Fuego, the Kumbia Kings' latest CD, was recorded in A.B. and Cruz's home studios. Knowing how like-minded these two producers are, it comes as no surprise that their studios are near mirror images of each other, which makes data transfer from studio to studio seamless. "What Cruz gets, I get," laughs A.B. "Talking to him is like talking to me. We're both gear fanatics. We love to talk about gear!"
When the name Roland is mentioned, Cruz beams. "I've been a huge fan of Roland for as far back as I can remember, from the 707, 808, R8, Juno-106, JV-1080, and D-50 to my current setup," which includes Fantom-X6, A-90, V-Synth, VC-1, VP-9000, V-Pro V-Drums, two XV-5080s, and three VS-2480s. "When it comes to gear, Roland is the best I've ever worked with. As an artist, keyboardist, songwriter, arranger, and producer, I always want to put forth my very best, and Roland makes it easier for me to do that. Roland has always had those killer sounds that nobody can beat — pianos, strings, and pads that you hear on just about every record. I've hardly ever met a piece of Roland gear that I didn't love."
Stage
Monterrey, Mexico — April 2005. The Monterrey Arena is sold-out as nearly 20,000 fans pack the lofty indoor venue to the rafters. The attendance record previously held by the legendary rock band Kiss at this arena now belongs to the Kumbia Kings. Tonight is an extra-special event — a film crew is onhand to document the show for a future live-concert DVD release.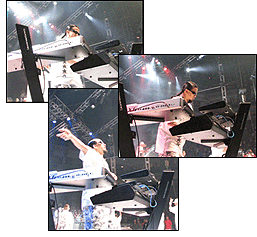 The concert opens with video footage of Selena projected on the Jumbotrons. The dB meter hits red as the Kings launch into a live rendition of Selena's "Baila Esta Kumbia Remix" in perfect sync with Selena, who delivers the lead vocal posthumously via video. Cruz debuts his new Roland Fantom-X6 onstage, which joins his Roland A-90 and XP-30 (see photos).
Over the course of the two-hour concert, the energy level seldom wanes. The drummer and two percussionists provide a fire-hot foundation on which A.B, Cruz, Chris Perez, and the other skilled instrumentalists groove. Pyrotechnics blast at key impact moments throughout the set, capped by a series of wire-guided rockets that shoot over the heads of the audience, spraying trails of smoke and flames in their wake.
Cruz is an excellent showman onstage, but he never flaunts at the expense of the music. His parts are solid and tasteful, and he knows how to gliss, slide, fill, and embellish at the perfect moments. Together with A.B., Cruz directs the band with pinpoint precision, while still radiating fun from all corners of the stage. The audience loves it.
Selena
A.B. Quintanilla III is famous for his work with Kumbia Kings, but he reached stardom years earlier as the brother and musical partner of Selena Quintanilla, the beloved Tejano singer whose life was tragically cut short in 1995. (Jennifer Lopez received a Golden Globe nomination for her portrayal the singer in the movie Selena, released in 1997.) A.B. isn't the only Kumbia King with a direct connection to Selena — guitarist Chris Perez was Selena's husband at the time of her passing.

In addition to serving as a crowd-pleasing concert opener, the aforementioned Selena remix also appears as the opening track on the Kumbia Kings Duets CD. Cruz explains: "We did a remix of 'Baila Esta Kumbia,' which is a song that the whole Latin community knows. It was the first time since the tragedy that A.B. was able to collaborate with his sister on a production [via her pre-recorded vocal track]. It had been over ten years, but the formula and chemistry that had made he and his sister such a success was reunited again in the studio on this remix." Also on Duets is a Kumbia Kings reworking of Selena's English hit "I Could Fall in Love."
In 2004, the Kumbia Kings were part of the record-breaking Selena Vive concert at the Reliant Stadium in Houston, Texas.
Coming Soon
"Life is beautiful right now," concludes Cruz, as he reflects on the band's success, "but we aren't slowing down. We're still working, hustling, moving, and grooving." The Kumbia Kings plan to bring their explosive road show to the States soon, so check your local concert listings. Look for the Live In Monterrey concert DVD later this year. The band's official website resides at www.LosKumbiaKings.com.