Roland Users Group
Keith Hillebrandt
Master Audio Mangler
By Greg Rule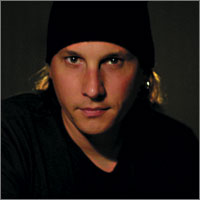 The pop music history books will show Keith Hillebrandt as an ace programmer/remixer who helped sharpen the edge of Nine Inch Nails, U2, David Bowie, Magdalene's Dream, and Puff Daddy. Music Industry insiders might recall Keith's work with such companies as Otari, WaveFrame, and Opcode, or for his cutting-edge Arhythmia, Poke in the Ear, and Useful Noise-series sound libraries. Today, Keith would like you to know him as a solo recording artist. His debut CD, Blue, should be on store shelves by the time you read this.
"It's instrumental, ambient-type music," he tells RUG. "I wanted it to be cohesive, and, although there are no vocals, I was able maintain a theme throughout. Two of the songs were specifically inspired by the V-Synth. 'Exchange' is 90-percent V-Synth, and 'The Best Exit is the Window' is a great example of the different types of things you can do with the V-Synth, such as smearing melodies and creating big, lush, but-not-too-pretty sounds."
For the song "Exchange," Keith applied his trademark drum loop envelope-modulation technique. "I basically took a sound that was complex harmonically, and then took a drum loop and had it modulate against it. This is something I've been doing for years with the ARP 2600, but it has never been this easy. I just loaded the two sounds that I wanted to have working against each other, and that was it.
"I also found that using the V-Synth's Hold button to freeze waveforms could do incredible things to sounds," he continues. "And that's the beauty of the V-Synth — it hasn't pigeonholed me into doing things one particular way. For example, in one track I needed the drums to sound like they were coming from a different area, so I ran them through the V-Synth's amp simulator to give them a different dimension. Then I wanted to have a type of smeared melody going over it, so it turned on the arpeggiator, played the melody, resampled it, ran it through the sideband filter, and then through the reverb."
It's no surprise that Keith has a huge stockpile of custom sounds. "I have about 30,000 on my computer," he reveals. "These are sounds that I've nurtured, and are intimately familiar with, but when I put them into the V-Synth, it completely blows away the originals, and gives me all these new variables that I never would have imagined before."
The V-Synth is unique and, as a result, often misunderstood at first glance. "My first impression was that it was a gimmick machine," Keith admits, "but after getting it, and learning to use it, it changed my whole opinion. I haven't seen a modern dedicated hardware keyboard that's as powerful for sound design as this. The possibilities are amazing. It's the finest sound design machine to date."
See Keith on tour this year with Roland's V-Synth and SP-606. Get details at www.usefulnoise.com and www.keithhillebrandt.com.