Roland Users Group
Evanescence
V-Drummer Rocky Gray
By Greg Rule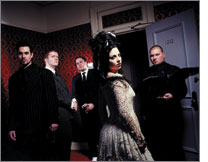 By scientific definition, evanescence is a "dissipation or disappearance like vapor." Musically speaking, Evanescence is the Grammy-winning "Best New Artist of 2004" — a genre-bending tech-rock quintet that looks like characters from The Crow or Underworld. Their radio-friendly mix of crunch and melody on Fallen earned the band a 12x platinum-sales mark, and a 43-week run on the Billboard Top 10. Not bad for a debut, to say the least.
Rocky Gray is the Mack truck of Evanescence — a power-pounder who incorporates both acoustic and electronic elements into his drum rig. "For years I'd been wanting to get into electronics," he tells RUG. "I was interested in finding ways to incorporate technology into my acoustic kit. I wanted to use the best, and I knew to go to Roland. So I got a V-Stage kit for rehearsals, and then incorporated two of the Roland pads and a TD-8 brain into my live kit."
On Evanescence's current tour, Rocky is using the new electro/acoustic hybrid to create a colorful and massive impact. "The sounds change for each song," he explains. "During the show, my tech does the switching between different programs and banks, so we have a new set of sounds coming up for each song." Rocky's choice of V-Drum sounds tends to gravitate more toward the synthetic, electronic side of the spectrum versus acoustic emulation. "We have an 808-type kick and tom sound that we use a lot — practically on every song. And we have snare sounds that don't sound like regular snares. They're more like cracks, whips, things like that. We blend those in, so they combine smoothly with the acoustic sounds. They don't really jump out per se, but if you took them out of the mix you'd really notice the difference."
Rocky swings a mean pair of bats, and he gives V-Drums high marks for their durability. "I'm very pleased with the quality and reliability," he relates. "Very pleased. I've used them practically every day since I got them. We play something like three to four shows a week, and they are really taking a beating. But they've held up great. It's as if I'd just gotten them yesterday. I haven't had one problem with them."
Looking ahead, how does Evanescence plan to follow up such a hugely successful debut record? "We're taking it slowly," says frontwoman Amy Lee. "Fallen was a good piece of art, but we don't want to make the same record again — what's the point? We want it to be inventive and original, like the first one was. We write separately, and will come together soon and start to work together."
For the latest on Rocky and the band, point your web browsers to www.evanescence.com.