Roland Users Group
Herman Jackson
Synths on American Idol
By Greg Rule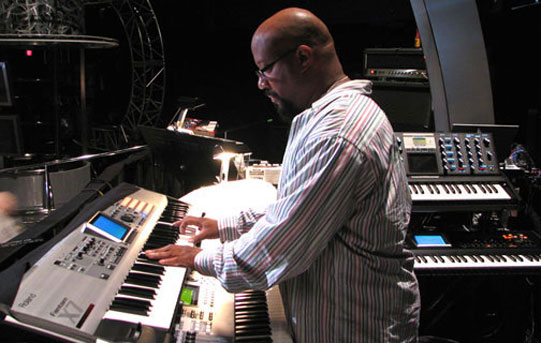 The ratings are nothing short of phenomenal. American Idol has been, and continues to be, the biggest show on primetime TV, grabbing more viewers than the Winter Olympics!
For keyboardist Herman Jackson, joining the American Idol house band for Season 5 has proven to be a spectacular gig, but Herman is no newcomer to high-profile performance. His bio reads like a music-industry directory, including live performances and/or recordings with Aretha Franklin, Babyface, Quincy Jones, Jessica Simpson, Stevie Wonder, Rod Stewart, Whitney Houston, Gladys Knight, George Benson, Too $hort, Tone Loc, Outkast, Peabo Bryson, and James Ingram to name a few.
Herman geared up for the American Idol gig with a new synth rig that featured a Roland Fantom-X7 and a V-Synth. We visited the American Idol set recently, and here's what he had to say about life on TV's hottest show.
• • • • •
How did you land the American Idol gig?
I know Ricky Minor, the music director. I've worked with him over the past 10 years or so, starting with James Ingram then Whitney Houston, and we've done a ton of TV shows. So when he needs somebody, I'm one of the people he'll call.
With so many songs to learn each week, this show must keep the band on its toes.
It's a lot of material and a short amount of time to do it in. And it's gotta be consistent. We have to create an even playing field for each of the contestants. It has to be right every time, and if there's not enough time, you've gotta figure out how to make it right.
Describe a typical week's production schedule.
Each week, the elimination show is on Wednesday. On Thursday, the singers pick the song for the following week, so usually by Thursday night or Friday morning we have a rough idea of what each singer is going to do.
Are MP3s or charts sent?
Initially we'll get MP3s of the original versions of the songs, then cut-down versions and charts. Ricky [Minor, Music Director] gets it all together. He works with a team of arrangers; there's too much material for one person to tackle alone. I do some arrangements in fact. So on Friday I'll get my arrangement assignment, work on that, and turn it in on Saturday. Throughout the weekend, I listen to the other songs as well. Then we come in on Monday, get the charts, listen to the original version, listen to the cut-down version, and start reading down the charts. We'll run through everything with just the band, take a lunch break, then the singers will come in and we'll rehearse with each singer two or three times.
That's Monday. Then on Tuesday, which is taping day, we arrive in the morning, and rehearse again with each singer. Then we take a break, come back, and we do a full dress rehearsal. After that we tape the show.
There must be a lot of curveballs thrown at you … last-minute key changes, etc.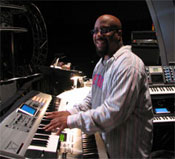 All the time. We changed some stuff today, in fact. When the singers come in, sometimes you listen to them and know that you're going to need to raise or lower the key.
How has your Roland Fantom-X7 been working out?
I'm lovin' the Fantom. It's very easy to get around on, and the sounds are great. I love the brass, the strings, the electric pianos.... The sounds are thick, and the synth itself is quick to use. On this gig, I don't have time to turn knobs. I have to find a patch [snaps fingers] and it's gotta be ready to go. I used the pad bank on one show to trigger bell tree sounds, which was handy. On the Stevie [Wonder] show, I used the Fantom for some Clav. I also love the Mixer window. The architecture of this synth is the best I've seen.
How about the newest member of your rig, the V-Synth?
I'm still learning it, and looking forward to getting deeper into it. I'm starting to use it for some basses and leads. I used for the [George Michael] song "Father Figure." The D-50 emulator [VC-1 card for V-Synth] will come in very handy in the future.
Speaking of, are you planning to tour after the season wraps at the end of May?
I'll be out with Heather Headley, so the next couple of months are gonna be very busy.
• • • • •
Visit Herman online at www.hermanjackson.com.