Roland Users Group
Eugene Roberts
Head-To-Toe Roland Keyboards
By Tiffany Schirz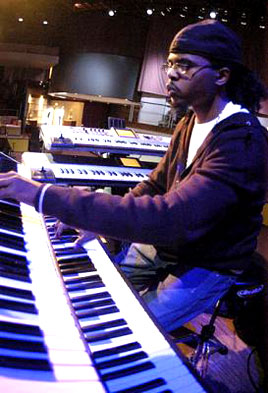 From church drummer in Philly to touring keyboardist in front of packed arenas, Eugene Roberts has come a long way in a short time. Affectionately dubbed "Mr. Roland" by his bandmates, Roberts has been a fanatical Roland user for years, and he even sports a pair of custom-made Roland/Adidas sneakers. He is currently on tour with multi-platinum and Grammy-winning artist, John Legend, and we talked to him during a brief break from the stage. Here's what he had to say:
How did you get into music and playing keyboards?
I started off as a drummer in church, then I played on some hip-hop and R&B gigs. But then I took it upon myself to learn how to play keyboards. I practiced and practiced and played everything I heard…I would sit in front of the TV and learn songs like Mr. Rogers, Sesame Street — whatever's on the radio.
How did you get the gig with John Legend?
Actually, I started out as the drum tech and stage manager, and then I started sound-checking John's piano, and he heard me and the band heard me. Then the old keyboard player left and they needed someone who could play parts, and you know, I can play whatever they need.
How long have you been playing Roland keyboards?
Since the beginning, quite a few years ago. My Dad had a Roland JX-8P and a D5 (synthesizers). Those were way before a lot of what's out now! [laughs]
Which keyboards do you use on stage?
I use a Fantom-X8, -X7, two -X6's, and every now and then I bring back my old faithful, the XP-80. Occasionally I use my AX-7.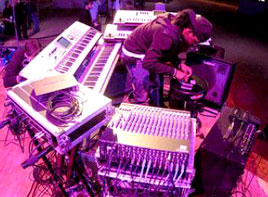 What do you like about the Fantom-X keyboards?
The operating system is the greatest, compared to any other keyboards. And the sounds are just full. And the sampling helps a lot, because sometimes we collaborate with other artists, so we need to sample parts from other songs, and I'm linked to different modules and the sequencer with a mixer just helps me control everything.
Any SRX expansion boards?
I have the Concert Piano (SRX-02) one and the 60's Vintage (SRX-12). I love those old Rhodes sounds that are just not around anymore!
What patches/features do you use onstage with John?
I use the Dark Grand, the Amp Rhodes, and I also use the Power Line synth bass and I double with the bass player. I also use guitar sounds, a bunch of the lead sounds, and layers of string patches. I use the VK organ here and there, too.
What drew you to the AX-7?
I was on the road with Teddy Riley (of Guy and BLACKstreet) he used it a lot. It gives you the freedom to walk around, it really gives you stage presence!
Let's talk about the sneakers. What inspired you to have them made?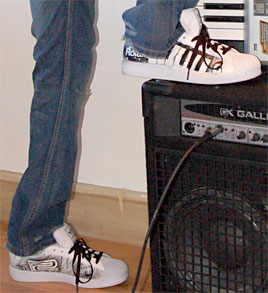 Well every musician that knows me — all across the country — knows me for playing Roland keyboards. They call me "Mr. Roland", literally! I just wanted something different and unique, and I love Adidas, so it was perfect.
What have you learned from your experience on the road with John Legend?
When I was on the New Jack Swing tour, I was both the keyboard player and the production manager, so I got to learn both sides of things. With John, it's a disciplined gig. We play the album, in detail, including the collaboration he did with Kanye ("Number One"). On the single, "Save Room" that Will.I.Am produced, I had to sample the original sound and stretch it and loop it and layer it, so it's really been a sound designing gig also.
What advice do you have for aspiring keyboard players?
Give the artists what they want, and always know your role in the band.