Roland Users Group
Scott Houston
The Piano Guy Takes Home Two More Emmy® Awards
By Jim Bybee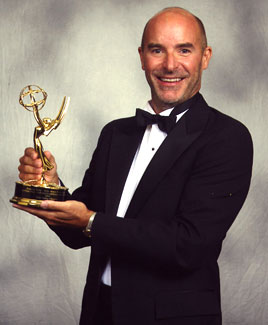 Often called the "Pied Piper" of recreational music making, Roland-sponsored artist Scott Houston has a true passion for making the joy of playing piano accessible to the casual music lover. His critically-acclaimed television show, The Piano Guy, airs weekly on PBS stations all over the United States, demystifying pop piano playing and sharing the secrets of the pros with thousands of regular viewers. His workshop-style show, Play Piano in a Flash, is also a PBS stalwart, one of the most successful pledge shows in the network's long history.
In July 2009, The Piano Guy—now beginning its 12th season—was recognized with two Emmys from the Ohio Valley Chapter of the National Academy of Television Arts and Sciences. Along with his two previous Emmy wins in 2007, the awards are an enduring testament to his commitment of bringing the pleasure of playing music to a large audience.
Recently, we talked with Scott about his background, his TV shows, and his fervor for helping others enjoy music through playing the piano.
Congratulations on your Emmy win.
Thanks. It's a nice thing, and I'd be lying to say otherwise. It makes it feel like your hard work's panning out. There's a lot of groundwork that happens before we even go in and roll tape and it's really a team effort.
I understand you started out as a drummer.
Yes, I did. I came from a pretty musical family. Much to the horror of my parents, who wanted me to become a musician, I became a drummer. [Laughs.] I was a pretty smokin' hot drummer for my age in high school. I was in the McDonald's All-American High School band and stuff like that. It's about the only thing I puff my chest out about musically, because I certainly can't do it [for my skills on] piano.
I spent about 18 months during my junior and senior year in high school prepping to get into the school of music at Indiana University. I went through that and got in, not as a pianist, but as a drummer.
When did you start playing piano?
I'd taken some lessons as a kid as part of a deal I made with my parents. They said, "If you want to take drum lessons, that's great. But for every drum lesson, you're going to have to take piano lessons for a couple of years."
Between my freshman and sophomore year in college, I went to a summer jazz camp called The Shell Lake Jazz Experience. The first week, I was much farther ahead than all the stuff they were teaching the drummers at the camp. So, during the first four of five days, I sat in on a piano class.
When I went there, it was one of those life-changing, epiphany moments. In a period of about a day and a half, this really gentile, nice guy sat a bunch of us wet-behind-the-ears kids down and said, "You think you know what's going on, but shut up and let me show you the way pros play." And in a period of about a day and a half, he exposed us all to what I now do in my workshop and TV show—he taught us how to read a lead sheet. My entire memory of that experience is of me sitting with my mouth open, thinking, "What? That's it?" [Laughs.] From that point on, it swung a door open for me playing piano, and I started playing more and more piano and less and less drums. In two or three years, I flip-flopped and made a change.
How did Play Piano in a Flash and The Piano Guy come about?
After college, I had a foray with Merrill Lynch for a few years, jumping out and trying my finance degree. But it was the first time since I was a kid that I hadn't been actively making music, and I really missed it. So, I made a really big choice and became the "starving artist." I started bartending and trying to make my mark as the next big rock and roll drummer. I got in bands and tried to get a record deal—the same thing that all of us have done, and similarly for most of us, didn't happen.
After that, I went into a music publishing business with my father. It was there that all this stuff I'd learned started synthesizing itself. I started doing these workshops at community education places. That's where I cut my teeth. After doing about 100 of these workshops over four or five years, a student at one of them came up after and said, "You should be doing this on TV for hundreds of thousands at a time." That guy was Ken Mills, who co-owns the Mills James teleproduction facility, and he's now my partner. So, that was it. Serendipity struck, and a student really believed in what he learned during the workshop.
We then re-worked my workshop presentation and turned it into the pledge special Play Piano in a Flash. Here we were, this funny little piano show, amongst Wayne Dyer, Suze Orman, and all these bigger names and all these reunion tour things. But we struck a nerve and, as they say, the rest is history. It's now, I believe, the second largest grossing pledge special in the history of the network.
What year was that?
About 2002. The success of Play Piano in a Flash proved to the network that [the topic] was something that interested people. So, that was the premise of starting the series.
The Piano Guy is now on PBS stations all over the country?
Yes.
For those that haven't seen it, what is the show's format?
It starts with "The Basics," where I go through a tune very simply. I constrain myself to single chords in the left hand and single-note melody in the right. Next, a pro guest comes on and we talk about how they would play it. They take the same tune and turn it into a really beautiful piece of music.
We try to make it a nice A-B look through the door; I give the simple view, and then the guest shows how they'd really play the song out professionally. Finally, we do a segment called "Just for Fun," where we just let the guest start playing. They can play anything they want, in any style they want, and we just roll tape. I have such good players come in, it's really a pleasure to being able to hang and watch these cats play.
I understand that [GRAMMY®-nominated Roland artist] David Benoit was a fan of the show before he became a guest.
Yes, it was really flattering. [I actually met him] through Roland, and we really hit it off. When I asked him to be on the show, he said he'd be more than happy to do it. He flew out and taped four or five segments for Seasons 11 and 12.
I really enjoy when the guest discusses how they interpret a tune. I've seen a lot of videos where someone sticks a camera in front of a pro player and tells them to talk. Often, it's not very interesting or informative, because pro guys can't always articulate what they do in layman's terms. But you direct traffic and make things accessible.
Well, when you get really good at something, it's hard to see the forest for the trees. I'm fortunate because I'm not a fantastic piano player. I can play, but I'm certainly not a virtuoso. I really look at my job as being the eyes of the viewer. When I sit there in those segments, I watch everything the player's doing, and I try to look at them through the viewpoint of someone who's not a professional, thinking about what they'd be thinking.
I'm constantly saying, "Wait, what did you do there?" [Laughs.] "Whoa, slow down!" [Laughs.] "Let's just do that one little thing and look at it again." I'm constantly putting the reigns on to make what they're doing accessible for someone who's not [a pro player].
How has Roland helped you out over the last year?
On a practical level, they've given me the opportunity to play great instruments in my live workshops and on the show. I like playing the digital piano on the show, because it gives me the chance to use sounds [other than an acoustic piano]. For example, when I'm playing a hymn, I like being able to play it on an organ patch. Or when playing a pop tune, I might like to use an electric piano sound. That's an appealing thing to me.
I do love Roland instruments. Roland really stakes out a high ground in the digital piano world, they're great instruments. I think they feel great, and I have for [a long time]. Also, if it weren't for Roland's help underwriting the show, it wouldn't exist. We say that all the time, but it's the God's honest truth.
What's your favorite Roland piano?
I had a KR-117M in my house for some time on loan. Unfortunately, it just left and I'm having separation anxiety! [Laughs.] It was the nicest instrument I've played for a long period of time. That's usually what I play when I go out and do the workshops.
You make a great effort to spell out that you're not attempting to teach classical piano, and that your method is absolutely not appropriate for becoming a classical pianist. Still, do you get a lack of acceptance from those that teach piano in a more traditional way?
Things have really taken a turn. It took four or five years, but it finally happened. The most telling moment was when I was asked to speak at the MTNA (Music Teachers National Association) convention. When my show first came out, it would have been like inviting the devil to be in their midst. [Laughs.]
There's been a big push within the industry towards recreational music making, and I think of myself as one of the granddaddies of [that movement]. My message has always been this: if you're gong to play piano for the sake of having fun, count me in! I'm on that team! [Laughs.] From the day I started doing this, my whole goal has been to get people having fun playing the piano. I don't think it needs to get much tougher than that.
But I'm not in any way trying to sway people from [learning to] play traditional classical piano. It's a wonderful thing to do, and I have the utmost respect for good classical players because it is so hard to do. But I don't think it needs to be an exclusive club. I think the other 99% of the people who are never going to try to be that good still deserve to get off the sidelines and get into the game. And by the time I die, if a few more people are doing that, than I'll feel I left the world a little better than when I got here.
I'm happy to report that there are now thousands of people who are sitting down and having fun playing tunes on a piano that weren't doing it when we started. For that, I'm eternally proud, and also humbled.
To learn more about Scott and The Piano Guy, visit www.scottthepianoguy.com.