Roland Users Group
Brian LeBarton & Justin Stanley
Behind The Scenes With Beck
By Tiffany Schirz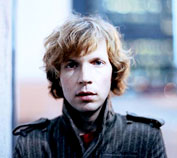 Beck
With an impressive list of credits to their own respective names, keyboardist/remix artist Brian LeBarton and guitarist/producer Justin Stanley also contribute their talents to the multi-platinum, genre-crossing artist, Beck, as part of his band – both in the studio and on his tours. During his latest "Information" tour, Brian and Justin featured a pair each of Roland SP-404 Sampling Workstations on stage to sculpt the sound of Beck's notoriously eclectic and improvised shows. I sat down with the duo recently, and we chatted about working with Beck, their history with Roland gear, and a whole lot more.
On Beck's recent "Information" tour, I understand you guys used Roland's SP-404 samplers as a central part of your live setup. Can you tell me about that?
B: We wanted something that would allow us to do it on the fly, as opposed to having a bunch of computers everywhere. It's real rough and rugged and the effects sound great – I love the effects. When we toured "The Information," we didn't want to play any of the songs to a click or a sequenced track. So we meticulously re-sampled stuff from the album so we could trigger it live without having to program it to a track. We could improvise and make sections longer or shorter.
J: We ended up using four SP-404s. I'm playing guitar and percussion and samples, and that was the perfect thing for me to trigger samples and sounds. You can flip it out and do it on the fly, which is great. We could interchange samples on different cards – it's a great tool. But also, working on the production side of things, I love using it to trigger snare samples and cymbals. Especially with snare drums, I love playing them in live and either using the filter or changing the pitch slightly as it goes down. I hate when samples always sound the same, and with the SPs it sounds more real.
What were some of the songs where you featured the SPs?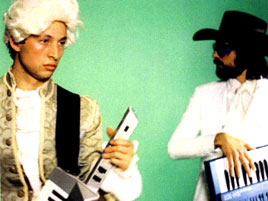 Brian LeBarton & Justin Stanley
J: We used the SPs on "Dark Star," and "I Think I'm In Love."
B: We used them on every song. I also use it simultaneously to trigger samples, and I actually run my Roland Juno-106 as an effects unit also. I run it into the mic input and keep it on external source, so it's always running live through it. The Space Echo delays and reverbs are just so good – top notch. I've always used the SP-303, and the 202. I've used them since day one. So the 404 was the next natural step.
J: We actually have a lot of old Roland gear. The Super Jupiter, and the SH-101.
On that topic, what are some of your favorite keyboards and sound modules?
B: The thing that gets the most use – I can make the Roland JUNO-106 sound like any synth. It's the most wicked thing. I can get anything I want out of it. The second you feel like you've pinned it down, you find something new.
J: I use a lot of Space Echoes. Tape gives you that flutter, and how it degenerates – there's just nothing like it.
Tell me about working with Beck. What is his creative process like?
J: Beck takes us on a journey of a lot of different musical styles. And what's great is, he takes ideas and he'll actually implement them. We'll have an idea, and the next day he'll have it in the works. For instance, the puppet show on the last tour – that came up at lunch one day, and the next day it was happening.
Beck is just incredibly creative. And the Beck/Nigel Godrich duo is kind of an inescapable thing. It's anyone's guess as to what will happen next with him, musically.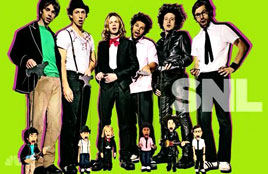 Beck's Band
B: Both Justin and I also worked with Beck on some of the music for "Nacho Libre." That was a blast. We got to do a song with Jack Black for the movie – I was in tears as we recorded it. It was the funniest thing.
Do you use any BOSS pedals?
J: For Wounded Cougar, our latest project, I use the classic BOSS distortion (DS-1), Keith (guitars) is using the Metal Core (ML-2), and the Phase Pedal (PH-3), and the Chorus (CH-1). Each of us have a BOSS delay (DD-3).
B: Virtually the whole guitar sound of the record is from Roland and BOSS gear.
J: A lot of the guitar uses the very first Roland guitar synth (GR-500) That thing is our secret weapon. It's sick – we get the most maniacal guitar sound you've ever heard.
To keep up with Brian, Justin, and Beck, visit www.beck.com and www.myspace.com/woundedcougar.