Roland Users Group
Peter Erskine
The Advantages of V-Drums® in Education
By Drew Armentrout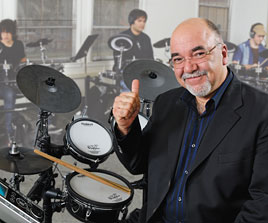 Roland® recently spoke with Peter Erskine, Grammy® Award-winning drummer, composer and producer. We met with the jazz legend at The Thornton School of Music, University of Southern California in Los Angeles where Erskine serves as a Professor of Jazz Studies. Peter has also developed the curriculum for the very popular Drum Set Proficiency course at the school, which is taught at USC's groundbreaking electronic drumlab -powered by multiple Roland V-Drums sets. Peter had a great deal of information to share about the success of the drum lab, and how V-Drums are essential educational tools.
Could you comment on some of your expectations when the Roland drum lab was first installed at USC, and since drum set classes have been running, if your expectations have been met?
The idea for the drum lab was to take the keyboard lab model that is a proven formula, and to translate or transmute that into the percussion pedagogic world. It seemed like that would work, but it meant that the playing and practice experience would be limited for the most part, directly to an electronic drum set. Since the top-of the line kit wasn't economically and logistically practical, we chose the TD-9SX, which was suggested by the folks at Roland US. This decision was a little bit of a faith thing on my part. "I hope these will feel good, I hope these will sound good, I hope these will prove to be rewarding enough to the students, as well as anyone doing the instruction, and we can get this thing off the ground." The drum lab, in the case of what we're doing here at USC, involves drum set proficiency. The students are required to be able to play competently, to play convincingly on the drums in order to get their degree. And we do this not only because we believe the world needs that many more drummers, but it's so that all musicians can understand drums from both sides of the instrument. Many of these students are going to be singers, songwriters and bandleaders, even producers. How much better are they going to be able to relate to the drummer in their musical universe? Well, the answer is obvious: With first-hand experience they're going to know exactly how drum beats and grooves work.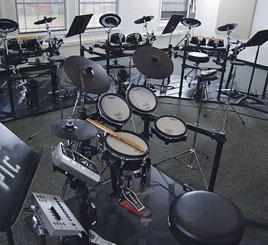 Getting back to the TD-9SX, it passed with flying colors! I mean the ease of playing, the naturalness, the response; the instrument tracked what the students did. In other words, it followed their playing directions. It didn't lead them astray, there were no false triggering moments, it responded like an acoustic instrument. And we [the staff] were high-fiving all around. "This works!" And how could you teach eight students simultaneously except with an electronic drumlab? It couldn't be done otherwise, and it's never been done.
This is really the first time that I'm aware of, especially on the university level, where we're teaching students to learn how to play the drums. And the interesting thing about this is that we're dealing with mature hands and minds. These aren't five-, six-, or seven-year-old beginners, (which I think the drum lab idea would also work), but having mature students who can take direction well simplifies the learning curve. We've got these young men and women playing the drums quicker than they can believe.
In an average semester approximately how many students are coming through the drum lab? And although this is a new program, could you tell us about the different skill levels of the students, the curriculum, and how you see the program advancing?
We started the drum lab with 16 students in the spring, which was half a year ago. This semester we have 64. So, we went from two sections of eight students each, to eight sections for a total of 64 students. There's a long list of students who want to take the class, it's proven to be extremely popular. I would say around 90% of the students have never played the drums before. We have a couple players who played a few years back and they want to get reacquainted with the drums. At the university level, it's interesting because it is an elective, and even though it's required for our Popular Music Performance degree students, anybody can take the class. If it's a choice between Medieval German Literature [laughs] and drum set proficiency, well sure, let me study the drums for a semester! [laughs] We need to take a lot of these students to the next level; I'm working on developing an intermediate level curriculum and a syllabus.
The methodology that we're using here is essentially based on two books: Drum Set Essentials - Volume 1 that I wrote for the Alfred Publishing Company, and a book that I wrote that was meant for all musicians called Time Awareness For All Musicians,which teaches the value of the spaces between the notes. Drum Set Essentials is basically concentrating on the notes themselves, how to play these things, how to mechanically coordinate, what kind of grip, and physical relationship to the kit. Time Awareness, is the yin and yang kind of thing, I think completes the picture very nicely. The students get an appreciation for the space between the notes so the impulse to just do everything as fast as possible is not there. That's another advantage of working with slightly more mature students, than very young drummers.
I had the opportunity to meet and observe instruction by your teaching assistants. How many teaching assistants do you have? Are they drum set major students? Is there a procedure or criteria you use to select these assistants?
The value that some of the faculty have here at USC, not only due to the fact that we are teaching on campus, but that we do have fairly visible and you could say important careers in music outside of the university sphere. I'm maintaining a touring, concert, and educational schedule that has me traveling around the world. To teach 64 students every week would mean that would I have to curtail all of those performance activities completely, and we will be adding more classes so it was obvious that we needed to get some teaching assistants to do the day-to-day instruction.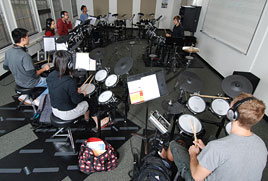 I'm very pleased that the curriculum and the choice of materials is proving to be robust enough that the necessary information is getting transmitted to the students. I have two tremendous teaching assistants, Jake Reed and Brian Carmody. Brian is now a Doctoral student, Jake is finishing up his Masters, they're both professional players, they're both players who I'd recommend for any gig if I couldn't do it, including the teaching thing, and all their students love working with them. We're very lucky that in this pilot year or two of the program that we have such good talent here at USC to implement the curriculum.
You've been a long time advocate of the Roland Rhythm Coach® products, could you share some of your impressions about the Rhythm Coach?
We were speaking earlier about understanding the spaces between notes, and there is no other device that I'm aware of that does this better than the Roland Rhythm Coach. The Rhythm Coach has total flexibility in the way it can implement timing exercises, and they're the kinds of timing exercises that are practical. You can do things where you turn the metronome off for 15 minutes and turn it back on and are you still with the beat? Okay, if you can do that you're a genius, but that's not real practical kind of stuff. But having four bars of click or metronome, and then four bars of silence or two bars of silence then it comes back on, and at one tempo you may nail it, no problem. A slightly faster tempo you may slow down, or a slightly slower tempo you may find that you speed up. And for the musician who's seriously interested in getting better, this kind of feedback is invaluable.
We all walk around with that clock inside of us, and we all we all have that tempo that we love to practice everything at. But we have to find those tempos that aren't part of our biorhythm or whatever it is and work those muscles a little bit. And that's what the Rhythm Coach® helps you do. You can pinpoint, you just keep track of your strengths and your weaknesses, use that as a tool. Or if a teacher does that with his or her students, we'll have a much stronger nation, rhythmically or otherwise.
I had the pleasure of working with you as you prepared for performances with your group at the NAMM Show in what was an almost completely electronic format.
We were electronic and yet we approached the music acoustically.
They were very organic performances as I remember.
Yeah! We had a blast. If we were doing anything with our use of electronics I would say I owe it to my mentor, the late great Joe Zawinul because his sounds on the synthesizer were always organic. It was always about that – real things. The texture of wood and earth, and using a synthesizer to evoke not only those kind of sounds but that kind of performance sensibility or aesthetic. And so playing on the Roland V-Drums, they give me that same timbral palette, infinitely more so because of all the great sounds that are onboard, but they also allow me to play these sounds in a certain way because of the dynamic tracking and the responsiveness. And the fact that mesh head not only works so well as a triggering unit, but it doesn't make noise, even when you're right there on top of it. So it felt just real natural playing on the V-Drums, and with any instrument that's what it's all about. Is it rewarding to play? Is it fun?
These kids get a cookie every class. We make them work on a practice pad, but when they get to play on a kit – smiles all around!
For more information about the Roland Drum lab at USC visit http://www.rolandmusiced.com/spotlight/2009-04-15_usc_thornton/
and http://www.usc.edu/schools/music/private/docs/news/Roland_drum_lab_v2.pdf
For more on Peter Erskine visit http://www.usc.edu/schools/music/private/faculty/perskine.php
and http://www.petererskine.com/