Going Acoustic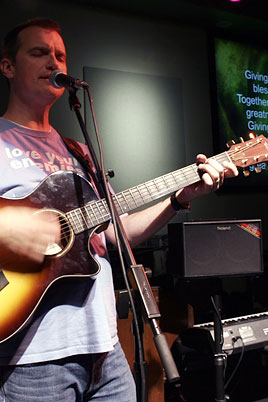 If you play acoustic guitar in worship, you already know the challenges of getting a great sound in any type of environment. Whether you play in a cafe-torium for youth group, a living room for small group or a sanctuary for the congregation, creating a consistently great sound is no mean feat.
If you're going acoustic, the Roland AC-60 and AC-90 will give you a warm, natural sound in any location, and give you the versatility to adapt to any place your ministry takes you. Plug in a mic for vocals. Eliminate feedback. Mount-it on a speaker stand or put it on the floor angled up. Go direct with XLR outs and use it as a pre-amp when playing in large venues while still having your own stage volume control.
Most importantly, Roland's AC-series amps deliver the rich, stereo tone that acoustic players are looking for. But don't take our word for it.
The Worship Connection went to visit worship leader, songwriter, guitarist Tommy Walker at Christian Assembly in Los Angeles to get his thoughts on Roland acoustic amps. "The AC-60 and AC-90 are ideal amps for worship and other kinds of music," says Tommy. "The sound is so full and natural I almost forget that my acoustic guitar is plugged in!"
Tommy lead worship that night with the high school group and he used the AC-60 on stage. It's a fairly large room with a full PA. "In a church or concert setting I can sing and play my guitar through the same amp," Tommy told us. "It is a guitar amp, microphone amp and PA system all in one. I love that I can sit, walk or stand right in front of them without worrying about feedback."
Worship musicians worldwide, like Tommy, have discovered these remarkable amps. Ideal for churches, coffee houses, small gatherings and outreach events, the Roland AC-60 and AC-90 provide the versatility and sound quality to serve a wide variety of ministry applications. Check out the video with Tommy Walker to see for yourself.