Worship Connection
The Promise
New Andrae' Crouch Music Video
By Corey Fournier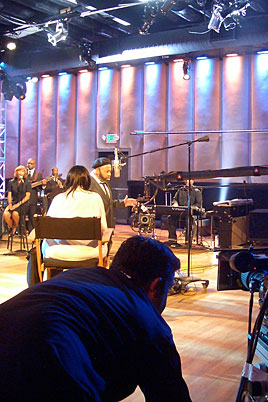 Standing behind a vintage microphone suspended in mid-air, Gospel legend Andraé Crouch conveys the power of his faith, forged over a storied career spanning decades and generations. As the orchestra plays behind him and cameras swing around on booms and dollies, his focus is unphased as he delivers impassioned performances, again and again.
The setting is that of a classic sound stage, reminiscent of a by-gone era graced by the likes of Sinatra and the Saturday matinee idols of old. But the song Pastor Crouch is singing isn't about romance. "The Promise" is an outpouring of love to be sure, but the words inspire a hope and joy that uplift a weary soul.
As the camera zooms out, music director Mano Hanes sits at the Roland V-Piano® as he wields the strings, brass and 10-piece rhythm section, including two keyboardists with Fantom-Gs and JUNO-Gs. "Roland has the sounds that are essential to me," says Mano, "We're all using Fantoms and the V-Piano, which to me is an absolute necessity. There's nothing that can match it for feel and sound."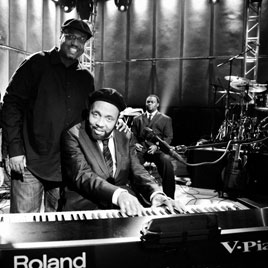 "The Promise" is a new song by Andraé Crouch to be released in the Fall along with the music video and anticipation of his new CD produced by Mano entitled, "The Journey". This long awaited project will be Andraés first album in five years and feature many new songs from the prolific composer.
There is also a documentary film currently in production on the life and ministry of Pastor Crouch, which will be released in March 2011 by Riverphlo Entertainment.