Worship Connection
Aaron Lindsey and the GAIA
By Corey Fournier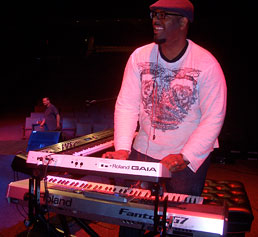 Aaron Lindsey is a GRAMMY®, Stellar and Dove award-winning producer. His most recent work was Israel Houghton's "Love God, Love People," which was awarded the GRAMMY for Best/Pop Contemporary Gospel Album. The Roland GAIA® SH-01 was one of Aaron's favorite instruments in the production of this album, and he was kind enough to share this story with us.
Tell us how you came to know about the GAIA?
I was heading to the store and looking for a hardware synth because I had basically exhausted my software synths. I knew I needed something easier, with some edge and that "beef" I don't get from my laptop. I walked into the store and saw the new GAIA SH-01 and immediately my mind went back, "Is this like the SH-101, like the old school?" And, I saw all the buttons and I got excited! I love modification of the filters and amps and all that. Man, it took me about 10 minutes of tinkering with it before I was sold. I looked at the guy and said, "I'll take one." It was literally that fast.
What was unique about the GAIA for you?
I rarely walk into a store without trying a lot of keyboards, but I literally walked right to the GAIA and started playing it. It was so intuitive and the response was very fast. On a lot of keyboards you have to figure out what [menu] page the filter is on. On the SH it's all there and there are no pages to dial though. I just loved it because I could quickly modify sounds and get what I wanted.
How did it find its way into "Love God, Love People"?
I took it back to my studio and we were in the process of recording "Our God," which is all synth. I plugged in the SH-01 and started modifying sounds, and before I knew it, I was already at my bass patch. I said, "Ok, come on, let's start, press record I got the sound!" The bass sound, synth sounds, bell sounds...it's all GAIA. And then I went back to "Love God, Love People," and replaced nearly every sound on that song with GAIA, except for drums of course. I love it, it was very easy to use and had all that beef I was looking for. That's the GAIA story and I've been telling everyone since then, "If you want something quick that's gonna work and has the beef, this is it!"
Did it make it into any other songs?
I also used it on "You Are My World." A lot of the auxiliary keyboards are that and the Fantom. It's definitely all over "Love God, Love People," almost all of "Our God" is GAIA. It's a great piece. Roland did a great job on that one. It basically took me back. I put the DVD in and it was very informative. I rarely watch 'em but I actually watched it and it was pretty cool. It showed the history of the board and everything.
In London we transferred "Love God, Love People" from my laptop because I had preprogrammed it all in San Diego during our writing sessions. In London, I replaced some of the sounds to make them beefier. And when we got back home, and I heard the GAIA, I said, "Whoa, I need to replace that bass with this bass." And I added a lot of sweetening when we got back.
The GRAMMY-award winning album "Love God, Love People" is available at www.newbreedmusic.com and Aaron can be reached at aaronwlindsey@gmail.com.