Worship Connection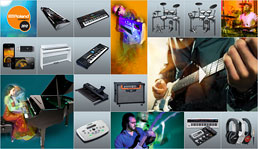 The Winter NAMM show in January and recent Frankfurt Musikmesse saw the introduction of several "game changer" products from Roland and BOSS…particularly for worship musicians. Whether you're a guitarist, keyboardist, singer or drummer, there are some great new tools for your ministry.
GC-1/G-5
What guitar player wouldn't want a personal tech who would bring four or five guitars to each service, tune them and bring them out to you between songs. Since this may not happen at your church, might we suggest you check out the latest V-Guitars from Roland. These are real Fender® Stratocasters with Roland electronics built-in. The GC-1 GK-Ready Stratocaster® has a GK divided pickup and controls for any GK-equipped product like the VG-99 or GR-55. The G-5 VG Stratocaster® has a COSM modeling engine inside the guitar, so you can plug into any amp and get different guitar types, pickup types and tunings – all from one guitar!
JUPITER-50
The Jupiter-80 Synthesizer has become the signature live performance keyboard for musician/MDs like Matt Gilder (Chris Tomlin) and Jerry Harris (Israel Houghton). To make these amazing sounds and capabilities more accessible, Roland introduced the new JUPITER-50 Synthesizer. The synth engine and sound quality are not comprised, so patches from the JUPITER-80 can be used in the JUPITER-50. It's also a bit lighter making it more portable and affordable.
VE-5
Sometimes vocalists feel left out when it comes to technology, but the BOSS VE-5 Vocal Performer gives singers the tools they need for a wide variety of applications. It mounts onto a mic-stand so effects, harmonies and phrase looping are right at your fingertips. Dial-in the perfect reverb and delay along with harmonies that you're missing and save a preset for each song. You can also sing a phrase, add more parts and have it all "loop" while you sing lead. It even has a built-in microphone and runs on batteries for the ultimate portable worship team.
V-Drums
Let your drummer play outside the box…literally. From the new HD-3 V-Drums® Lite to the new flagship TD-30KV, Roland's V-Drums make it possible to let your drummer out of the acrylic box and still maintain all the expressiveness and nuance your music ministry deserves. But nowadays, electronic drums aren't necessarily an "either/or" proposition, they're an "and/both" solution! For incorporating more sounds, loops and samples into your kit, look no further than the industry standard OCTAPAD® SPD-30 and SPD-SX Sampling Pad.
These are just a few of the latest additions to the Roland and BOSS family "springing up" in 2012. More info on everything from the new SuperNATURAL® pianos and CUBE™ Monitors to guitar amps and V-Accordions® is only a click away.