Worship Connection
First Presbyterian Church
Digital Technology Meets Tradition
By Jim Bybee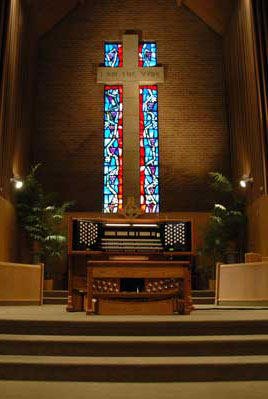 Established in 1889, First Presbyterian Church (FPC) has been an enduring mainstay of the Boise, Idaho community. They currently serve a congregation of over 400 worshipers, and music plays a large role in each of their three Sunday services. When FPC moved to its present location in 1954, a three-manual, 39-rank Austin pipe organ was installed, and this fine traditional instrument served them well for many years. However, in recent times, it had begun to show its age, and FPC realized that an update was in order.
To investigate their options, FPC put together a team in early 2007, led by the church's new Director of Music and organist, Michael Civiello. Their main goal was to replace the organ's console, which had simply worn out after 50-plus years of use. As Michael relates, "Some of the keys were clicking, and the console made a lot of noise when you hit the pistons. I'd have to wait until there was singing or a prayer or something because it made so much noise." Additionally, Michael and his team wanted to extend the instrument's range. "The tonal capacity wasn't there," he says. "It was a good organ, but it didn't have a whole lot on it. It had 39 ranks, which is satisfactory, but there wasn't a lot of variety."
After consulting with many different organ builders, the team decided that the best direction was a combination approach, integrating the Austin's excellent tonal base with a new, modern console and additional digital stops. Many reasons led to this decision, not the least of which were space and cost. As Michael says, "We didn't have room for more pipes, and a rank of pipes can cost $14,000-20,000 each." In deciding on an organ builder, sound quality was the most important concern, and the team traveled both in and out of state to hear various organs installed at other locations. "We listened to organs and looked at the literature, and we made our decision based on the sound, that was the primary thing," he says.
Ultimately, their search led them to Rodgers Instruments, one of the companies in the Roland family. Rodgers is among the world's leaders in church and theater organs, and FPC decided on their 968 Trillium Masterpiece Series organ for their facility. In addition to its superb sound quality, the Masterpiece was chosen for its upgradability, beautiful ergonomic design, and low maintenance needs.
For the upgrade project, FPC chose Heritage Church Organ Company of Orem, Utah, a Rodgers dealer and experienced organ installer. David Bagley headed up the Heritage team, and he and Michael handled the design and layout of the Masterpiece 968. "It's fully customized, meaning that we picked our own stops," David says. "We changed the layout of the organ to suit Michael's wants, and to match it up with the existing pipe organ." In the new system, the Rodgers digital stops play right alongside the original Austin pipe stops. As David describes, "We go in and listen to the pipe organ and decide what stops we think it's missing. Then we'll add those stops to the pipe organ specification, but they're being played digitally, through amplifiers and speakers." Ultimately, the FPC organ ended up with 102 total stops, 72 being pipe and digital combinations, along with 30 additional digital-only stops. On top of that, they added MIDI-controlled sounds with an MX-200 Sound Module.
The marriage between the Austin and the Rodgers is truly seamless, and Michael and FPC are extremely pleased with the results. "We couldn't be happier," he says. "It's not overwhelming in there, but it fills the room up beautifully. It sounds like a different organ even though it's the very same pipes, just with a new console and being re-voiced. It's an excellent instrument." Besides the superb sound and low maintenance of the Rodgers design, another benefit is that FPC saved an enormous amount of money over a system with traditional pipes. "The same number of stops with pipes would have cost $800,000-900,000," David says. "Adding digital stops to a pipe organ is so much more cost effective for churches than adding more actual pipes. This combination concept is by far the best concept for the majority of churches that have an existing pipe organ."
In May 2008, FPC held a dedicatory recital for their new instrument that featured Craig S. Williams, Organist and Director of Music at the Cadet Chapel, United States Military Academy West Point. As Michael relates, "It was an excellent event, and the organ just sounded tremendous. He went into that organ and used about everything he could on it, including the MIDI sounds. He was very pleased with it, too."
With over 1,000 organ installations under his belt at this point, David believes that a Rodgers organ is a great choice for any church. "With a Rodgers instrument, they can hit the best of both worlds, both traditional and contemporary" he says. "From a standpoint of worship, it really hits the entire gamut of what churches need. You know, a lot of churches are going completely contemporary, and they say they don't need an organ. They haven't heard what Rodgers can do, or they wouldn't say that."
Learn more about FPC and their combination organ, or listen to audio from FPC's Dedicatory Organ Recital.
For information on Rodgers Instruments, click here.