Worship Connection
"Today Is The Day" Tour
By Steve Padilla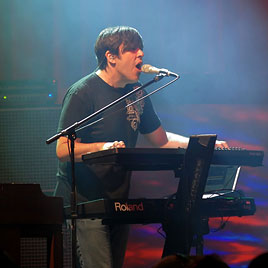 When it comes to playing keyboards in a guitar dominated band, it becomes less about playing busy parts and more about supporting the overall sound of the music. I do this by using keyboard patches that fill in the gaps and offer tones that compliment the powerful mid-range of guitars instead of competing with it. For the music of Lincoln Brewster, this is usually accomplished through a layer of pads, a solid B3 (organ), and the occasional piano.
As we were putting together the details for keyboards to support Lincoln's latest CD Today Is The Day and subsequent tour, I wanted to build upon my current set-up of an Edirol (by Roland) PCR-800 MIDI keyboard controller running my MacBook Pro. I wanted to add more Roland gear to give me flexibility for the nightly set. My first choice was the JUNO-G because of its great sound library and the fact that it weighs only 13 lbs. Not only that, but with its retro look it reminded me of the old Juno-106, which was one of the coolest synths in the 80s!
Although most of my pad sounds were being played through my computer via the PCR-800, I set up the JUNO-G with some of the same pad tones so I could go from one keyboard to the next. That allowed me to switch patches mid-stream and make slight adjustments when transitioning (usually between songs). With the JUNO-G I could quickly edit the tones with a turn of a few knobs, dive right into the onboard effects, and save them with ease. I took those tones and added them to my "Favorites" list so I can switch between my patches with a turn of the wheel. I found it very user friendly, which was a blessing since I only had about a day to set everything up for the tour!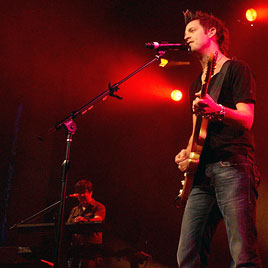 Also, with my previous set-up I ran my piano patch as a virtual instrument via my computer and controller. Although the piano tone worked for us, it was a major drain on the computer, so I needed a great piano tone in a synth to free up some CPU power. The first thing I checked out on the JUNO-G was the piano and it passed the test. The JUNO's grand piano patch plays a prominent roll in the acoustic set of the evening's concert. People are typically blown away when they hear that great piano tone coming from a 61-key synth.
Overall, I have found the JUNO-G to offer great tones and easy editing capabilities. It's become a great addition to the Today Is The Day tour. You can bet that after the tour is done, we'll be using the JUNO-G as a part of our regular set-up.
For a limited time, get a FREE DVD Owner's Manual and Expansion Board for the Juno-G. Click here for details!