Worship Connection
Worship Summit 2010
Legendary Performances: 7th Annual Roland Worship Summit
By Corey Fournier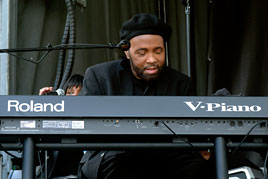 The recent NAMM show played host to hordes of amazing musicians, but none more remarkable than the worship and gospel music icons who led the hundreds who gathered for the 7th Annual Roland Worship Summit. Held outdoors for the first time, the weather held just long enough for Saddleback Church's Rick Muchow and Riverphlo artist Andraé Crouch to lead two equally unique and inspiring bands of praise.
The NAMM crowd isn't known for its early risers on Sunday, but Rick and his all-star band got things fired up at 9am! Not long after, a special guest appearance was made by David Pack of Ambrosia fame, who shared a soulful rendition of his classic "Biggest Part Of Me." Rick's ensemble was a musical tour-de-force, featuring the jazz piano/vocal stylings of Peggy Duquesnel on V-Piano® and the incomparable Don Lewis on the new V-Combo organ and VP-7 Vocal Designer. This diverse array of talent and styles combined to create a memorable performance that energized the congregation, which grew steadily throughout the morning.
The anticipation was palpable by the time Pastor Andraé Crouch took the stage to the sound of his awe-inspiring rhythm section and vocal team led by music director, Mano Hanes. It's a rare opportunity to see a true living legend, and rarer still to see one perform at such a high level. By the end of the first measure, no one was sitting and most were singing. The band and singers were a paragon of precision as they took the rapt audience on a journey through the historic landscape of Pastor Crouch's catalog – songs that have become staples of gospel music and bind generations to this day.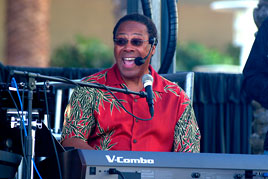 Then, Andraé became contemplative and sat down at the V-Piano. In his welcoming style, he invited everyone to join him as though the huge plaza was just a living room. With no pretense, he played and sang solo, telling the story of how he wrote his first song and sharing his passion for music and ministry. The crowd was spellbound, and the moment he paused, song requests began spilling out from all over the plaza. He seemed humbled by the outpouring and shrugged as he looked at Mano as if to say, "I could do this all day, but it's probably time to take it out." And take it out, they did!
"Give It All Back To Me" was the closer and he sang it with an intensity and fervor that would measure up to any performance of his career. The band matched it and as the pastor left the stage, they broke into an ending that lasted about five minutes, and in itself, was enough to make any musician drop their jaw and shake their head in amazement.
Currently, a documentary film is being produced by Riverphlo Entertainment on the life and ministry of Andraé Crouch, which is set to release later this year. Click the button below to view a teaser of the film, and stay tuned for upcoming information on screenings and appearances with Pastor Crouch.