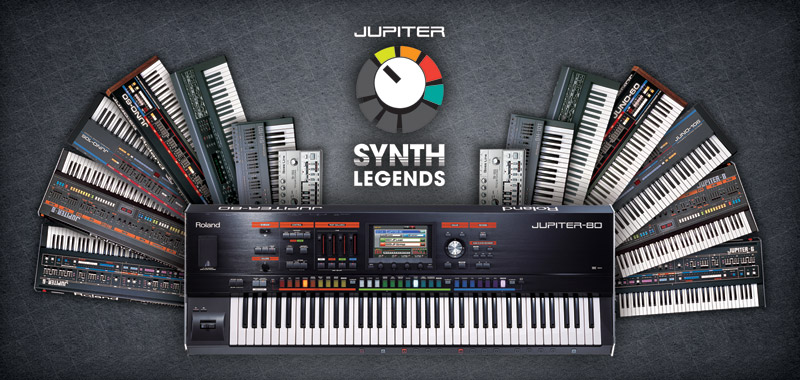 Collection Overview
Introducing JUPITER Synth Legends
Roland is proud to introduce JUPITER Synth Legends, a series of free sound libraries for the JUPITER-80 and JUPITER-50 synthesizers. Featuring all-new Tones, Live Sets, and Arpeggio patterns, the collection uses the powerful and flexible SuperNATURAL sound engine to capture the essence of a number of historical synths. We've fully maximized the Live Set architecture and multi-effects capabilities of the modern JUPITERs, layering and processing the classic sound emulations to create a huge library of "dream patches" comprised of the most legendary synths ever produced.
Download
JUPITER Synth Legends Volume 1
Download for JUPITER-80
Download for JUPITER-50
This collection honors Roland's historic synthesizer past with representations of seven legendary instruments from the 1980s. The inspiring sounds made by these classic instruments have helped shape modern music, and now you have access to them all inside your JUPITER-80/-50.
The synth emulations included are:
JUPITER-8 (1981)
SH-101 (1982)
TB-303 (1982)
JUNO-60 (1982)
JUPITER-6 (1983)
JUNO-106 (1984)
D-50 (1987)
These classic synths each have between 10 and 20 iconic factory preset sounds that distinguish its character, and they're all represented among 123 newly created single Tones for the JUPITER-80/-50.
Introduction
Sound Preview
Tutorial
Performance
Comparisons
Overview Video
Performance Video
Version 2 Registrations
Registrations
Live Sets
SuperNATURAL® Acoustic Tones
Video Tutorials
Photo Gallery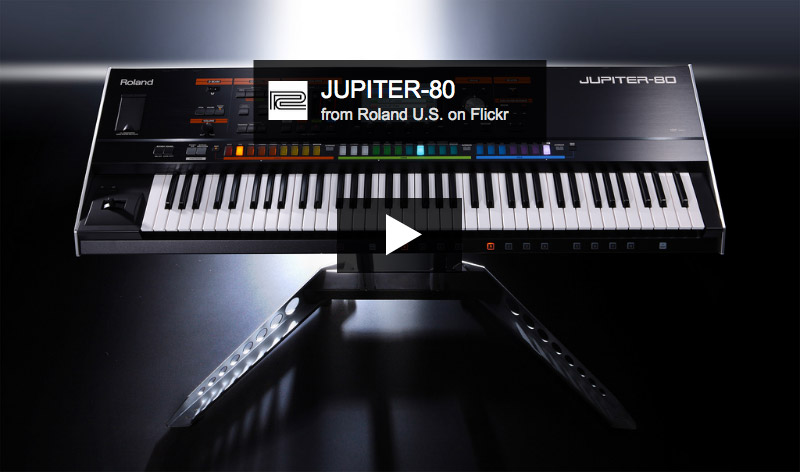 SuperNATURAL Technology Throughout

SuperNATURAL Sound Modeling
The JUPITER-80 is built from the ground up around Roland's proprietary SuperNATURAL modeling technology. Far beyond mere sampling, SuperNATURAL sound engines model both the sonic characteristics of the original instruments and the way they react to performance nuances—responding to your creative expression like an extension of your soul.
The JUPITER-80 puts a world of authentic traditional and ethnic acoustic instruments at your fingertips. You'll find dedicated buttons for Roland's highly acclaimed SuperNATURAL Piano and Virtual Tone Wheel Organ—plus a complete palette of other new expressive SuperNATURAL instruments. Electric pianos. Clav. Brass. Woodwinds. Guitars. Strings. Ethnic instruments from around the world—and much more. And all with more realism than you've ever experienced before. You can even adjust modeled parameters like piano string resonance, sax growl and marimba mallet hardness to customize these incredibly alive SuperNATURAL instruments.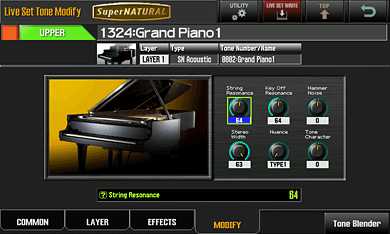 Pianos
Grand piano sounds exhibit natural decay and seamless changes in tone color in response your touch. You can adjust a variety of parameters such as Stereo Width and Hammer Noise.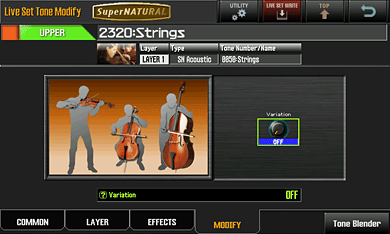 Strings
Pitches transition naturally from note to note when playing tied legato-style melody lines. Effortlessly realize portamento, pizzicato, and other articulations unique to string instruments—no special playing technique required.
Behavior Modeling
Roland's latest addition to SuperNATURAL technology—Behavior Modeling—let's you easily bring to life the authentic natural performance articulations of traditional instrument players. Flamenco strums. Multi-mallet vibe rolls. Seamless shifts between legato, marcato, pizzicato and spiccato strings. Trumpet half-valve trills and rips… and much more. Previously unattainable with such fluidity on a keyboard, these performance nuances complete the realism of SuperNATURAL instruments—all without changing patches or doing contortions. We guarantee you'll get off on good behavior.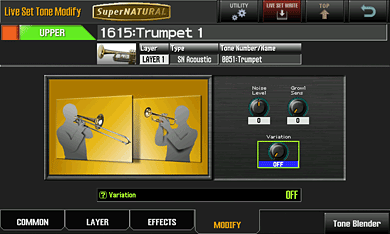 Brass
The JUPITER-80 faithfully reproduces the dynamic changes of tone colors unique to brass instruments—including half-valve trills and authentic rips with multi-octave glissandos through a series of discrete pitch breaks.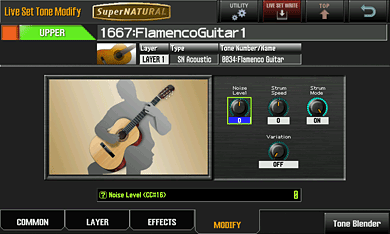 Acoustic Guitars
Reproduce chord fingerings, strumming and melody performances of steel- and nylon-string guitars faithfully and easily—right from your keyboard.
Stacks of Synths
In addition to authentic acoustic instruments, the JUPITER-80's SuperNATURAL technology delivers state-of-the-art synthesis and a vast palette of electronic sounds spanning yesterday, today and tomorrow. Jaw-dropping bass. Fat synth brass. Meaty pads. Shimmering textures. Sick warps. We're talking a TKO synth experience.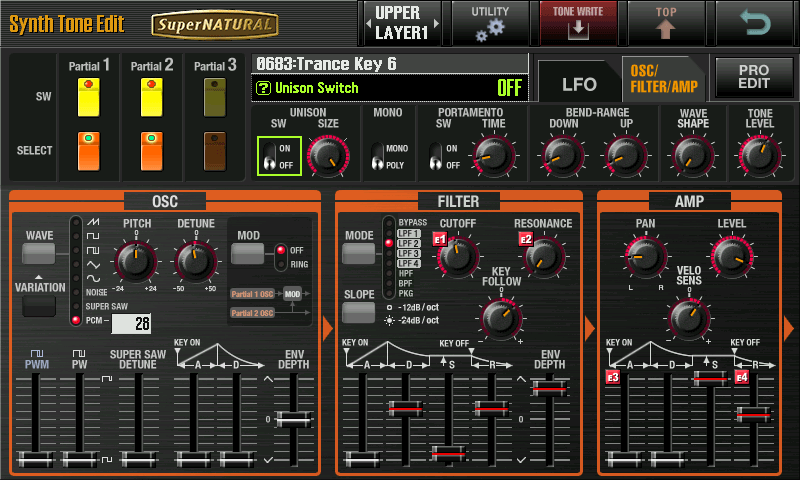 The JUPITER-80's powerful analog-modeling synth engine consists of three separately programmable Partials (sound chains) in parallel—each with its own oscillator, filter, amp and LFO. Each oscillator can summon vintage modeled analog waveforms from yesteryear or one of 350 PCM sampled sound sources for a huge arsenal of digital timbres spanning recent decades and into the future. The resonant filters include the works—low-pass, high-pass, band-pass and peaking modes, 12dB/24db slopes and more. You can even set up three of these parallel synth sound chains on each of ten layered Parts simultaneously for a stack of 30 independent synthesizer sounds—enough to rip any dance floor apart.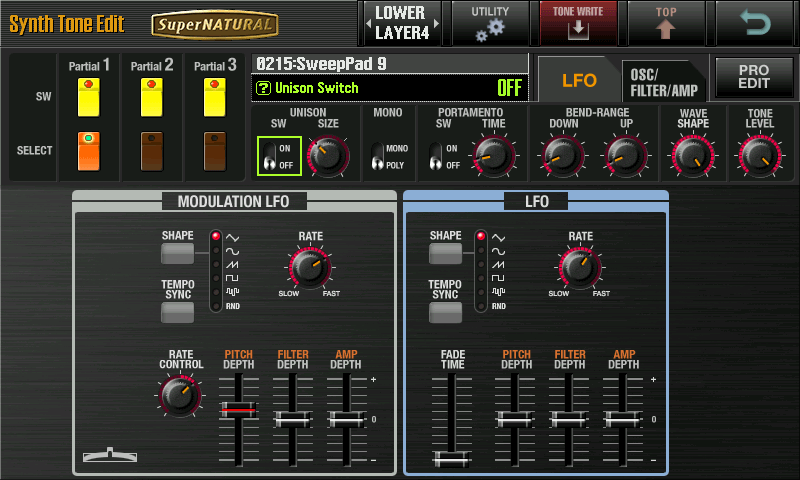 Sonic Architecture—Tones, Parts and Registrations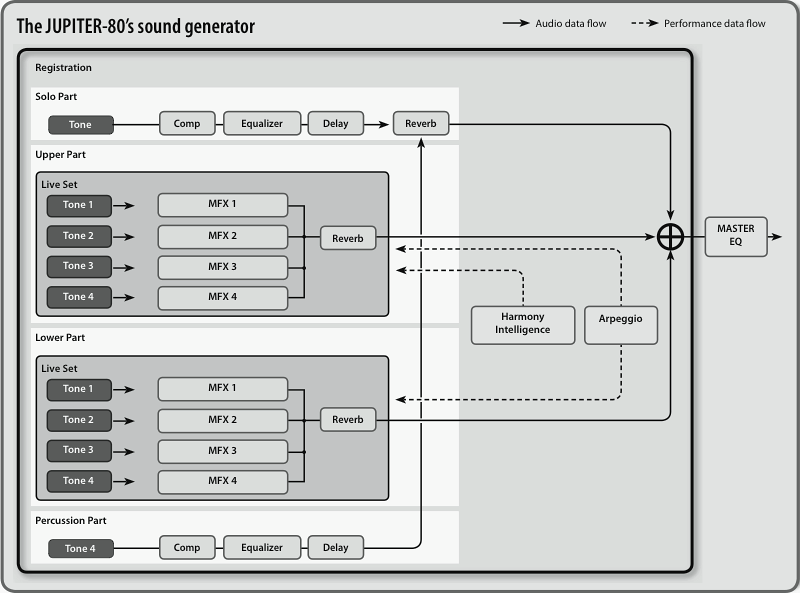 Tones
The basic sonic building blocks in the JUPITER-80 are Tones, each consisting of either a single SuperNATURAL acoustic instrument or a trio of SuperNATURAL synth Partials—each synth Partial featuring a complete OSC » Filter » Amp sound chain.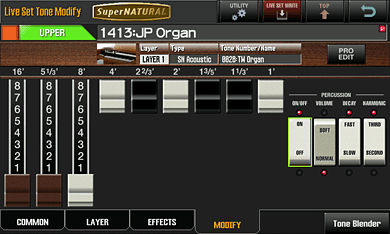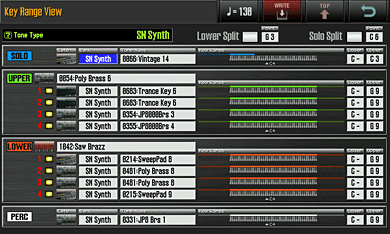 Split/Layer Parts
SuperNATURAL Tones can map to the four split-layer Parts that the JUPITER-80 can play simultaneously from the keyboard or MIDI—Solo, Upper, Lower and Percussion. The Solo and Percussion Parts can each have a single SuperNATURAL Tone with it's own effects chain. The Upper and Lower Parts can each actually have a stack of four SuperNATURAL Tones in groupings called Live Sets that include a multi-effects unit for each Tone and a master reverb for that group. Each of the four Tones in a Live Set can have a single acoustic SuperNATURAL instrument or three SuperNATURAL synth Partials. Talk about a sonic tour de force!
The JUPITER-80's gives you easy front-panel control over your four Parts. The groupings of Jupiter signature backlit colored buttons call up Tones or Live Sets as appropriate for the four Parts. You'll also find a group of handy Part Level sliders and on/off buttons for balancing the four Parts on the fly.
Registrations Rule
The sum total of the settings across all the Parts in the JUPITER-80 is called a Registration. You can think of a Registration as an uber-preset that instantly changes everything in the entire instrument. Registrations are controlled by the buttons on the front rail of the instrument below the keyboard, making it easy to swivel a thumb down to change Registrations while still holding down notes. (The term Registration and this layout/technique hark back to the halcyon days of the pipe and theater organs—the original method of creating and recalling keyboard presets.) Registrations can also save and recall master parameters such as EQ, arpeggiator and Harmony Intelligence.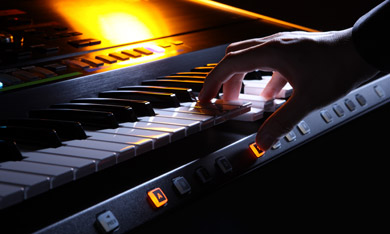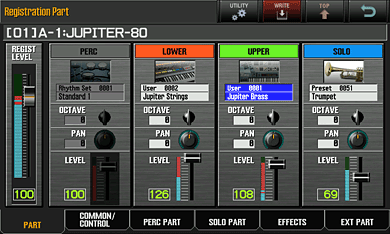 The Works
Exceptionally Expressive Keyboard
The 76-key semi-weighted keyboard is part of what makes the JUPITER-80 a dream to play. These great-feeling black-and whites give you intimate control over the subtle nuances of the JUPITER-80's amazing SuperNATURAL tones.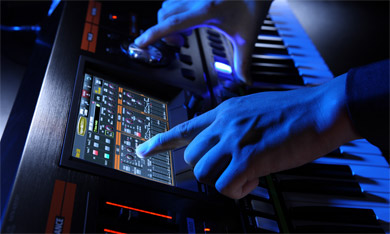 Intuitive Touch Display Operations
The TFT full-color touch screen and front-panel controls work together for fast, intuitive operation.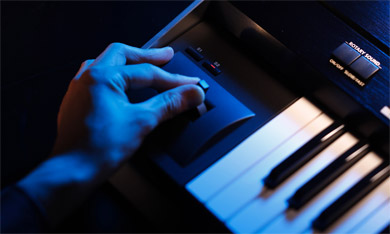 Diverse Range of Live Controllers
Create dynamic live performances with the modulation lever, assignable buttons, and proprietary Roland D BEAM.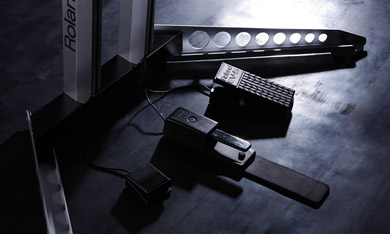 Extensive Foot-Control Features
Multiple foot pedal functions (CTRL 1, CTRL 2, and HOLD) give you additional real-time control over a variety of expressive performance parameters.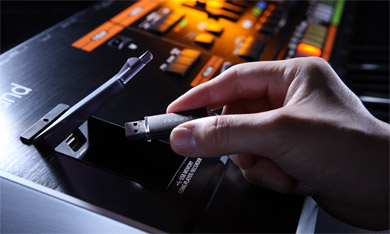 Song Player/Recorder Function
The built-in USB flash-memory based audio player/recorder let's you create and play backing tracks right onboard.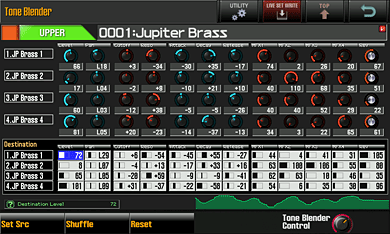 Tone Blender
Tone Blender let's you control many parameters across the four Tones of a Live Set with a single control such as the D BEAM. Tone Blender opens the doorway for incredible new frontiers of sonic exploration and expression.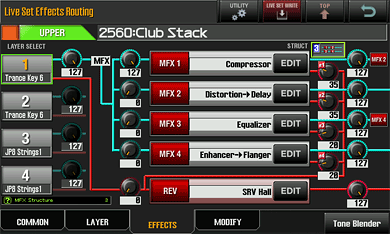 Multi-Effects Galore
Each Live Set has its own MFX (multi-effects) processor featuring four effects in parallel plus reverb—with send levels for each Tone and output levels for each effect.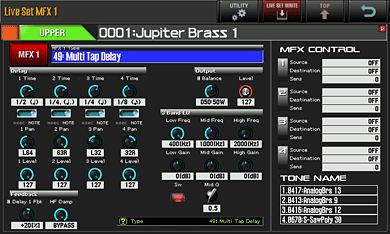 Dedicated Dynamics & Delay
You'll also find serial compressor/EQ/delay chains for the Solo and Percussion Parts, as well as a master EQ to position the entire JUPITER-80 just right in the mix.
Feedback (Press)
"I've beat it with a stick that the JUPITER-80 was never intended as the return of the JUPITER-8. Rather, it's the Jupiter that Roland founder Ikutaro Kakehashi really wanted to make all along: a synth that does every sort of sound, and connects your fingers to those sounds, with absolute realism."
"There is a way in which the JUPITER-80 evokes its famous namesake that even Roland may not realize. The JUPITER-8 had a distinct character from the other polysynths of its day. Some described it as lush or even wet, and they weren't talking about reverb because no synth of that era had it. It was more of an ineffable sense of air and spaciousness. The JUPITER-80 has a similar quality when compared to other well-known multitimbral synths—even to Roland's own Fantom-G line. It's a true player's synthesizer with an undeniable personality, but it doesn't impose that personality at the expense of realism unless you want it to. Hasn't that always been the whole point of synthesizers?"
"There's nothing like the JUPITER-80. At its most basic level, you could treat it like a mega-stage piano because it has all the essential stage sounds—piano, brass, bass, strings (that really sound like strings), electric pianos, and the like. You could just set it up, call up presets, and go. Or, take it one step further and control the sounds extensively as you play for greater expressiveness."
"However, the live performance aspect doesn't preclude the studio by any means. Granted, the JUPITER-80 isn't a workstation, so you'll likely end up recording audio into your DAW (just like 'real' instruments—imagine that!) via the audio outs, S/PDIF out, or USB audio/MIDI interface (Windows/Mac, including Lion). The end result is tracks that are gorgeous—defined, expressive, rich, and able to sit politely in a mix or take center stage, depending on how you tweak them. I predict we'll be hearing this synth in a ton of movies and TV shows."
"When I first heard about the JUPITER-80, my initial thought was 'does the world really need another synthesizer, especially at this price?' And the answer was no…until I actually sat down and played it. The JUPITER-80 rethinks what a synthesizer should be and implements that vision with intelligence and style."
"Make no mistake, this is one serious synth with a phat and heavy sound. It's a sound designers/film scorers dream, yet it can do simple, subtle and beautiful sounds too, much in the spirit of the JUPITER-8."
Future Music
"A powerful and excellent-sounding synth that demands to be played. More than worthy of the Jupiter name and heritage."
Music Tech Magazine — October, 2011
"I placed my JUPITER-8 next to the JUPITER-80 and compared them directly. Of course there were differences, but in a blind test of some brass and string patches, I couldn't tell which synth was generating which."
Feedback (Owners)
"It is the perfect stable-mate for my OASYS. The JP is very editable and very dynamic and performs like a real instrument. Truly amazing. I adore this machine from Roland — hope it does well for the company. I honestly think it will be the stuff of legend in 20 or 30 years time…"
Neil Gowans
"Thanks again for taking me through the JUPITER 80 features earlier this week — your thorough knowledge and vibrant enthusiasm were fantastic, you showed me loads of ways in which it's an instrument ideally matched with what and how I like to play (you not only asked, you listened too ;) and this let me feel really happy and confident to make the purchase. You're a star, and I am very grateful to you. Please pass on my thanks too to the guys at PMT for also helping to make it effortless and fun."
"My JUPITER 80 turned up safe and sound, exactly on time (I'd had an email from the courier telling me the hour-long slot when I could expect delivery, and they nailed it). It was raining, but the box was sturdy enough to shrug that off. Packaging was just right, actually — robust but not excessive."
"Now I've had a couple of days to explore, I'm valuing even more the demo you gave me. Whenever I've acquired a new synth, I've always noticed a bit of a lull in the excitement level for a while. It hits just after auditioning the presets, when you want to change something — the moment when you realize you simply don't know how to drive it yet! The JUPITER 80 has set the record: it took under an hour to get confident with choosing, layering and tweaking tones etc thanks to an excellent job on architecture and interface design, coupled with your explanations. I've never known a synth so richly featured yet so easy to grasp — and so rewarding."
"Am I happy with it? Yes, it's awesome. Did I have any problems? Sort of. As a years-long player of only semi-weighted keyboards my fingers are wimps, and I needed to adjust the keyboard weight and velocity sensitivity before the 'feel' was right. I view this as about like adjusting the seat and mirrors in a new car. Did I encounter any surprises? Only nice ones. Having plugged in a memory stick, I am completely entranced with song playback and record. Just incredibly useful. Ditto the external audio input. Some lovely attention to detail. My biggest surprise, though, came when I had a go at triggering the JUPITER 80 from my GR-30 guitar synth."
"I've recently routed out a new scratch plate and fitted new pickups to the electric guitar I use with my GK-2a and GR-30. This has let me greatly improve both the sound of the guitar and its note-to-MIDI sensitivity and accuracy, and I've been quite pleased with the sounds I've been getting from the GR-30. When I heard what the JUPITER 80 is capable of when played with a MIDI guitar, though, I was completely blown away. I was playing jazz, with a walking bass line, a gorgeous piano, picking out a cool trumpet solo on the top string with utterly convincing dynamics — and I don't (didn't) especially like jazz, and categorically couldn't play it… Do try it with a GR-55, say, and see what you think!"
"I am utterly thrilled with the JUPITER 80. Thanks and congratulations to Roland for designing a building an amazing instrument, and to you for introducing me to my new musical partner. I have copied in your colleagues at Roland as I'd like them to know how delighted I am with both product and service — the two go hand-in-hand in importance for me, and both are outstandingly good."
Paul Buttner
"It's amazing, I'm only just scratching the surface of the synth engine there is just so much going on in there! I'm loving the insane choice of waveforms in the PCM waves, I can't keep track of everything thats going on in there it's great! …I'm still using it with headphones at the moment and no MIDI as I'm out of inputs an my desk and no spare MIDI outputs. My biggest surprise is how much I'm using the registration keys on the front! The tweaking of the supernatural sounds is fantastic too, I keep cranking the hammer sound up on the Concert grand! And no one is really talking about the drum sounds either I know it's not a main feature but they are just so clean! I'm going to play it again shortly! Love it."
Rod Wesson
"As a 19 year old with a big passion for music, I needed a synth that was both versatile on stage and with sounds that would compliment my film music compositions at home. I had previously bought a rather extensive synth line up for stage use (including 3 keyboards and a Kaoss Pad). This was not only hell to transport, but often problems arose when setting up the rig in less than two minutes, under pressure, on stage. Furthermore, being classically trained, I have little to no knowledge of synthesis, so trying to program a digital analogue synthesizer became a bit of a challenge! When I came across the JUPITER-80, I was overwhelmed by its versatility and huge, rich sound. I was equally surprised at how cheap it was due to the amount that it could do, in just one keyboard. A few days later, I returned with the entirety of my student loan and bought it. I literally can't express how much I love the JUPITER-80, its one of the easiest pieces of equipment I have ever used, and I have already created some vastly thick synths by building layer upon layer of sound. I can't wait to use it on stage in a couple of days! Thank you, Roland!"
Specifications
Keyboard

76 keys (with velocity and channel aftertouch)

Sound Generator Section

Maximum Polyphony

256 voices (varies according to the sound generator load)

Parts

4 parts (Upper, Lower, Solo, Percussion)

Registrations

256 (including pre-loaded registrations)

Live Sets

2,560 (including pre-loaded Live Sets)

Effects

for Live Set (Upper/Lower part)
-Multi-Effects (MFX): 4 units (parallel connection only), 76 types per each Upper/Lower (total: 8 units)
-Reverb: 1 unit, 5 types per each Upper/Lower (total: 2 units)

for Solo part/Percussion part
-Compressor + Equalizer + Delay: 1 set per each Solo/Percussion (total: 2 sets)
-Reverb: 1 unit, 5 types

Master Effects
4-Band Equalizer: 1 unit

USB Memory Song Player/Recorder Section

Tracks

1 stereo track

Playable File Format

Audio File: WAV, AIFF, MP3

Recording File Format

Audio File: WAV (44.1 kHz, 16-bit Linear, stereo)

Effects

4-Band Equalizer: 1 unit

External Memory

USB Flash Memory (sold separately)
* Use USB flash drive sold by Roland. We cannot guarantee operation if other products are used.

Other

Arpeggiator

Preset: 128 styles
User: 128 styles

Harmony Intelligence

17 types

Controllers

D Beam Controller
Pitch Bend/Modulation Lever
Assignable buttons (S1, S2)
Assignable knobs (E1--E4)
PART LEVEL sliders (PERC, LOWER, UPPER, SOLO)

Display

Graphic Color LCD 800 x 480 dots (touch screen)

Connectors

PHONES jack (stereo 1/4-inch phone type)
MAIN OUT jacks (L, R) (XLR type)
MAIN OUT jacks (L/MONO, R) (1/4-inch TRS phone type)
SUB OUT jacks (L, R) (1/4-inch phone type)
AUDIO IN jack (Stereo miniature phone type)
DIGITAL AUDIO OUT jack (COAXIAL)
FOOT PEDAL jacks (CTRL 1, CTRL 2, HOLD)
MIDI Connectors (IN, OUT, THRU)
USB COMPUTER port (Audio/MIDI)
USB Memory port
AC IN jack

Power Consumption

25 W

Accessories

Owner's manual
CD-ROM (USB Audio/MIDI driver)
DVD-ROM (SONAR LE)
USB MEMORY Protector
Power Cord

Options (sold separately)

Keyboard stand: KS-18Z, KS-G8 (Use a stand that causes the height of the unit to be one meter or lower.)
Pedal switch: DP series
Footswitch: BOSS FS-5U
Expression pedal: EV-5
Stereo Headphones
USB Flash Memory
* Use USB Flash Memory sold by Roland. We cannot guarantee operation if other products are used.

Size and Weight

Width

1,231 mm
48-1/2 inches

Depth

439 mm
17-5/16 inches

Height

140 mm
5-1/2 inches

Weight

17.7 kg
39 lbs. 1 oz.

In the interest of product improvement, the specifications and/or appearance of this unit are subject to change without prior notice.