Learning Labs
Lucina AX-09 & HD-1 V-Drums® Lite
Our Girl Scouts Rock! program is designed to introduce you to the fun you can have creating music. During today's program you will have the opportunity to experience making music on Roland's Lucina AX-09 and HD-1 V-Drums Lite.
Take Center Stage at Home, School or Anywhere!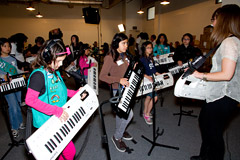 The Roland Lucina AX-09 is a portable keyboard that you can play on a table top or hold like a guitar. In this session, you will learn about the different instrument families by exploring the variety of different tones on the Lucina. We will also talk about how these instrument families can blend together to create basic orchestration and arrangements, as well as learn about rhythm and the important role it plays in music. Learn how to tell your story through music!
Cool, Compact & Ready to Play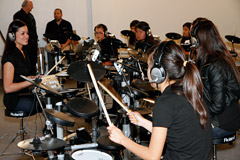 Drums are an integral part of any music experience and in this session we will learn about the parts of a drum set using the Roland HD-1 V-Drums Lite. We will learn the difference between a ride and crash cymbal, and the importance of the snare and bass drum in creating the driving force behind the music. We will also explore how different styles of music use different drum patterns by utilizing the different drum kits available on the HD-1 V-Drums Lite. Express yourself through music and rhythm.