The Place to Discover Your Favorite Instrument
Roland Foresta is a specially prepared in-store environment for choosing a digital piano, a quiet and comfortable space in which you can select the instrument that perfectly suits your needs and lifestyle. There are many things to consider when choosing your perfect digital piano, including sound, touch, function, and design. In addition, there are various types and grades to select from. It's important that you spend a relaxed time exploring different instruments to discover the model that you enjoy the most. We want our customers to choose the very best piano for their needs, so we have created the Foresta environment and equipped it with the very latest Roland digital piano lineup. There, you can spend as much time as you need to see, try, and choose the right instrument for your home.
Escape to a Forest of Inspiration and Creativity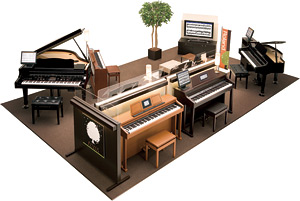 We've named this special choosing place Foresta — which means "Forest" in the romantic Italian language — as a metaphor for the forest of music that will grow and thrive in your heart when you bring a beautiful new instrument into your home. When you allow the enjoyment of playing music to take root in your everyday life, your heart grows like a tree, creative flowers bloom, and your spirit reaches toward the sky. Your musical forest is always filled with beautiful, calming sounds, a place you can escape to and enjoy peace. We invite you to step into Foresta, an enjoyable world of music, creative inspiration, and wonder.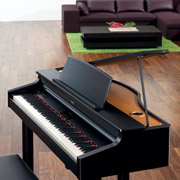 Enjoy a Better Life with Music with a Roland Digital Piano
Today, the digital piano is extremely popular all over the world. This history begins in 1973, when Roland introduced Japan's first all-electronic, oscillation-based combo piano. In the years since then, we have meticulously researched the sound and touch characteristics of the world's finest acoustic pianos and integrated them into our digital pianos to create incredibly expressive musical instruments. Innovations such as the world's first electronic piano with a touch-sensitive keyboard and the 88-Key Multi-Sampled Piano Engine — rivaling the rich sound of the acoustic grand piano — have been born from our dedicated and painstaking efforts. The evolutionary history of the digital piano is also the history of Roland's innovations with other digital technologies. Internet access has spread to nearly every home, and digital cameras, video recorders, and audio devices are now commonplace. Roland's digital pianos keep in step with today's digital lifestyle, you can use your Roland piano right alongside the other modern devices in your living space. For example, you can enjoy karaoke with video and song lyrics on your TV monitor, play along with CDs and DVDs, and more. Imagine how wonderful it will be enjoying a new digital piano with your family and friends. Better Life with Music — that's Roland's continuously expanding dream.