Want to learn how to play the drums? The HD-1 Starter Book lessons are designed to help you quickly learn the basics of drumming. Each video corresponds directly with the included exercises, for an easy-to-follow and fun way to learn.
Roland Users Group Insider
Sign up for Roland's Bi-Monthly Email Newsletter here:
Tommy Igoe Bonus Lessons
Take a quick survey, and we'll send you a link to three bonus lessons from Tommy Igoe's Groove Essentials® 2.0 DVD.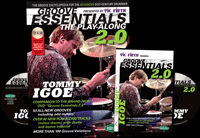 Brought to you by Hudson Music

V-Drums Lessons Feedback
Questions? Comments? Please send us a message.