Button-Type
The Line-Up
The Roland V-Accordion series of button-type instruments comprises three models and three color variations: the FR-7xb (black, red, or white); FR-3xb (black or white); and FR-1xb (black or red). The white versions of the FR-7xb and FR-3xb also feature decorated handmade bellows and attractive accessories made from real leather and Alcantara®.
Alcantara® is a registered trademark of Alcantara SpA, Italy.
The flagship FR-7xb has a 92-button velocity-sensitive keyboard, 120 bass buttons, 80 accordion sets, and a Master bar. The lightweight and portable FR-3xb comes equipped with a 92-button velocity-sensitive keyboard, 120 bass buttons, and 21 accordion sets.
Compact and flexible, the FR-1xb is ideal for young students and stage performers. Equipped with the latest V-Accordion technology, the FR-1xb sets a new standard in learning and live performance with its excellent sound quality, small size, and attractive price.
The treble-button modes (C-Griff Europe, C-Griff 2, B-Griff Bajan, B-Griff Fin, D-Griff1, D-Griff 2) allow players to use the system they've grown accustomed to; the button keyboard layouts of acoustic accordions are as diverse as the sounds themselves. The V-Accordion offers selectable Bass & Chord modes (seven modes: two Bass Rows, three Bass Rows A7th, three Bass Rows A5dim, three Bass Rows B7th, three Bass Rows B5dim, three Bass Rows Belgium) and Free Bass modes (five modes: Minor 3rd, Bajan, Fifth, N.Europe, Finnish).
Artist Feature
Ludovic Beier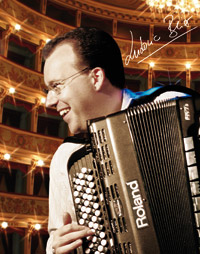 Born in 1978, Ludovic Beier learned the accordion from his father. Benefiting from being part of a musical family, he was brought up in the French tradition of the instrument and turned to jazz a few years ago. At only 25 years old, he was playing on the French, European, and American scenes with some of the top players of the jazz style, including Angelo Debarre, Paquito D'Rivera, James Carter, and even Toots Thielemans at Carnegie Hall in New York City. He's also had the great chance to play at top festivals and venues around the world, such as Birdland (NYC), Salle Pleyel (Paris), Blue Note (Milano), Festival de Jazz de Montreal (Canada), San Francisco Jazz Festival (U.S.), Phoenix Hall (Osaka), and others.
Amazingly creative in his improvisation, Ludovic takes the accordion to a new level as his fingers fly across the keys in an almost unbelievable way. Along with his virtuoso playing, he's a respected composer and arranger in many different fields, including television and movies. Ludovic has recorded several solo albums, with the most recent being Pop, Swing & Fire, released in May 2011. In 2004, he joined the Roland family as a promoter of V-Accordion instruments, bringing the FR-7xb to famous stages as he plays with many well-known artists.